Tommy's Coffee Break Calendar for June 27th
An invention we must give a salute to… — This group scores their third No. 1 of the year… — If you're gonna die like a rock star, take note…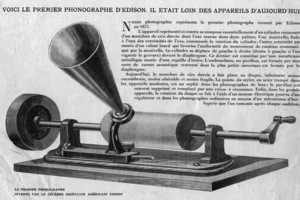 6/27/1885 (131 years ago today) – Chichester Bell and Charles Tainter applied for a patent on their invention "The Grammophone". How could they know it would lead to records by Insane Clown Posse…
Subscribe to 102.9 WBLM on
6/27/1970 (46 years ago today) – The Jackson Five start two weeks at No. 1 with the classic single "The Love You Save"; the year is just barely half-over and it is already their third consecutive chart-topper (actually, four-in-a-row counting 1969's "I Want You Back")!
Subscribe to 102.9 WBLM on
6/27/2002 (14 years ago today) – He was one of the most influential bassists in the history of rock, no doubt about it: The day before their 2002 tour was supposed to start, The Who's John Entwistle died in his Las Vegas Hard Rock Hotel room. "The Ox" had gone to bed that night with a stripper who awoke at 10 am to find him cold and unresponsive. The medical examination found that John's passing away was due to a cocaine-induced heart attack; he was 57 years old.
Subscribe to 102.9 WBLM on
Share your dreams and fears with the Calendar here on our web site and on the WBLM Facebook and Twitter pages with the hashtag #TommysCoffeeBreak.
"Na, na, na, you'd better save it…", xoxo!