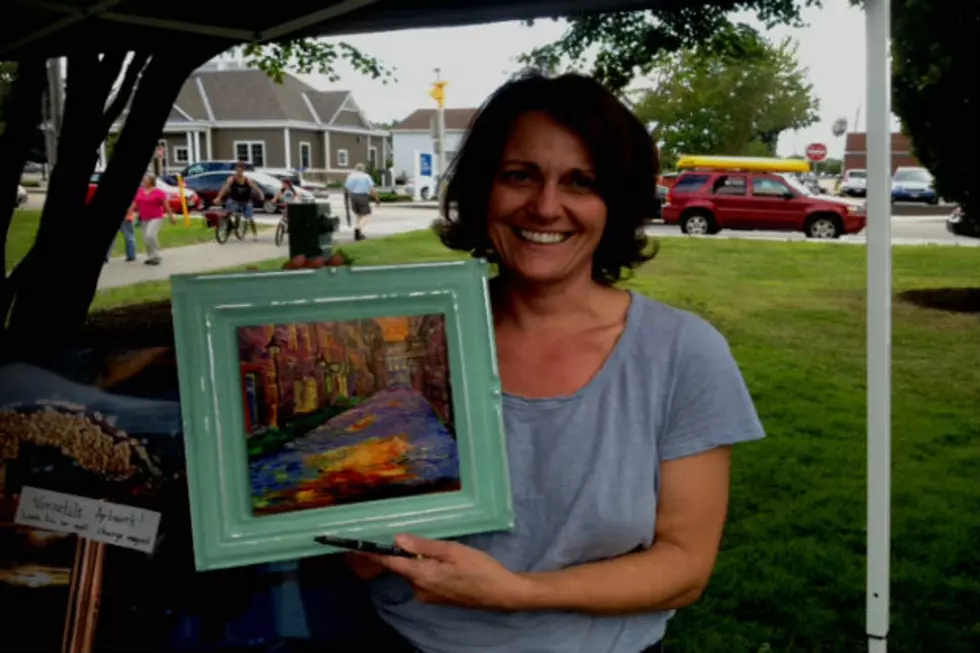 Art in the Park Yields Amazing Treasures [VIDEO]
WBLM
Art in the Park is an event that I look forward to every year. Millcreek Park hosts artists of different mediums, and student artists too! Every year 30 young artists from South Portland schools are chosen to display a piece of work. This year our daughter, Sabelle, showed for the first time. Her snowman didn't even melt in the summer heat! I was so proud of her and of all the amazing work that local students created.
My husband, Mark, called me over to this display booth because he was so blown away by the brilliance of the colors achieved in this photography. I interviewed the artist, Tom Whitney.
Then I spotted something else that I had never seen! Artist Janet Barrett transfers her paintings on to a magnetic backing. This creates changeable art! The frames are cool, distressed metal ceiling tiles. Ooh, I loved these! It took me forever to choose, but I finally settled on a piece that her daughter Chelsea had created.
Scarborough artist Janet Barrett holding the painting that I bought that was done by her daughter, Chelsea Barrett.
The piece in it's new home, our dining room!
The artistic talent in our community is amazing. Here is a beeswax painting done by Lori Austill. I bought my first piece from her some time in the early 90's. It's a painting done on plaster and I still love it! I'm hoping Mark takes the hint and gifts me with this beeswax painting for my birthday!
Do you have a favorite local artist? Turn us on to them on our Facebook Fan Page #localart, or tweet us! Shout out to Zoo Cain!
Here's hoping Mark visits loriaustill.com before August 25th!
Celeste