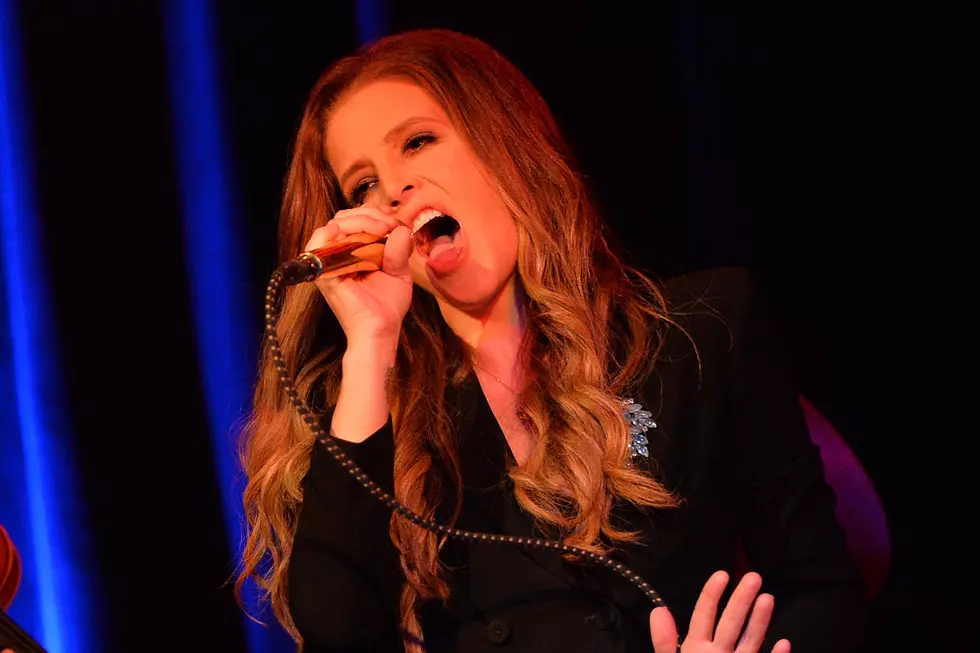 Lisa Marie Presley, Daughter of Elvis, Dead at 54
Rick Diamond, Getty Images
Lisa Marie Presley, the singer, humanitarian and only child of Elvis Presley and actress Priscilla Presley, has died at the age of 54.
News of Presley's death was confirmed by her mother. "It is with a heavy heart that I must share the devastating news that my beautiful daughter Lisa Marie has left us," Priscilla said in a statement to People. "She was the most passionate strong and loving woman I have ever known. We ask for privacy as we try to deal with this profound loss. Thank you for the love and prayers. At this time there will be no further comment."
Earlier in the day, Lisa Marie was reportedly found unresponsive in her bedroom by a housekeeper. She was taken to a nearby hospital in full cardiac arrest and was later put on life support with a temporary pacemaker in an effort to save her.
Born Feb. 1, 1968, Lisa Marie came into this world during a time of turmoil for her famous father. Elvis had become one of the biggest stars in the world through the late '50s and early '60s, releasing a laundry list of popular songs and starring in an array of Hollywood films. The rocker was unquestionably an icon of the era, but his popularity waned towards the end of the '60s. The same year Lisa Marie was born, Elvis would mount a monumental career comeback on the strength of his televised special.
While the King was able to revive his career, he was unable to salvage his marriage with Priscilla. The couple divorced in 1972, with young Lisa Marie moving her mother to Los Angeles, though she still routinely visited her father at Graceland in Tennessee.
"[Elvis] would sleep all day so me and my friends pretty much had the run of Graceland. And I knew that nobody was going to tell me what to do because they would get fired," Lisa Marie recalled decades later during an appearance on The Talk. "I was, truly a terror to be honest. He and I spent a lot of time together upstairs; the upper part of Graceland is basically his room and my room. That's when I got to be with him. He'd set up a little chair in my room and a TV."
When Elvis died in 1977, nine-year-old Lisa Marie became joint heir to his estate with her grandfather, Vernon Presley, and her great-grandmother, Minnie Mae Hood Presley. By 1980, she would be Elvis' sole beneficiary, though she didn't fully inherit her father's estate until her 25th birthday.
Lisa Marie's first marriage was in 1988 to musician Danny Keough. It lasted until May 1994, and just 20 days later, Presley remarried. Her second husband, Michael Jackson, was the biggest pop star in the world at the time, but was in the midst of a child abuse scandal at the time of their nuptials. Many in the media decried the wedding as a stunt meant to distract from the serious allegations against Jackson, but Presley always insisted the two were in love. "Our relationship was not 'a sham," Presley later wrote, insisting she "wanted to save" Jackson from his addictions. The couple divorced in 1996.
Another celebrity marriage would follow for Presley, who wed actor Nicolas Cage in 2002. They divorced two years later. Her fourth and final husband was guitarist Michael Lockwood, who Presley was married to from 2006 to 2021.
Professionally, Presley pursued her own musical career. The singer's debut album, To Whom It May Concern, was released in 2003 and reached gold status. Two follow-ups, Now What (2005) and Storm & Grace (2012) failed to match the debut's commercial heights. Presley collaborated with a wide range of artists throughout her career, including Pat Benatar, Pink, Sex Pistols' Steve Jones, T-Bone Burnett and Smashing Pumpkins' Billy Corgan.
Presley was also an active philanthropist, regularly contributing to a wide range of causes. Through The Elvis Presley Charitable Foundation, for which she served as chairperson, Presley helped homeless families get housing and child care, funded music and arts in schools and granted the wishes of terminally ill children. The State of Tennessee, City of Memphis and City of New Orleans are among those who honored Presley for her charitable work in the region.
Most recently, Lisa Marie found herself back in the spotlight thanks to Baz Luhrmann's sensationalized biopic, Elvis. In a post to Instagram, she called the film as "nothing short of spectacular," adding that star Austin Butler "channeled and embodied my father's heart and soul beautifully." Presley's most recent public outing took place Jan. 10, when she attended the Golden Globe Awards to show her support for Elvis, which was nominated in three categories. Butler thanked Lisa Marie during his speech after taking home Best Actor.
In Memoriam: 2022 Deaths
A look at those we've lost.