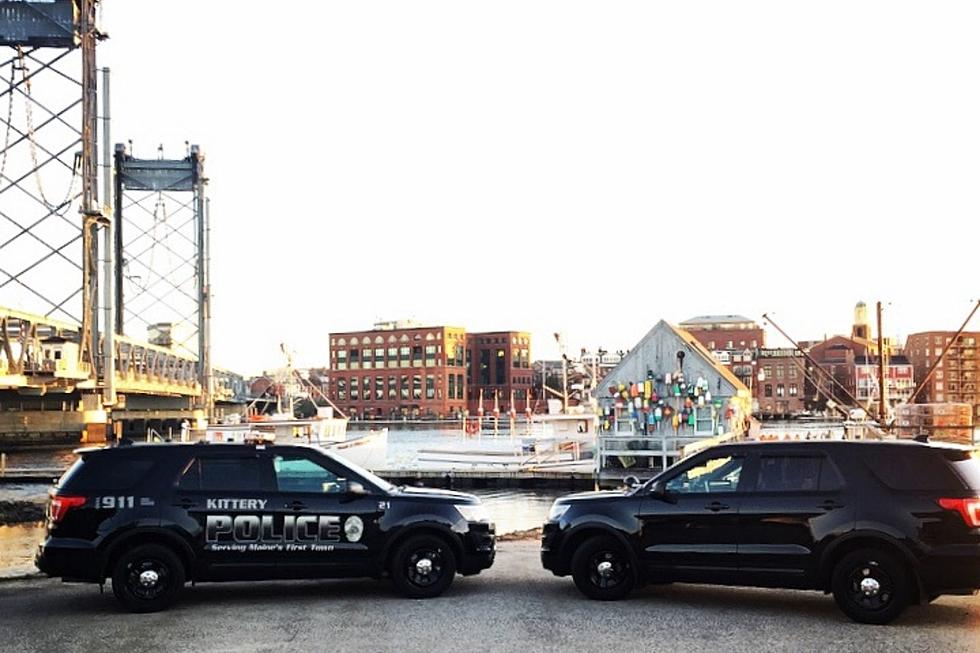 Kittery, Maine Police Officer Lands on Front Page of New York Times After Heroic Actions
Kittery Police Department via Facebook
There's no denying that there has been a lot of controversy surrounding police forces around the country for a while now. That said, there's also no denying that if there were more officers like Officer-turned-Detective Ryan Sanford with the Kittery Police Department, there may not be such controversy -- or any.
An incident from five years ago just landed Officer Sanford on the front page
This story involving then-Officer Sanford may be over half a decade old, happening back in April 2016, but the impact it had on the lives involved and also the community landed on the front page of the New York Times last week, the coveted "above the fold" spot.
According to the New York Times article, on that April night over five years ago, Officer Sanford, then only six years removed from the academy, received a call about an erratic driving van on Route 1. Officer Sanford responded and pulled the van over right near where the Rex Motor Inn used to be.
The driver was an alleged victim of domestic violence
The New York Times reported that Officer Sanford pulled over a woman named Tanya Neal, who was 38 at the time. When Officer Sanford cautiously approached the driver's side window of the van and peered in, he saw Tanya in the driver's seat, visibly shaking. He observed bruises and swelling around one of her eyes.
Tanya revealed to Officer Sanford that she was trying to flee her boyfriend, Nelson Dion, of four years, who had threatened to kill her and also had apparently abused her so bad throughout their tumultuous relationship that he had once put her in a coma.
Officer Sanford sprung into action to have charges brought against Nelson
After Tanya revealed all of that information to him, based in the article published by the New York Times, Officer Sanford sprung to action, connecting with prosecutors after he wrangled up enough information to have Nelson charged with aggravated assault, which came with a maximum prison sentence of 10 years. And since aggravated assault is a felony, bail conditions were set as such that if he had any further contact with her, additional felony charges would be filed.
When the shelter bed wasn't ready, he didn't just call it quits on the situation -- Officer Sanford brought Tanya to a hotel and booked her in a room, paying with his own personal credit card.
In addition, Officer Sanford brought Tanya to a shelter in a secret location in New Hampshire, according to the New York Times. When the shelter bed wasn't ready, he didn't just call it quits on the situation -- Officer Sanford brought Tanya to a hotel and booked her in a room, paying with his own personal credit card. And since she had no cell phone, he also bought her one at a nearby service station.
Unfortunately, Tanya's story doesn't have a happy ending
That wasn't the final interaction that the now-Detective Sanford, who was promoted in 2017, would have with Tanya. The final one, unfortunately, was a heartbreaking one. The full details of their final interaction and what followed can be read in its entirety in the New York Times article.
The world could use more officers like Detective Sanford. In the article, he mentioned that when dropping her off at the hotel,
"She was very thankful. It gave me the impression that it was a glimmer of something better for her."
If you or anyone you know is experiencing domestic violence, call the National Domestic Violence Hotline at 1-800-799-7233 or go to thehotline.org. Also, if you or anyone you know is thinking about harming themselves, call the National Suicide Prevention Lifeline at 1-800-273-8255 or visit suicidepreventionlifeline.com.
We just told you most of Tanya Neal's story, now check out these 25 True Crime locations: then and now
Below, find out where 25 of the most infamous crimes in history took place — and what the locations are used for today. (If they've been left standing.)
Did You Know There are 5 Missing Persons in New Hampshire So Says State Police?
Here's the Full List of Missing Persons Cases in Maine