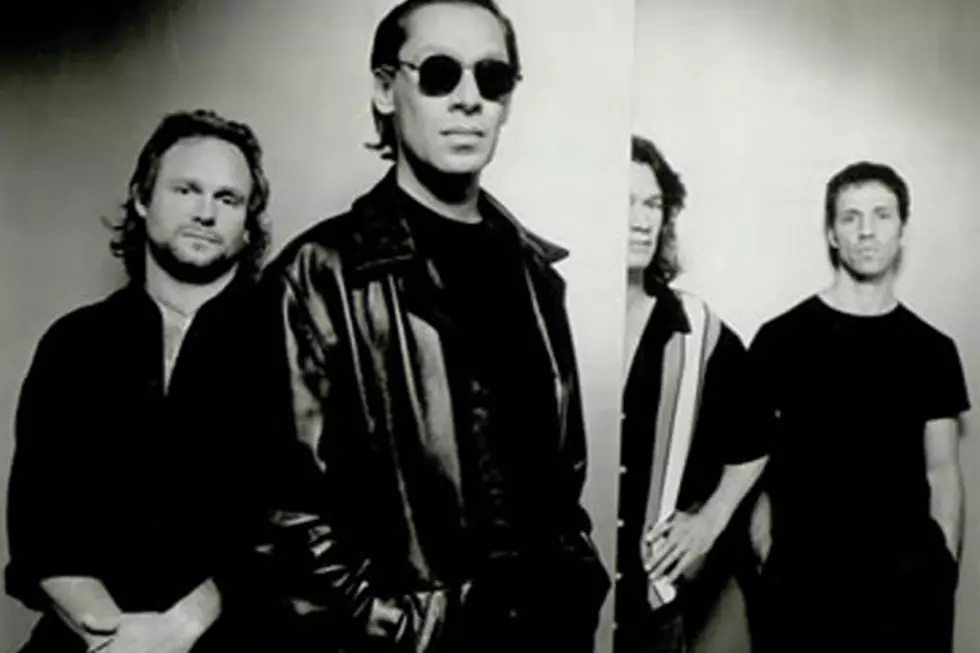 The Troubled History of Van Halen's 'III' With Gary Cherone
Warner Bros.
Van Halen's recording career hit its first major road bump on March 17, 1998. That's when they released III, an album that debuted their third singer, former Extreme vocalist Gary Cherone.
After decades of amazing success with two very different frontman – flamboyant original belter David Lee Roth and his more straight-ahead successor Sammy Hagar – Van Halen found themselves estranged from both after a temporary studio reunion with Roth led to Hagar's departure.
Cherone described how quickly he was brought into the fold in a 2012 interview with Rolling Stone: "I'm holding my suitcase, my overnight bag – and Ed goes, 'You ready to sing?' I go, 'Yeah. Can I go to the bathroom first?' Then we literally went into '5150,' three other songs from the Hagar catalog and 'Jump' and 'Panama' from the Dave era. The Dave stuff was easy. Sammy stuff, I thought I'd have a hard time with that, but it was good. I think we sang four songs and Eddie went to the bathroom, came back out and said, 'Let's write a song.' It was a good day."
The singer promptly inspired newly sober guitar genius Eddie Van Halen to work in a different manner. "I've been making music for 37 or 38 years and never has somebody handed me lyrics to work with," Van Halen told Guitar World in March 1988 (via VHLinks). This record is the biggest milestone in my life because the lyrics came first, then the music. I finally had something to bounce off."
Unfortunately, it seems Van Halen had drawn from the new singer well one too many times, as their initial songwriting chemistry with Cherone didn't deliver results on a par with the group's past work.
Eddie's guitar wizardry remained intact, of course, and songs such as "Dirty Water Dog" and especially "'Once" found the band exploring new, sophisticated textures and moods rather successfully. But too often, overlong tracks like "Without You," "Year to the Day" and "Ballot or the Bullet" lacked the band's usual hooks and sense of melody, with the numerous changes of direction sounding like a lack of focus instead of confident exploration. Eddie also took much flack for his debut turn at the microphone, the dramatic, overly didactic piano opus "How Many Say I."
Hagar offered a theory on why his replacement may have had difficulty writing with Van Halen, during a 2011 Rolling Stone interview: "[Eddie always says] 'I have all this music! So much music ...' Well, they really aren't songs [laughs]. They're really not. It was always easy for me to write songs with Ed. He had all these parts, and I had these ideas. I'd be like, 'Oh, go to B over there for a bridge – write a bridge, Ed.' He'd do it, and it would be some bad-ass shit. But it wasn't like he wrote instrumentals and I just had to write lyrics over them, like I do now with Joe Satriani (in Chickenfoot). Joe writes friggin' instrumentals. Ed doesn't have any songs. I'm sorry. I love the guy's guitar stuff, but play me a song, will you?"
Cherone, in a 2014 talk with UCR's Matt Wardlaw, said he had one major regret. "If I was to do the whole experience over again, I wish I [would have gone] out and toured with the guys before we made the record," he said. "Because when I came in at the beginning, you had to get acquainted. You know, I was the new kid in there. That in and of itself was a little uncomfortable, even though those guys were great. We were laughing and joking and eating and just hanging out by the time the record came out. But I wish I had toured with the band and done some of the old catalog, so that maybe for the audience, the transition would have been a little smoother."
Instead, the band jumped right into work on Van Halen III, which Cherone says "was written as we went along. It could have been developed more. Mike Post produced it. He's great guy with a lot of success in TV, but in retrospect, maybe not the right guy to do it. It's not the most enjoyable listen as far as the production. There's a couple of good songs on that record that could have [worked], maybe if they were tightened up in arrangement. I think of 'One I Want,' I thought 'Once' was something new. 'A Year to the Day' – there was some great guitar in that song. Looking back, was 'Without You' the right song to release (as the album's first single)? You know, you really never know."
Watch Van Halen Perform 'Without You'
Fan response to III wasn't very strong, and it became the first Van Halen record not to sell at least a million copies. The supporting tour also met with less than stellar sales, despite the fact that the group unearthed many Roth-era songs they had avoided during their time with Hagar. "It's funny, you know, it was kinda pre-YouTube, but there were rumors going around, 'Oh, they're playing 'Mean Street' for the first time in 20 years,' so that worked in my favor," Cherone remembered.
Not making things any easier was the fact that some fans and industry gatekeepers were slower to accept Cherone as the band's lead singer than they were a decade earlier when Hagar – well established as a headliner under his own name, and fresh off his platinum "I Can't Drive 55" success – took over for Roth.
"We'd go into a town and the radio station, there would be some mocking, you know, 'Gary Cherone, the ("More Than Words") ballad guy, what's he doing in Van Halen?' But those same radio people saw the show and then after that, we'd see them and they were apologizing. Maybe those guys didn't know who Extreme was. As far as performance, the Van Halen guys, they embraced it. I think maybe, me having some young legs – I was a little younger than those guys. I'm not saying I pushed them, but I think they embraced it. Because it's my nature to run around and have fun like a carnival monkey, so Eddie was running around. Everybody seemed to be happy. I think there was a lot of good reviews in the sense that Eddie seemed to be inspired. Maybe the last couple Sammy tours, he wasn't. But [this time], Eddie was all over the place. He was jumping off the drum riser and doing his classic Eddie splits. We had a ball on that tour."
Despite the tepid response to their first album together, the III lineup of Van Halen began work on a second. "There were a lot of demos," Cherone told UCR. "We worked with a couple of different producers [including] Patrick Leonard, all different degrees of production. Most of them were a riff, a rough drum [track], a vocal that I put on it, I might have thrown a harmony on it. A couple of songs were fully developed, and were the best things that we did. I look back on some of those demos and I go, 'You know what? This should have been the first record.' Because the critique of Van Halen III is that maybe it was a little too different. You know, 'Josephina,' 'Once,' might have turned off that diehard Van Halen fan. Or even Eddie singing the last song, you know, maybe looking back, that [should] have been the second record. It actually maybe makes my point that after being on tour with these guys and being comfortable, we were doing some demos and it was coming a little bit more naturally."
However, before completing that sophomore record, the group split with Cherone in 1999. "Eddie started drinking a bit. It wasn't bad, but it wasn't going in the right direction," Cherone explained in the 2012 Rolling Stone interview. "Also, I wasn't in a great place mentally. I had some things going on in my personal life that affected me."
In 2014, Cherone added: "I wasn't blindsided. Without getting into details, it was getting a little dysfunctional. But we parted ways amicably. There was no dirty laundry. I wish I was still in touch with those guys, but if you know the brothers, they're insular – meaning that they have a very tight circle and if you're not working with them, that's that. So, I understood me getting out of touch with them. It was a boring parting. There was no drama."
And as he points out in the 2012 Rolling Stone interview, "I was one of three singers in the mighty Van Halen. You can't take that away from me."
After a five-year hiatus following Cherone's departure, Van Halen recorded three new songs with Hagar for another greatest hits album. They then embarked on an ill-fated tour with him that seems to have ended the friendship between the two camps once and for all. In 2007, the group finally reunited with Roth (but ditched original bassist Michael Anthony, who was replaced by Eddie's son Wolfgang on bass) and mounted three successful tours over the next decade. Nearly 14 years after the release of III, Van Halen released A Different Kind of Truth, their first studio album with Roth on vocals in nearly three decades.
Eddie Van Halen Year by Year: 1977-2017 Photos
You'll see him with long hair, short hair, a variety of his most famous guitars and all three of his band's lead singers.
See Rock's Epic Fails: Van Halen Edition