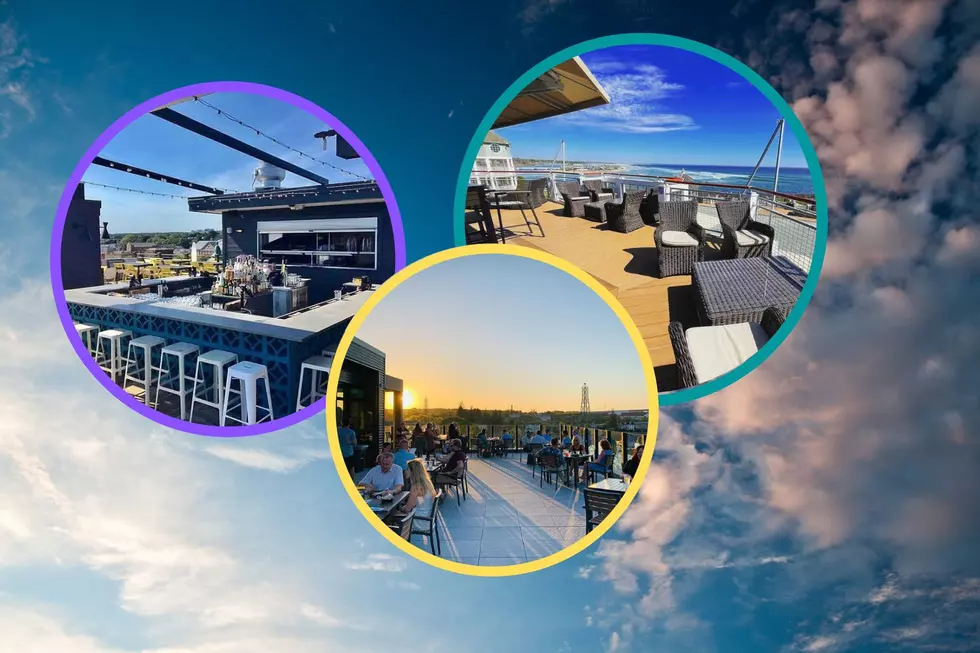 5 Can't-Miss Fall Rooftops in New Hampshire, Maine, and Massachusetts
The Roof Salem/AARON M RAMSEY/Rooftop at the Envio via Facebook/Canva
Let's get right to it, shall we?  Here's a list of five absolute musts for your fall rooftop fun, whether it's for a day or weekend getaway.  The views and booze make these rooftop experiences on the New Hampshire, Maine, and Massachusetts Seacoast both stunning and fun.
Let's start at the absolutely breathtaking Maine shoreline in Ogunquit, at Surf Point 360.  This restaurant, open to anyone, is in the Four Season's Resort of Anchorage By the Sea, and the epitome of oceanside fine dining right on the Atlantic.  This means if you're looking for a getaway where you can bask in this view for meals, munchies, and cocktails, then you're in luck.
Now it's time to hit the rooftop of Thompson Tavern, snuggled right downtown in quaint Dover, New Hampshire.
Thompson Tavern is truly a hot spot to kick back and take in the views with the typical bar fare and fun drinks, whether it's on a weekend day or after work.
It's time to head to Portsmouth, New Hampshire's Rooftop at the Envio for that sleek, cool vibe.
Perched on top of the AC Hotel Marriott and Envio restaurant, it's open to everyone, and is a great Seacoast getaway on the water.
Party town time, so to speak, as we head down to Hampton, New Hampshire, to Sea Ketch Restaurant on Hampton Beach.
2022 was their 50th season on the water with drinks, live music, and everything from lobster rolls to steaks, sandwiches, plenty of umbrella drinks, and choice beach drinks.
And now, to this absolutely beautiful rooftop in Salem, Massachusetts.  Now, I know that Salem isn't really the Seacoast, but it's such a hot spot of activity, so I just had to include it.
The Roof offers a chic and cozy environment with simple food and strong drinks in downtown Salem on top of The Hotel Salem.
Yes, here's another fantastic weekend getaway if you want to make it a longer outing then an afternoon or evening experience.
Okay, there's your rooftop bucket list.  Did I miss any in the Seacoast or on the water?
The '80s Brat Pack: Where Are They Now?
Decades later, the actors' respective careers have gone in many different directions.
Every Mission: Impossible Movie, Ranked From Worst to Best