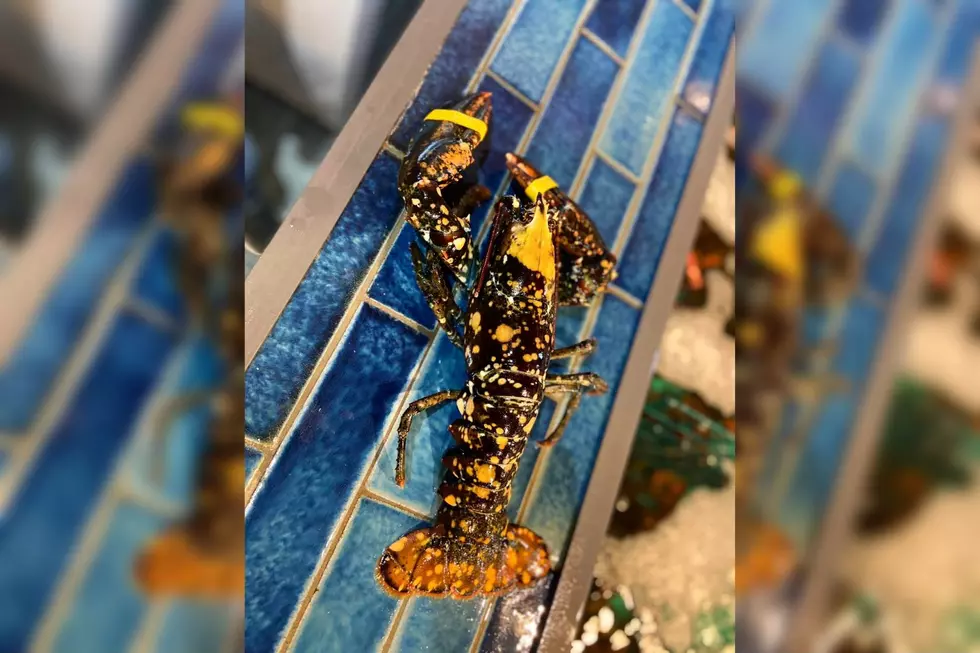 A Rare, Yellow-Speckled Maine Lobster Caught is a One in 30 Million Find
Flaherty Family Farms via Facebook: Canva
Would it be a stay of execution for a lobster that looks more dressed up for Halloween than Christmas? I know that sentence is a lot, but it will make sense.
Yellow & Black Lobster
These photos were posted by Flaherty's Family Farm on social media recently. The Scarborough farm noticed a very special and very rare colored lobster in their catch. The extremely unique-looking lobster is actually spotted yellow. However, you could tell me it was orange and black, and I'd believe you. No matter the color, this is one unique crustacean.
 Rare Calico Lobster
Lobsters come in all sorts of colors, but some are certainly rarer than others. And if this little guy is a true calico, it's quite the catch. According to capradio.org, a calico lobster could be a one in 30 million find. That's simply staggering to comprehend.
With it being such a unique catch, Flaherty Farms put the word out to organizations to see if there was interest in adopting the cute crustacean, who just so happened to be named "Speckles." The farm was very interested to see this extraordinarily rare lobster get a chance to lounge away and help educate others on the species.
It didn't take long for the farm to hear from the Maine State Aquarium in West Boothbay Harbor. And just like that, Speckles was on his way to his forever home up in the Midcoast.
The Maine State Aquarium is currently closed for renovations. However, you will be able to see Speckles and all of his new friends in 2023 when the aquarium is planning to re-open.
You're Breaking The Law In Maine If You Have Any Of These Animals As Pets
Stick to the cats and dogs that you know because if you're keeping any of these animals (or animals like them) as pets in Maine, you're breaking the law and could face stiff penalties.
RANKED: Here Are the 63 Smartest Dog Breeds
Does your loyal pup's breed make the list? Read on to see if you'll be bragging to the neighbors about your dog's intellectual prowess the next time you take your fur baby out for a walk. Don't worry: Even if your dog's breed doesn't land on the list, that doesn't mean he's not a good boy--some traits simply can't be measured.