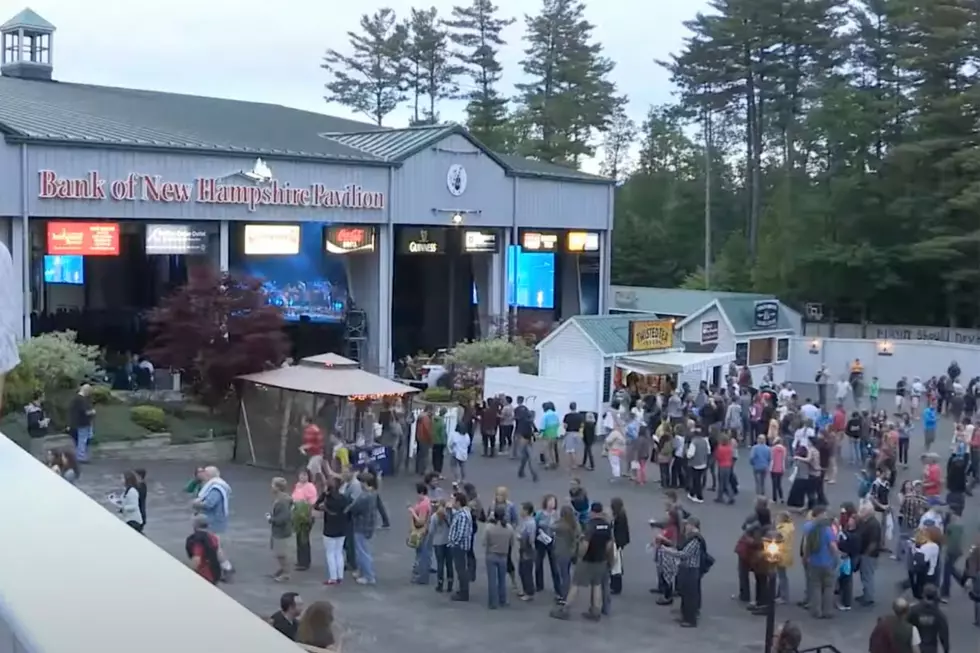 Bank of NH Pavilion Has the Perfect Summer Concert Atmosphere You Could Wish for
Bank NH Pavilion via YouTube
If you've spent much time at Bank of NH Pavilion in Gilford, New Hampshire, the title of this article seems like the most obvious thing ever. But still, whether you're a regular at this beloved venue or have yet to visit for the first time, it's worth taking a second to talk about how perfect the summer concert atmosphere of this place is.
Bank of NH Pavilion is an 800-seat concert venue in Gilford, New Hampshire, near the beautiful Lake Winnipesaukee. It's hosted artists like Keith Urban, Luke Bryan, OneRepublic, Barenaked Ladies, Pitbull, Big Time Rush, and countless others.
Yours truly paid a visit to the Pavilion for the first time this summer with a friend to see OneRepublic with NEEDTOBREATHE on their Never Ending Summer Tour. Of course the performances were absolutely fabulous, but what was just as big of a surprise to this writer was the atmosphere of Bank of NH Pavilion itself.
It's a given that concerts are a fun but often chaotic and stressful experience when it comes to crowds, finding your way around, parking, traffic entering and exiting the venue, etc. Upon arriving and getting our tickets scanned, we walked to the area where the various food vendors and restaurants are situated, just steps away from the amphitheater.
This area was such a pleasant surprise. Not only was it easy to navigate, but it was also busy without being overly crowded. It didn't take long for us to get our hands on some food and drinks, which were delicious, by the way.
As the first two acts prior to OneRepublic performed, we sat on a patch of grass and ate, drank, people-watched, and heard the music clear as day through the speakers. It was honestly so relaxing. We didn't do any tailgating, although that's definitely a popular activity for many visitors.
After getting our picture taken in front of a backdrop near the stage, we went to our seats and enjoyed the concert. Even though we were pretty far back, we didn't feel like it retracted from the experience. Folks who were behind us on the lawn appeared to be having a great time as well.
When it was all over, it was pretty easy to make our way back to the car and drive out of the lot. There were obviously the expected lines of traffic, but everything seemed to be moving at a steady pace, and we were soon on our way home.
Yes, it is indeed possible that these experiences are not a constant at Bank of New Hampshire Pavilion. Perhaps it varies depending on the artist(s) performing and the crowds they draw in. Those who have attended other concerts may be able to attest to a more chaotic, crowded, or hectic situation. But that doesn't change the fact that this venue is still one heck of an awesome place, and should definitely be a must-visit place as you make plans for the rest of the summer. We promise you won't regret it.
To see who's performing at Bank of New Hampshire Pavilion, click here. In the meantime, here are some things to know for your first visit.
20 Things to Know Before You Go to Bank of New Hampshire Pavilion
Concert Season at Bank Of New Hampshire Pavilion: Here are 20 Things To Know Before You Go.
20 Popular Celebrity Alcohol Brands Available at NH Liquor & Wine Outlet Stores
Celebrities create their favorite alcohol brands to share with all of us. Here are some available at NH Liquor & Wine Outlet Stores.