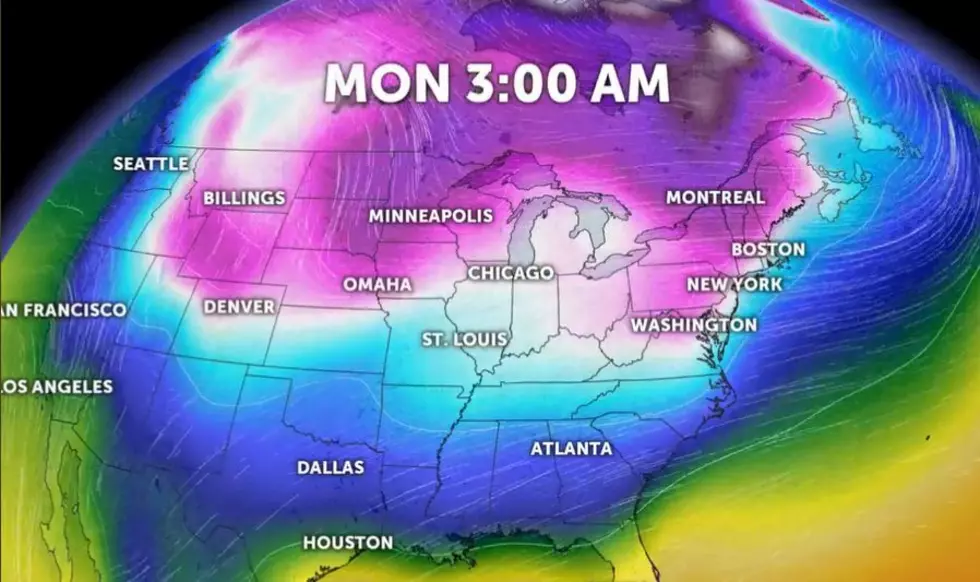 Bone-Chilling, Snot-Freezing Temps Punching Maine This Week
Administrator
Hope you didn't put away your wool.
Forecasters are saying that we are gonna get a burst of arctic air (thanks Canada) that will remind you of just how cold Maine winters can be. Remember, purple is the coldest color!
We haven't seen weather like this all season. Oh, what a difference a month makes. Maine was making headlines at the start of January for record-breaking warmth! According to WMTW, on January 1, 2023, the morning low temperature of 43° beat the old record of 38°. That's a record from 1979!
Will we set new records for how cold it is? Probably not, but it's been so mild this winter that this cold is going to hit us in the face like a cast iron frying pan!
Now, we are still days away and as Mainers, we know...ANYTHING could happen. But most forecasters are predicting 0 or temperatures Friday night. That hasn't happened in almost exactly a year. WMTW again reported on January 27 of 2022, that temps across Maine were brutal with the coldest up north. The coldest was in Masardis along the Aroostook River where the temperature fell to 39 degrees below zero. Okay, so zero or below seems pretty mild in comparison - but it's been a year since we've had to deal with this.
Hope those heat assistance checks come soon, because, with this cold weather, we are gonna be burning through heating oil, propane, kerosene, or electricity! Time to keep the coat on inside too. Come on July!
LOOK: The most extreme temperatures in the history of every state
Stacker
consulted 2021 data from the
NOAA's State Climate Extremes Committee (SCEC)
to illustrate the hottest and coldest temperatures ever recorded in each state. Each slide also reveals the all-time highest 24-hour precipitation record and all-time highest 24-hour snowfall.
Keep reading to find out individual state records in alphabetical order.