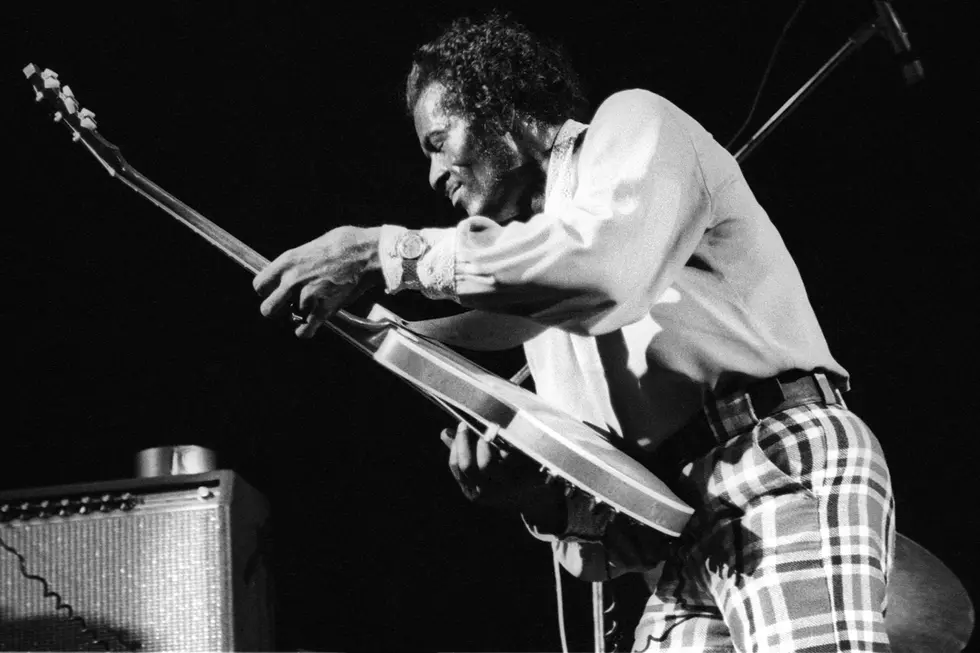 Ian Dickson, Getty Images
Chuck Berry's status as one of the most important musicians of the rock era is undeniable. As a guitarist, songwriter and singer, he virtually created the template for rock 'n' roll via a string of hits between 1955 and 1964 that influenced everybody that followed. We're counting down our favorites with this list of the Top 10 Chuck Berry Songs.
While many of Berry's songs seem to sound the same -- a riff, three chords and tales about the nascent teenage culture of cars, girls and rock 'n' roll -- his genius, and the reason his music has endured, is how he found new ways to tell those stories. Sometimes he was the lover, other times the fool. And then there were the songs that, underneath, contained bigger messages about racism in the U.S., as taboo a subject as you could find in the mid-to-late '50s. Check it out below.
10

There's a reason Chuck Berry was so adamantly against the way Keith Richards was ending the riff from "Carol" in Hail! Hail! Rock 'n' Roll: Berry's double-bend is perfect the way it is. Lyrically, it touches on everything we expect from Berry. There's a call the to the titular character to "Climb into my machine" and go to a "swingin' little joint where we can jump and shout." But the catch here is that Berry can't dance.

9

"Memphis, Tennessee" (1959)

No. 9 on our list of Chuck Berry songs is one of rock's first great story songs -- complete with a twist. As it starts, Berry is on the phone, pleading with an operator to connect him with a girl called Marie. He's desperate to talk to her, and needs to hear her voice, even though Marie's mom is keeping them apart. Another early-rock 'n' roll love song, right? Turns out Marie is his six-year-old daughter, and her mother left town with her and without a word to the grieving Berry.

8

"No Particular Place to Go" (1964)

One of Berry's last big hits showed that he could still find new ways to tell a story about cars and girls. Here, his attempt to find a quiet spot to make out with his girlfriend is thwarted by a busted seat belt. "All the way home I held a grudge / For the safety belt that wouldn't budge," he complains as they made their way back home.

7

"Brown Eyed Handsome Man" (1956)

On the surface, "Brown Eyed Handsome Man" seems like a harmless riff on boy-girl crushes, baseball and ancient history. But dig deeper and you'll uncover a song brimming with racial tension (Berry wrote the song after watching a Hispanic man being arrested in a minority neighborhood). The subtext made for some pretty heavy stuff in 1956, when suburban parents were still fretting over rock 'n' roll's pull on their kids.

6

"Back in the U.S.A." (1959)

Written after a tour of Australia, "Back in the U.S.A." was an unabashed love letter to America, with shout-outs to cities big and small, skyscrapers and corner cafes. The irony is that, a few months after the single's release, Berry would be arrested and subsequently convicted for bringing an underage girl across state lines for the purpose of having sexual relations with her. On appeal, Berry argued that the judge and jury were racially prejudiced against him, but he still served more than a year-and-a-half in prison.

5

"Rock and Roll Music" (1957)

Like many of rock 'n' roll's earliest songs, Berry's 1957 hit was a simple glorification of the music he helped pioneer and popularize. And he didn't mess around with his message or even the song's title. Sitting at No. 5 on our list of the Top 10 Chuck Berry Songs, it's one of his most direct and important compositions. The Beatles covered it; so did the Beach Boys. But neither topped Berry's original, a straightforward tribute to the cultural movement he helped ignite.

4

"Sweet Little Sixteen" (1958)

Brian Wilson loved "Sweet Little Sixteen" so much he used most of it in the Beach Boys' "Surfin' U.S.A." Berry's original, like many of his earliest pioneering hits, is a teen anthem that celebrates, in equal parts, rock 'n' roll and the youth revolution. The song features one of Berry's best hooks, and a chorus that name-drops cities and institutions help spreading the gospel of rock 'n' roll.

3

"Roll Over Beethoven" (1956)

As if uptight people in the '50s needed more signs of the rock 'n' roll apocalypse. "Roll Over Beethoven" is a defiant declaration of the music as a cultural force demanding to be taken seriously as an art form. It would be a few years before the music got there, but Berry's 1956 ht was an earth-rattling statement of its significance and timelessness. Everyone from the Beatles to Electric Light Orchestra to Iron Maiden have put their stamp on it.

2

Berry's first single kicks off with a blast of distorted guitar that must have sounded like a tempest in 1955. R&B music was creeping toward rock 'n' roll before this, but "Maybellene" pushes forward with a force that pretty much heralded the genre. The '50s can be broken into two distinct halves: everything before and everything after rock 'n' roll. "Maybellene" is the breaking point.

1

Berry's signature song wasn't autobiographical, but it could have been. "He could play guitar just like ringing a bell," he sings over one of rock 'n' roll's sturdiest musical templates. And boy could he ever. Pretty much every rock guitarist worth a riff has Berry to thank. He didn't invent rock 'n' roll guitar, but he perfected it, and "Johnny B Goode" is his crowning achievement, topping our list of the Top 10 Chuck Berry Songs.