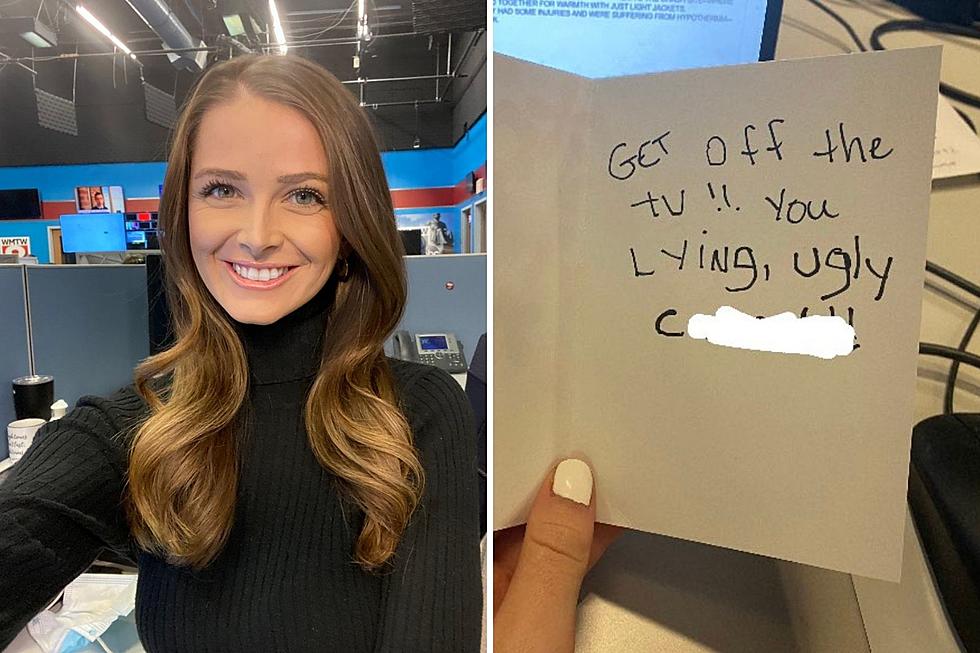 Community Defends Popular Maine News Anchor After She Receives Disgusting Hate Mail
Allison Ross
This is absolutely sickening and uncalled for. There's literally ZERO reason for this to even happen.
WMTW's Allison Ross was mailed a card with a disgusting, hateful message yesterday.
It's hard to imagine what could possibly go through someone's mind while they're at work, literally just trying to perform their job to the highest ability they can, and come across a message like this. That's what Allison Ross, news anchor for Channel 8 WMTW out of Portland, experienced yesterday.
After opening a letter that was mailed to her at the station, she pulled out an adorable card covered with flowers on the front. But the message that was on the inside couldn't have been more opposite of being adorable. Eight hateful words took up the top half of the inside.
"Get off the TV. You lying, ugly ****"

 
Thankfully, Mainers immediately came to Allison's defense in the comments section.
Refusing to have their reputation spoiled by one bad, inconsiderate seed, multiple Mainers showed off their good, pure hearts that Mainers and immediately came to Allison's defense as soon as they came across her post.
"Unacceptable on every level." - Dr. Nirav Shah

 

"The worst part of the job Allison. Trolls come in all forms. Put that in its proper file in the trash." - TVTEDDY

 

"Burn it. That's not a fan. That's someone that's miserable and that enjoys bringing people down with them. Don't let it get to you. Keep up the great work Allison!" - Mike

 

"Wow. I can't believe someone would send you anything like this Allison. Sending prayers and hugs your way and keep up the excellent job." - Ken Antone

 

"Cut it in half, keep the flower part, and trash the other half. Get back on TV and be sure to wave at them. #RiseAboveHate #YouAreAmazing" - D Jones

 
Unfortunately, women in media don't have it easy at all. Not even close.
While Allison got a massive amount of support from the community she serves, the cause of it shouldn't have happened in the first place. And it just goes to show that no matter the form of media, for whatever reason, women endure the brunt of such senseless, hateful words like the ones Allison opened yesterday afternoon.
Female anchors and meteorologists seem to unjustly always be characterized by their looks and/or fashion choices, regardless of how good they are at their jobs.
Female anchors and meteorologists seem to unjustly always be characterized by their looks and/or fashion choices, regardless of how good they are at their jobs. Allison and every other staffer at WMTW are not only great at their jobs, but incredible humans. Yet here's Allison having both her journalistic integrity and physical appearance being torn to shreds for no reason (which, side note to the author of the note, clearly you're overdue for an eye doctor and neurologist appointment -- you couldn't be more off the mark with the hate you spewed.)
It goes back to the age-old adages we (hopefully) were instilled with as children: "If you don't have anything nice to say, then don't say anything at all" and "Think before you speak."
Especially in these times where emotional and mental health just seems to be so fragile all-around. You just never know exactly how impactful your words can be, so choose them wisely.
But enough about hate, time to spread the smiles by looking at Maine and New Hampshire's most adorable dogs
Northern New England celebrated National Dog Day by showing off their best canine friends and family members!
See Where These Celebrities Went to School in Maine
Maine Towns That Are Either Surprisingly Easy, Or Pointlessly Hard To Pronounce
Maine towns that look like they should be hard to say, but aren't. Or, towns that are impossible to say unless you grew up there.