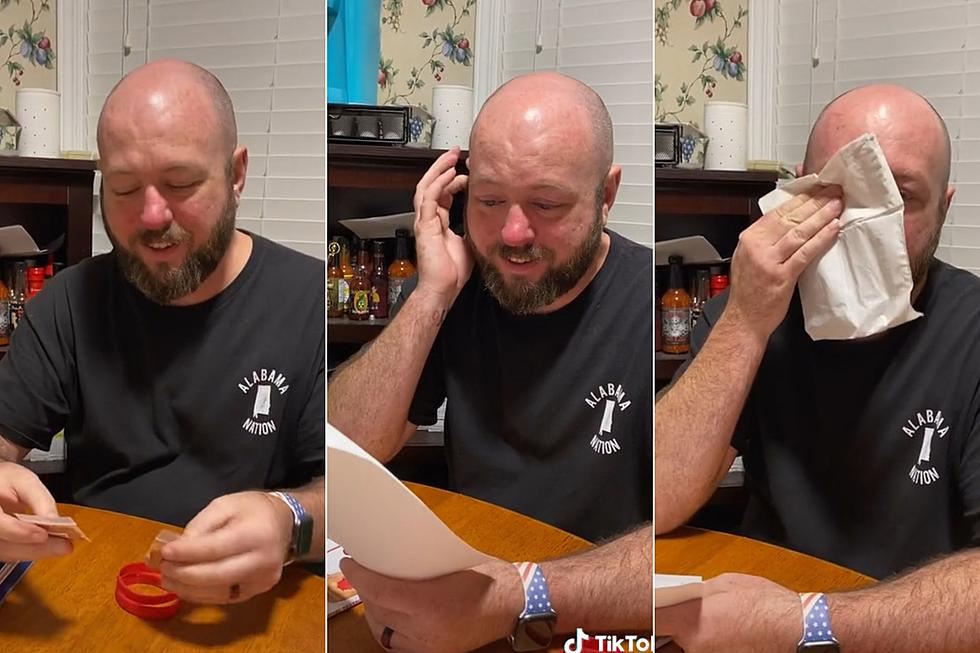 Couple Receives Gifts After Sending Wedding Invite to Fenway Park
@karlajean938 via TikTok
There's nothing like a personal congrats on your marriage from your favorite baseball team!
Karla and David Simmons tied the knot earlier this month, but prior to their nuptials, the Alabama-based couple noticed they had a few extra invitations. Instead of just letting them go to waste, bride Karla decided to send the extra invites out, mailing them to a few of the couple's favorite celebrities for kicks and giggles. Among the VIP guest list was none other than the Boston Red Sox.
David is a die-hard Red Sox fan, so Karla sealed up an invitation and, stamp and all, sent it off to Fenway Park, but it's safe to say the couple wasn't expecting what happened next. The Red Sox may not have been able to show up for the Simmons' big day, but they did manage to send over a very special package.
Karla let David take the lead, filming his reaction as he opened the manila envelope mailed from the heart of Boston.
"It is always nice to see Red Sox fans begin a journey that will surround them with happiness for the rest of their lives. We will do everything we can to bring home another World Series Championship to make your happiness that much more fulfilling," Fenway Ambassador Ben Goslin wrote in a letter congratulating the couple on their marriage on behalf of the entire Red Sox organization. "We admire your dedication to each other and wish you many years of joy and happiness."
David was a puddle of happy tears, and had us tearing up as well, as he read Goslin's sweet letter and pulled out a variety of gifts from the organization, including Red Sox stickers, Red Sox Nation bracelets, and packets of Fenway Dirt.
But that's not it. After the Simmons' video, and David's emotional reaction, went viral on TikTok, Goslin sent an even better surprise to the nationally-adored couple.
"Everyone here in our front office was so moved by your video and were so happy to hear from such a great fan as you," Goslin wrote to the couple via email. "First, we wanted to put together another little basket as a congratulations on your big day.... I realize that this season is probably out of the question since you have your wedding and honeymoon, and we only have about eight home games left in this year. That being said, we would absolutely like to extend the invitation for a game next season if you are able to make it to Boston."
How's that for a great wedding gift? Plus, the Simmons went on the explain that the trip will not only be a great opportunity to catch their favorite team in-person at Fenway, but it will also serve as an excuse to travel up and visit family throughout Massachusetts and Rhode Island.
Warning: The following video contains explicit language and is NSFW.
The 5 Most Memorable Red Sox Opening Days
20 Celebrities Who Love the New England Patriots As Much As You
Patriots Nation is strong with or without Tom Brady and these celebrities count themselves among the those who love New England's football team.
14 Unique Museums in Massachusetts You May Not Know About
When you think of a museum, what do you think of? Maybe you imagine walls full of art or a giant T-rex skeleton at the entrance. But here in Massachusetts, we do museums a little different. While we do have your typical museums, we are also home to quite a few unique and sometimes a little off-the-wall museums that challenge the way we think about art, science, and what we hold dear. Take a look at 14 of the most unique – and treasured – museums in Massachusetts, and let us know which one you want to visit first!