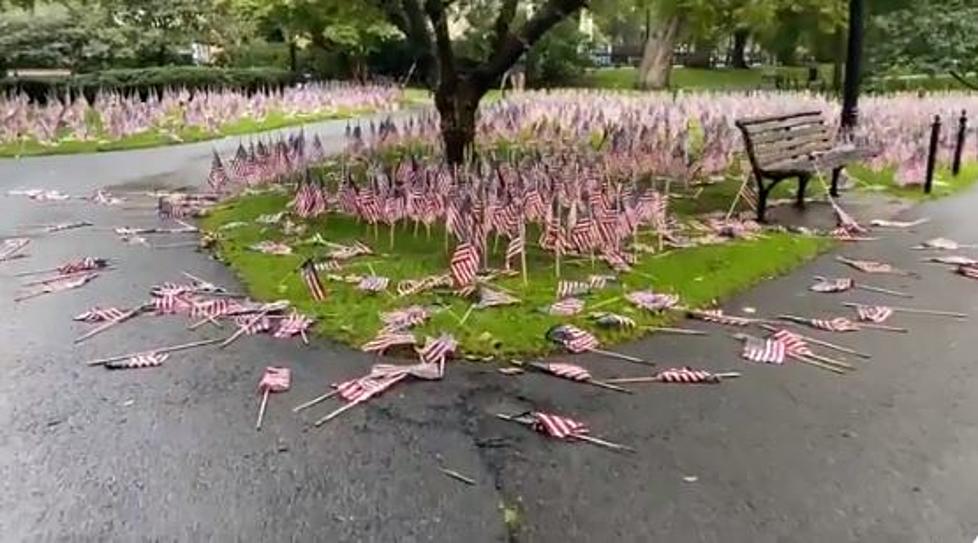 Flags Planted in Boston by Volunteers to Honor 9/11 Victims were Damaged Overnight
@JoshBrogadirTV via Twitter
It's hard to believe it has been twenty years since the most tragic day in American history. We all remember exactly where we were on September 11th, 2001; How we found out, how we felt, how our parents talked to us about it or how we talked about it with our children.
I was in the 7th grade in Mrs. Campagna's history class at Southeast Middle School. The principal sternly called Mrs. C out into the hall in the middle of class. While she was gone we all joked about who was in trouble and what they did to get a look like that from our principal. When Mrs. C came back in she was crying and we knew something really horrible happened. Our lesson plans for the rest of the day were thrown to the winds and we watched news coverage on the attacks for the rest of the day.
Every year we remember the lives of the 2,997 people who died in 9/11. It is an astounding number of people and is still difficult for me to wrap my head around all these years later. 2,997 people. They all had families, friends, jobs, and dreams. Their lives mattered.
According to WCVB, this year a volunteer organization called Team Project 351 placed 2,997 flags over Boston's Public Garden to honor the victims. This morning it was discovered that someone had defaced this display. They ripped some of the flags out of the ground, broke sticks, and dumped over trash cans.
The fact that someone/a group of people felt the need to do this is so heartbreaking and completely unacceptable. People noticed the destruction as they walked by and many stopped to help put the flags back up including this young woman below. She told WCVB's Josh Brogadir that her grandfather fought overseas and she takes this personally.
More and more people joined the effort to make sure every flag was standing again.
I am proud of the people of Boston who came together to make this right. #BostonStrong
WCVB said a message was left with the Boston Police and they are investigating the vandalism.
LOOK: The most expensive weather and climate disasters in recent decades
Stacker
ranked the most expensive climate disasters by the billions since 1980 by the total cost of all damages, adjusted for inflation, based on
2021 data from the National Oceanic and Atmospheric Administration (NOAA)
. The list starts with Hurricane Sally, which caused $7.3 billion in damages in 2020, and ends with a devastating 2005 hurricane that caused $170 billion in damage and killed at least 1,833 people. Keep reading to discover the 50 of the most expensive climate disasters in recent decades in the U.S.
Here's Why Mainers (and Those "From Away) Feel so Emotional From the Piscataqua River Bridge
Mainers and even those from away that used to live in Maine or are frequent visitors to Maine express exactly what the Piscataqua River Bridge means to them and how emotional it makes them feel.