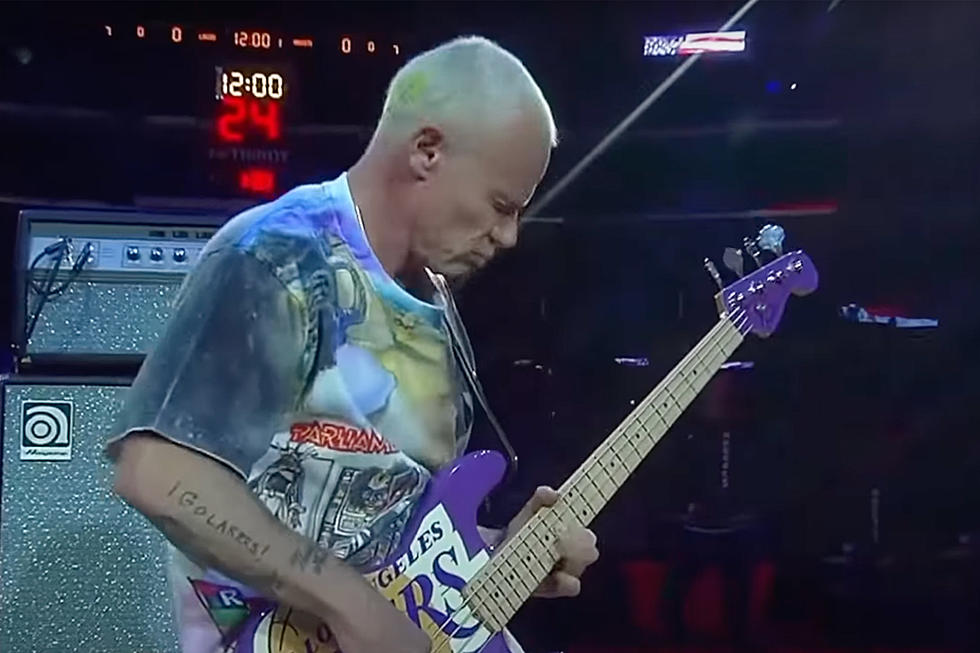 Flea Rocks Fuzzed Out Bass-Led National Anthem at Los Angeles Lakers Game
YouTube: Daniel2k1Live
Avid Los Angeles Lakers fan Flea was no longer cheering from just the sidelines over the weekend, he was actually right under the spotlight in the pre-game festivities as he performed a blistering, fuzzed out performance of the National Anthem just ahead of the Lakers key playoff-run game against the Denver Nuggets on Sunday (April 3).
This isn't the first time Flea has performed the song for the Lakers hometown fans (more on that a little later), but it may be the most well received. A quick look at the musician leaves no doubt where his loyalties lie, as he turned up with his Lakers emblazoned purple Fender Jazz bass guitar and matching pants, with some gold splotches in his hair. While playing, you can clearly see the words "Go Lakers" scrawled upon his forearm.
For a shirt, he showed off another loyalty, with Parliament proudly displayed on the colorful shirt. Earlier in the week, George Clinton had helped to reveal the Red Hot Chili Peppers Hollywood Walk of Fame star during a ceremony and the band rocked "Give It Away" with the P-Funk musician.
For this rendition, it started simply with Flea picking a few bass chords queuing up the familiar notes of the National Anthem, but soon into the performance, he steps on a fuzz pedal and lets loose with some inspired noodling and headbanging. As he later tweeted, "I told Kareem [Abdul-Jabbar] I would do that Charlie Parker riff in the second stanza (after I step on the fuzz pedal).
As you can see, Flea primarily received praise for this effort.
This effort was definitely better received than his April 2016 performance at Kobe Bryant's last game as a Los Angeles Laker. Decked out in Lakers gear, Flea's fingers danced around the fretboard adding depth and texture to the song, but the performance suffered a bit from sound issues. While Flea seemed happy with his performance, he faced some harsh criticisms on social media. Speaking later to TMZ, he brushed it off, stating, "I don't care man ... I know that people who liked music liked it. I thought it was beautiful. I really don't have any concern for little small minds that get frustrated when they get blown ... I like big minds."
For Flea, the Lakers game was the culmination of a busy week that not only included the Hollywood Walk of Fame ceremony, but late night TV appearances, a new album release (Unlimited Love is out now) and more. Check out his National Anthem performance below.
Flea Performs the National Anthem at Los Angeles Lakers / Denver Nuggets Game (April 3, 2022)
Top 66 Rock + Metal Bassists of All-Time