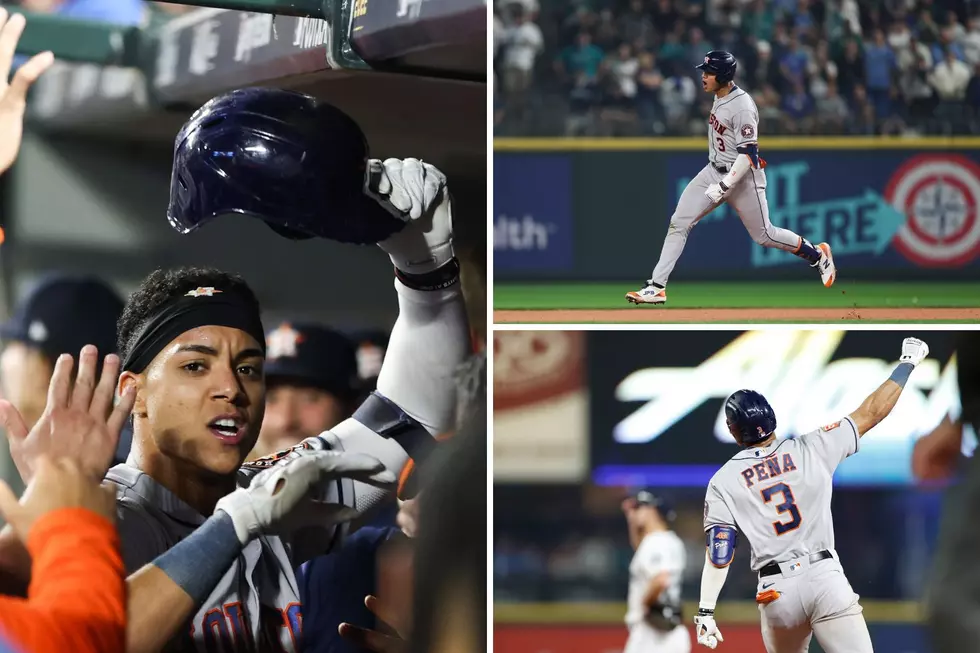 Former UMaine Standout Hits Home Run in 18th Inning, Leads Astros to Series Win
Getty Images: Canva
Former University of Maine Baseball standout and current Houston Astros starter, Jeremy Peña, has had his fair share of home run highlights this year. However, this weekend's homer definitely took the cake.
It was an absolutely incredible blast for the youngster. It also ended up being the game and playoff series clinching run for the Astros, who now just stand four wins away from another World Series trip.
Peña is a tremendous story to begin with. The Rhode Islander was drafted out of high school in the 39th Round of the 2015 MLB Draft by the Atlanta Braves. However, Peña opted to go to college in hopes of improving his game and chances. He would play three years in Orono, and was an absolute stud.
After an exceptional run at UMaine, Peña was drafted in the 3rd round of the 2018 Draft by the Houston Astros. Three years of solid play in the minors gave him the opportunity to take over for the exiting All-Star Carlos Correa at starting shortstop. Those are quite the gigantic shoes to fill.
However, Peña performed solidly in his rookie season. He finished with a batting average of 2.53, with 22 home runs and 63 RBI. He also had one of the highlights of the year when he went yard for his first career home run as his parents were being interviewed.
Peña joins a nice list of former UMaine baseball players that have reached the Major League level. It includes Billy Swift, Mike Bordick, and Mark Rogers, just to name a few.
The Astros now await the conclusion of the series between the New York Yankees and Cleveland Guardians. The winner will join Houston in the American League Championship Series, with a trip to the World Series on the line. We wish Jeremy the best of luck in the following round, especially if it's against the Yankees.
30 "Under-the-Radar" Restaurants in Maine
Thanks to our great listeners we were able to compile a list of many of Maine's great "under-the-radar" restaurants, cafes, pubs and bakeries.
These great spots can be found across the state, and waiting for you to give them a try.
How many have you been to?
10 Maine Towns With Dirty Sounding Names
Bring your mind directly into the gutter as we roll through 10 Maine towns that have the dirtiest sounding names whether they're intentional or not.