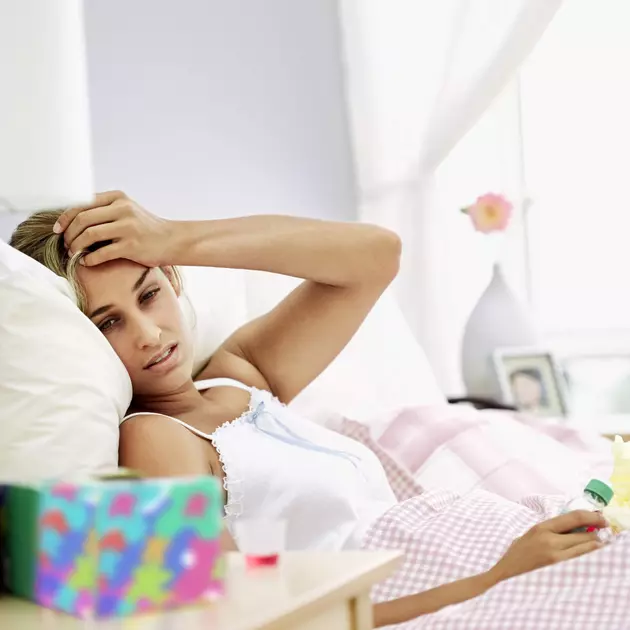 Great Songs About Being Sick (But Not With U-Know-What)
Stockbyte
Missing the "good ol' days" when you would come down with something and you could actually do something about it...
There's "Hay Fever" by The Kinks on the terrific "Misfits" album (1978). Ray Davies always got right to it: "I got hay fever, blocking up my head/Hay fever, I ought to be in bed.../Is there a pill or a powder I can take/I must get a cure, my romance is at stake."
The germ-fermentation was laid down a year earlier by 10cc on 1977's "Deceptive Bends" (featuring "The Things We Do For Love") with the rather catchy/infectious (puns intended) "You've Got A Cold" ("Foreign bodies in your Kleenex/You've got no taste at all/While your system is dyin'/The bugs are having a ball".) In retrospect, yeah, kinda creepy.
Leave it to Peter Gabriel to turn ailment into art with "Moribund The Burgermeister" from his first self-titled solo album (coincidentally also from 1977). The track was about a nervous disorder causing you to suffer rapid jerking motions (a.k.a. "Saint Vitus' Dance"), in conjunction with rheumatic fever. Victims prayed to St. Vitus who, it was believed in the Middle Ages, had the cure. Way to go, Pete...
Can't leave out Frank Zappa's "Stink-Foot" off his classic "Aprostrophe" LP (1974), inspired by a Mennen foot spray commercial that featured gods passing out after a guy takes off his shoes. Only Frank would take that as a challenge, so he came up with this one about the evils of Bromhidrosis, a "functional disturbance of the sweat glands". In other words, good old fashioned/bad-smellin' body odor...
Finally, AC/DC's "The Jack" (1975) had Bon Scott catching gonorrhea from a woman who lied about being a virgin, supposedly; and on the same thread, kudos to "Poison Ivy" by The Coasters (1959, kids!) with songwriters Jerry Leiber & Mike Stoller admitting in their autobiography the song title was a metaphor for a sexually transmitted disease (and of course The Rolling Stones recorded their own version in 1964).
Things were so much simpler then...
READ MORE: 10 Stores That No Longer Exist in Maine But We Wish Still Did