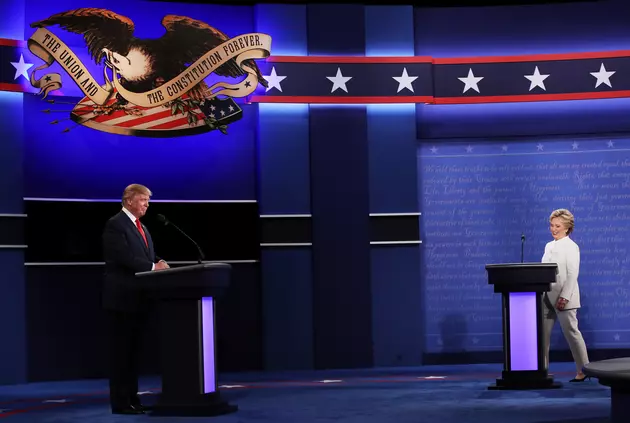 Here's Your 10 Song Presidential Debate Playlist
Getty Images
Because you're going to need the power of music to get through the next 37 days. These are ten that you should keep close by...
"We Just Disagree" by Dave Mason - Oh, if it were only as simple as the sentiments expressed here.
"Get In The Ring" by Guns N' Roses - Jealousy. Misery. Retribution. Manipulation. Axl covers 'em all.
"Don't You Want Me" by The Human League - An obvious question which wasn't supposed to be political, but whatddaya gonna do?
"Fight Fire With Fire" by Kansas - Pretty much right out of "Debating For Dummies". We know what you're thinking...
"Drive" by R.E.M. - So how did this make the list? "What if I ride, what if you walk?" and "Maybe you're crazy in the head" have us wondering if debating anything is going to do any good at all, which in and of itself is a fair question to ponder. Cynical? You bet!
"Living For The City" by Stevie Wonder - From 1973!!! You cannot cover your eyes, you cannot cover your ears. There's serious s**t going on, so we had better get to talkin' 'bout it.
"Revolution" by The Beatles - "You say you got a real solution/Well you know/We'd all love to see the plan." Can't get any more spot on than that.
"Question" by The Moody Blues - "Why do we never get an answer?" and "Because the truth is hard to swallow" should be on bumper stickers and signs in windows immediately.
"Imagine" by John Lennon - Lotsa good lines in this one. You already know what they are.
13 of the Most Bizarre Names of Maine Towns