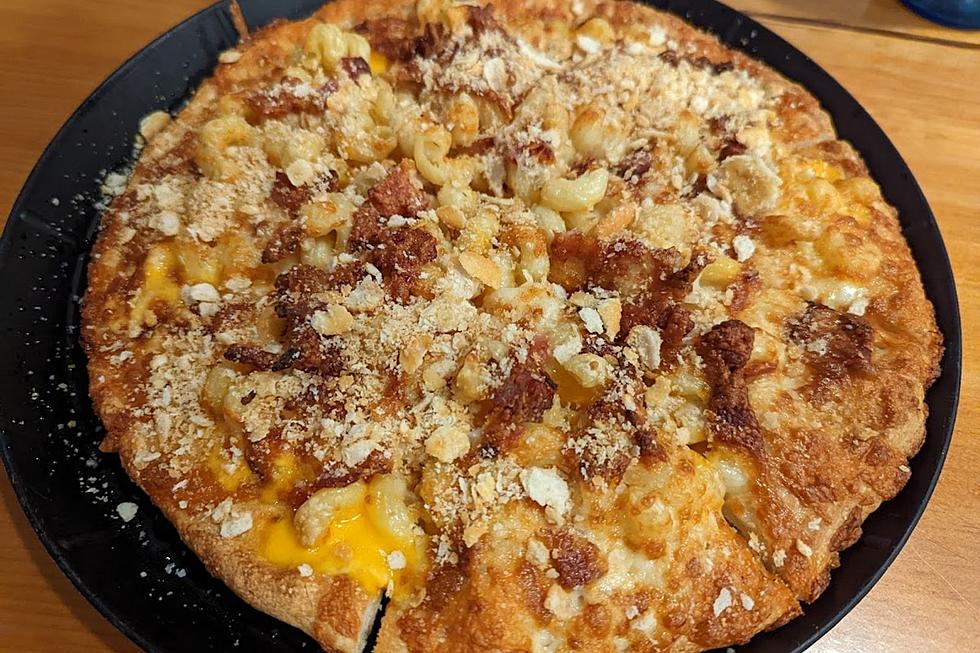 I Ordered This Bacon Mac & Cheese Pizza in Cornish, Maine and My Life Changed
Jeff Parsons
Okay. Saying my life changed over a pizza might be a little extreme, but when a Maine restaurant decided to combine two of my favorite foods into one, I couldn't say no.
For a long time, I've wanted to check out Fairgrounds Pizza and Pub in Cornish, Maine. They're a big fan of ours and a big supporter of Cans For a Cure each year and everything I've heard about them is that the food is amazing.
So, Michele and I drove the 30 minutes out to Cornish and when we got there the place was packed. We expected that, but we gladly waited to get a table.
We sat down and I immediately went to the pizza section of the menu. Fairgrounds creates some of the most unique pizzas I've ever seen with names like Taco 'Bout It, The Zeus, Lord of the Rings and the Mc'Daddy which you can probably figure out what iconic burger it's inspired by.
The one that caught my eye though was the Mac & Cheese pizza, which is just what it sounds like, but in case your wondering, the menu describes it as "Bacon, aged cheddar cheese, more cheese, and seasoned bread crumbs. Did we mention bacon?"
It arrived fresh out of the oven and it was glorious!
You're going to need a fork for this because there's so much cheese it can get a little messy unless you are very good at balancing all this deliciousness in your hand. But if you take your leftovers home, and you will have leftovers, when you pull it out of the fridge the next day and eat it cold, I think it tastes even better and no mess!
Next on the menu for me to try is Lord of the Rings. Crispy fried chicken, bacon, honey mustard, tomatoes and onions topped with their special blend of cheese. My precious!
Fairgrounds Pizza and Pub is on Route 25 in Cornish. You can't miss it.
The 5 Maine Restaurants Featured on Diners Drive-ins and Dives Plus 5 More That Should Be on The Show
Here Are 50 Stores, Restaurants Mainers Want at the Maine Mall
It's a wishlist for Mainers, by Mainers, of spots we'd love to see pop up at the Maine Mall sooner than later.