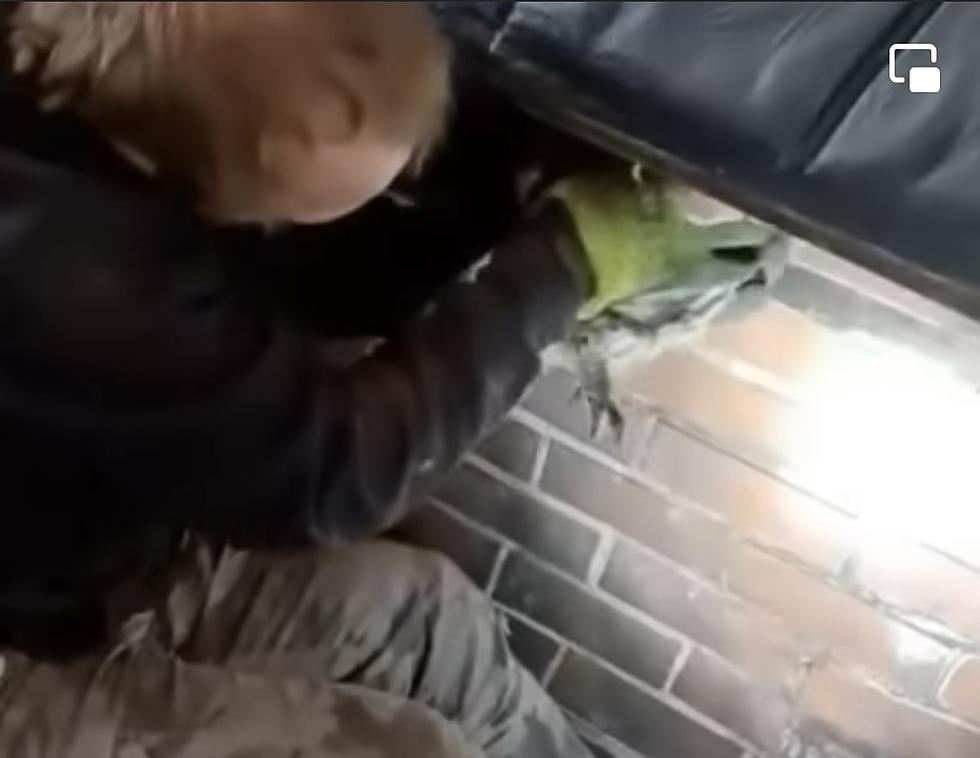 Incredible Video: Watch This Stuck New Hampshire Owl Get Rescued From a Chimney
A Merrie Sweepe Chimney Service via Facebook
What the hell is going on with owls in New Hampshire lately?
With respect to all anti-pollution advocates, potato chip mascots, or Tootsie Pop spokesbirds, these typically peaceful creatures are really stirring up crap in a state that's already busy enough dealing with a "definitely credible" Bigfoot sighting.
A Merrie Sweepe Chimney Service in Greenland took to Facebook to post a video of two employees rescuing an owl that became stuck in a customer's chimney.
According to A Merrie Sweepe, the owl will need some rehabilitation (from minor injuries; no vices were reported), and was transported to the Center for Wildlife.
This comes just days after a woman in Merrimack, New Hampshire, sought help in an incident that was quite nearly a murder most fowl (thank you).
In that instance, a woman heard a loud bang during a family gathering. As it turns out, an owl had crashed into a window in an attempt to devour Buddy – her pet parrot.
In the days that followed, things would get even creepier in this parrot/owl feud.
New Hampshire has 11 different types of owls, according to the NH Fish & Game. It remains unclear, however, if the owl who tried to kill the parrot and the owl from the chimney were acquainted.
If an owl is stuck in your chimney, call a chimney sweep company or wildlife officials. And if an owl is trying to murder your parrot, heed this advice from a wildlife expert interviewed by WMUR after the Merrimack incident:
"Move the bird so the owl doesn't see the bird, or pull down the shades."
10 Strange New Hampshire Unsolved Mysteries
10 Things You Totally Remember If You Lived in New Hampshire In the 1980s
If you lived here in New Hampshire in the 1980's, there's no way that you didn't know about these events, people and places. They were part of our lives and some, still are. Sadly a few are no longer with us, but enjoy this list. I know I enjoyed remembering all these things from back in the day.