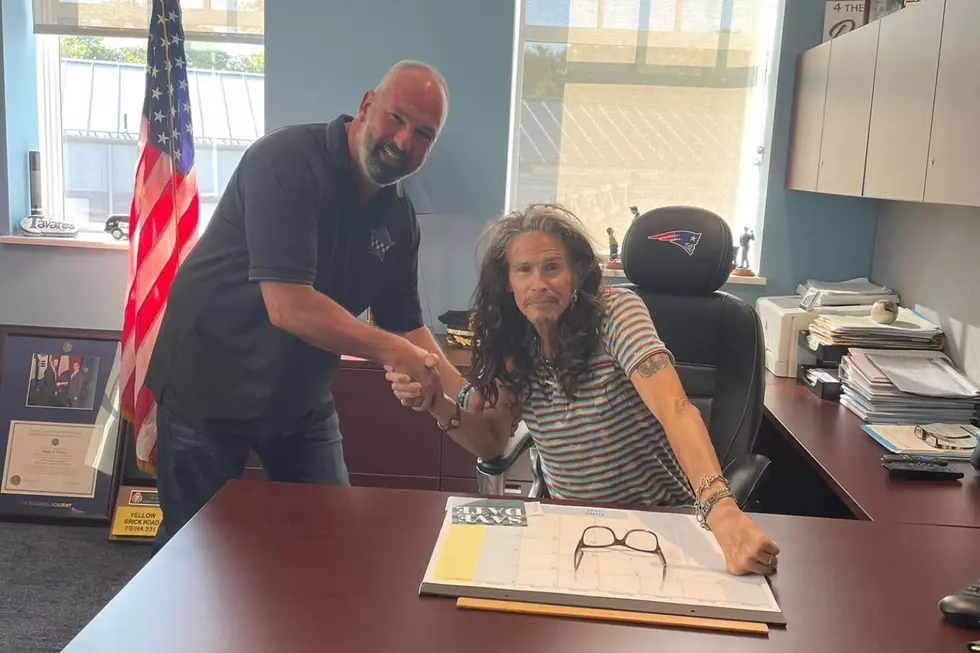 Is Aerosmith's Steven Tyler Becoming a Police Officer in Massachusetts?
Marshfield Police Department/Facebook
It is not uncommon that we see many celebrity sightings across New England. Some celebrities call New England their home, while others have filmed here or come to enjoy one (or all) of our amazing sports teams.
It is always great when celebrities go out to make public appearances; sometimes they even stop at a local public safety department to show their appreciation.
Aerosmith's Steven Tyler struggled with use problems due to pain after his recent foot surgery. Because of this, in late May, Steven Tyler entered a rehab program and Aerosmith canceled multiple shows for their residency in Las Vegas.
On Wednesday, June 29th, Steven Tyler made a public appearance for one of the first times since entering the rehab program. Tyler visited an oyster farm and restaurant, Island Creek Oysters in Duxbury, MA, where he of course ate, rocked some merch and took photos with other visitors.
Well, it seemed that Steven Tyler was not just out that day for a public appearance in MA.
The next day, June 30th, Tyler stopped by the Marshfield Police Department.
What's even better about this, is that the Marshfield Police Department makes a joke about this visit. In their Facebook post, they write "The circle of life … we all want to be pro athletes, pro athletes want to be movie stars, movie stars want to be Rock Stars and Rock Stars want to be cops….. well….."DREAM ON"……..Mr. Tyler….. that desk you're at is taken!"
Granted I think it is safe to say that Steven Tyler is not in the process of becoming a Police Officer, the Marshfield Police Department created the perfect post.
The fact that Steven Tyler made public appearances two days in a row brings high hopes that his recovery is going well. Aerosmith has yet to update fans on how Tyler is doing.
You can catch (pun intended) Steven Tyler and all of Aerosmith at Fenway Park on September 8th.
Tour Aerosmith's Guitarist, Joe Perry's Massachusetts Home
Aerosmith Albums Ranked
Any worst-to-best ranking of
Aerosmith
must deal with two distinct eras: their sleazy '70s work and the slicker, more successful '80s comeback. But which one was better?