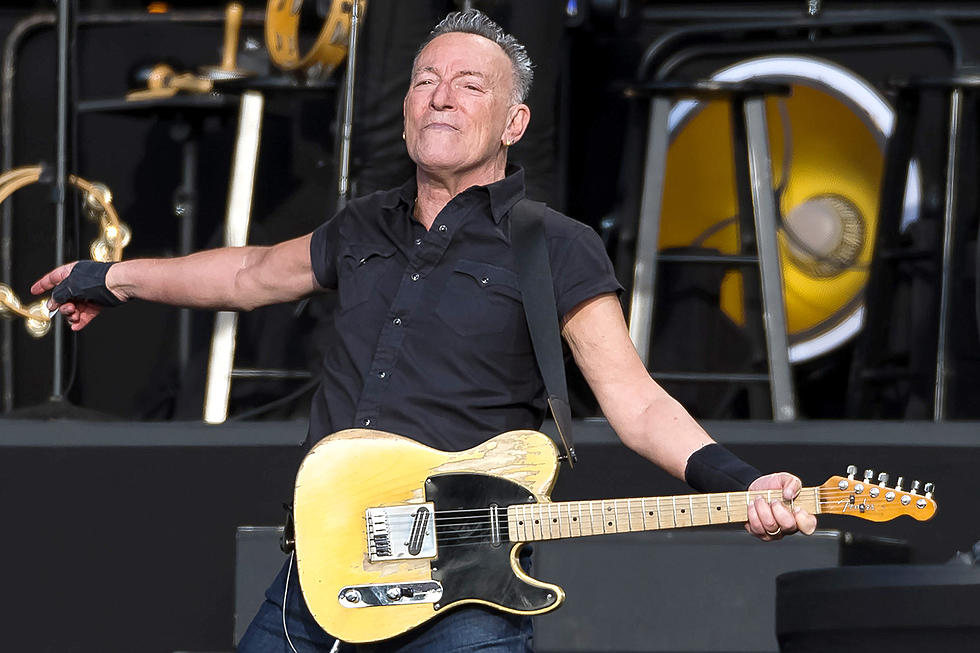 Bruce Springsteen's Tour Rider Stars Seafood and Soup — but No Budweiser
Matthew Baker, Getty Images
The tour rider associated with Bruce Springsteen's most recent road trip contained detailed requirements for seafood and soup – and absolutely no Budweiser beer.
The News-Gazette revealed the contents of the 37-page document, which comprises more than 100 specific requests, following the announcement that the Boss had postponed all this year's remaining shows as he continues treatment for peptic ulcer disease.
When he is on the road, Springsteen himself asks for chicken soup "with lots of broth" before the show. After the gig, he wants 16 cold, fresh shrimp "with homemade seafood sauce" and two bags of Rold Gold pretzels with "no substitutions." He also requires a hand-squeezed 16-ounce bottle of lemon juice, a blender, toaster and electric kettle, as well as six hard-boiled eggs with yolks removed, peeled and sliced apples, cubed watermelon and four bottles each of Congo Pear, Costa Rica Clementine and Kula Watermelon drinks.
Read More: Hear Bruce Springsteen's New Song, 'Addicted to Romance'
His wife, Patti Scialfa, asks for three "high-fashion magazines" such as Vogue, Elle or Vanity Fair — but "no Cosmopolitan-type magazines please" — in her dressing room, along with a "quality vase of white roses with no filler," a gourmet shop-bought jar of martini olives, a fruit basket "to include only bananas, seedless white grapes, green apples, pears" plus bottles of Belvedere vodka and Santa Margherita Pinot Grigio wine. Her main meal is to be skinless chicken breast, salmon or tuna with vegetables "sauteed in a little bit of olive oil" and no zucchini.
Both she and Springsteen will eat in their dressing rooms, while the E Street Band's dining room will offer St. Dalfour wild blueberry fruit spread, Rice Dream vanilla drink and Glutino cinnamon raisin bread. Guitarist Steven Van Zandt's order includes "wild caught" seafood, which can be "flounder, shrimp, sole, tilapia or Alaskan – not Atlantic – halibut."
Springsteen Wants 'More Than a Regular Manicure'
All food and drink must be "of top quality" and "served and presented in the most appetizing manner possible," meaning metal cutlery, stoneware crockery and linen tablecloths with no added "sparkle" adornment.
Beyond dietary requests, Springsteen's touring party requests "American-style SUVs" for band transport, one of which should have SiriusXM capability. The drivers of those and five other vehicles must be able to speak English, carry COVID certification and remain masked during journeys.
Read More: Why Bruce Springsteen Fans Are Mad About His Current Tour
The band and crew need 408 towels, 21 couches, 27 floor dimmable floor lamps and 15 table lamps, 16 potted, non-flowering plants, three large and three small fridges, 47 padded chairs, nine wheeled office chairs and seven full-length mirrors. Six types of alcoholic drinks are to be provided to the production office, including six bottles of "quality beer" that are "not Budweiser."
The rider calls for a massage therapist and manicurist to be available on show day. The former must be able to perform "deep tissue / sports" massages, while the latter can expect to "do a man's and a woman's acrylic nail" work, with the note: "This is more than a regular manicure."
All things considered, it's a lavish but hardly outrageous list of demands for one of rock's biggest names — no "smartly dressed, well-groomed hostesses" or removal of brown M&Ms to be found.
Bruce Springsteen Albums Ranked
Because he spent so many of his formative years painstakingly crafting his albums, we don't often think of Bruce Springsteen as a prolific artist. But he's averaged an album nearly every other year throughout his career.
Gallery Credit: Dave Lifton