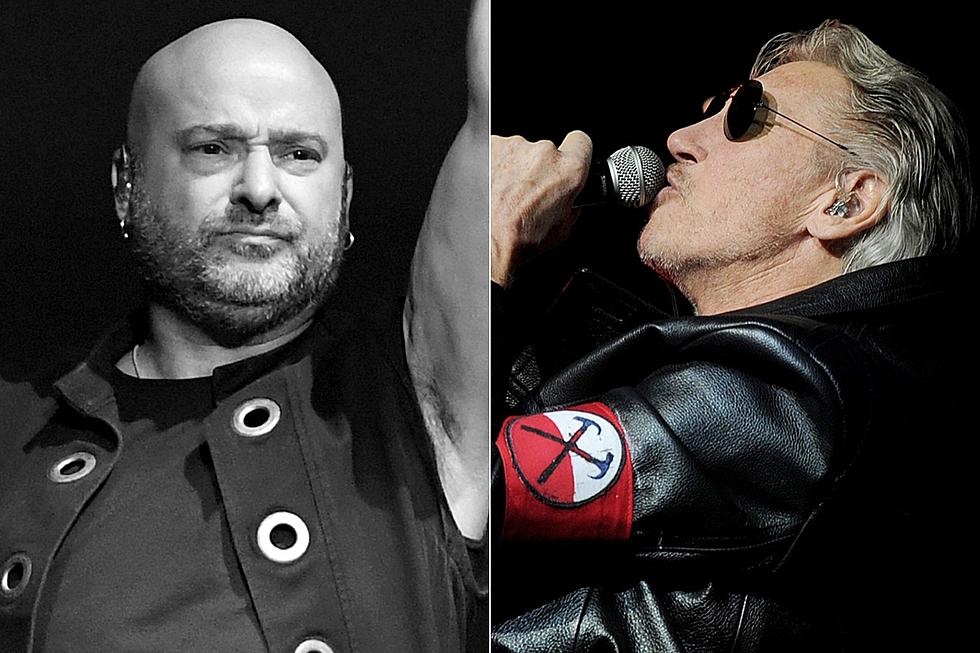 Disturbed's David Draiman Says 'F— Roger Waters' in Tel Aviv
Ethan Miller / Kevin Winter, Getty Images
Disturbed frontman David Draiman issued an explicit rebuke of Roger Waters and delivered a spirited rendition of the Israeli national anthem "Hatikvah" during a recent performance in Tel Aviv.
You can see the video of the song and speech below.
The moment took place near the end of Disturbed's June 28 show at Expo Tel Aviv. Draiman, who is of Jewish heritage, led the audience in a "Hatikvah" singalong as the Jewish flag rippled on a screen behind him. Following the performance, he shared his thoughts on Waters, whose onstage Nazi-like regalia has recently garnered accusations of antisemitism.
"Fuck Roger Waters and all the rest of his fucking BDS [Boycott, Divestment and Sanctions] Nazi assholes, every last fucking one of them," Draiman said. "We don't need that shit. We've survived worse than them and we'll continue surviving worse than them. They can make up any lie they want. They can create any kind of bullshit story they want. We know the truth. History knows the truth. We are not going any-fucking-where!"
Watch David Draiman Lead 'Hatikvah' Singalong in Tel Aviv
Watch David Draiman Condemn Roger Waters in Tel Aviv
This is not Draiman's first time publicly condemning Waters. The Disturbed frontman blasted Waters in 2013 for placing a Star of David on an inflatable pig during a performance of The Wall, claiming the move was "encouraging hatred and teaching his fans that Jews are greedy, tyrannical people, which could not be further from the actual truth."
Waters' latest brush with controversy began in May when he wore a Nazi-like costume — particularly a red-and-black armband emblazoned with two crossed hammers rather than a swastika — during his performance in Berlin. The move prompted an investigation from the German police, which Waters chalked up to "bad faith attacks from those who want to smear and silence me" in a statement.
The Pink Floyd co-founder even drew criticism from the U.S. State Department, which said last month that Waters has "a long track record of using antisemitic tropes" and that his Berlin concert "contained imagery that is deeply offensive to Jewish people and minimized the Holocaust."
Waters has repeatedly denied allegations of antisemitism and claimed his critics miss the point of his show. "The elements of my performance that have been questioned are quite clearly a statement in opposition to fascism, injustice and bigotry in all its forms," he said in a statement. "Attempts to portray those elements as something else are disingenuous and politically motivated." He added that his "depiction of an unhinged fascist demagogue has been a feature of my shows since Pink Floyd's The Wall in 1980" and claimed he has "spent my entire life speaking out against authoritarianism and oppression wherever I see it."
In a recent interview with Double Down News, Waters further claimed that his critics were trying to "cancel" him and implored viewers to "ignore all the newspapers because that's all fake news. They are not printing the story in any way that is evenhanded."
David Gilmour and Roger Waters Solo Albums Ranked
They both laid claim to the Pink Floyd legacy, while only rarely stepping out with solo works.