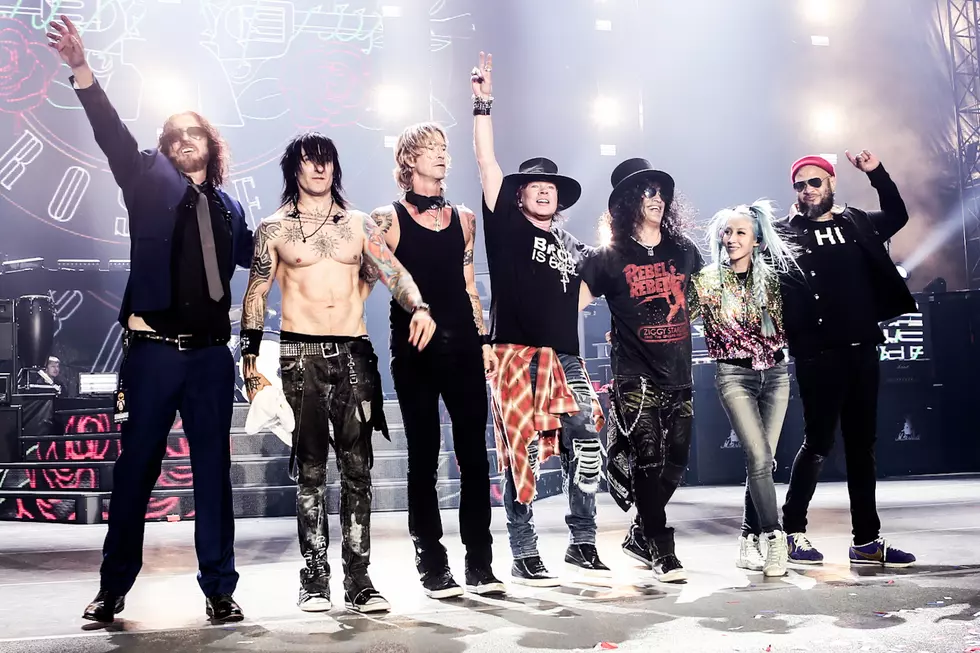 Guns N' Roses Shake Up Set With Four Songs Not Heard in Decades
Katarina Benzova
Guns N' Roses kicked off their 2023 world tour on Thursday at Abu Dhabi's Etihad Arena and dusted off a few rarely heard tunes in the process.
The rarities began with the second song of the night, as GNR rocked through their Use Your Illusion I album cut "Bad Obsession" for the first time in more than 30 years. Later, "Pretty Tied Up" from Use Your Illusion II made its first set list appearance since 1992. They also covered the U.K. Subs' "Down on the Farm," originally released on The Spaghetti Incident?, for the first time since 2006.
The oldest song the band unearthed was "Anything Goes," a track from Appetite for Destruction that, according to Setlist.fm, GNR has performed only 40 times. The group last played the song in concert in 1988.
The Abu Dhabi show also featured a live debut, as GNR covered the Stooges' "T.V. Eye" for the first time. The gig marked Guns N' Roses' first concert in nearly six months. You can see the full set list and videos from the performance below.
Watch Guns N' Roses Perform 'Bad Obsession' in Abu Dhabi
Watch Guns N' Roses Perform 'Anything Goes' in Abu Dhabi
Because room had to be made for these new additions, recent set list mainstays "Better," "Shadow of Your Love," "Sorry," "Coma" and "I Wanna Be Your Dog" (another Stooges cover) were eliminated from the show.
Guns N' Roses will play Tel Aviv on Monday before heading to Europe, where they'll stay through late July. They'll round out the tour with a series of North American dates lasting from early August through mid-October. The rockers will be supported on various dates by the Pretenders, Alice in Chains, Carrie Underwood, Dirty Honey and others.
They'll also play a handful of festivals, including the inaugural Power Trip in Indio, California, alongside Iron Maiden, AC/DC, Ozzy Osbourne, Metallica and Tool.
Watch Guns N' Roses Perform 'Pretty Tied Up' in Abu Dhabi
Guns N' Roses, 6/1/23, Etihad Arena, Abu Dhabi
1. "It's So Easy"
2. "Bad Obsession"
3. "Chinese Democracy"
4. "Slither"
5. "Pretty Tied Up"
6. "Welcome to the Jungle"
7. "Mr. Brownstone"
8. "Hard Skool"
9. "Double Talkin' Jive"
10. "Reckless Life"
11. "Absurd"
12. "You Could Be Mine"
13. "Down on the Farm"
14. "Rocket Queen"
15. "T.V. Eye"
16. "Anything Goes"
17. "Civil War"
18. "This I Love"
19. "Live and Let Die"
20. "Estranged"
21. Slash Guitar Solo
22. "Sweet Child o' Mine"
23. "November Rain"
24. "Wichita Lineman"
25. "Street of Dreams"
26. "Nice Boys"
27. "Knockin' on Heaven's Door"
28. "Nightrain"
29. "Patience"
30. "Don't Cry"
31. "My Michelle"
32. "Paradise City"
The 30 Wildest Moments From Guns N' Roses' Use Your Illusion Tour
From Rock in Rio to the Riverport riot, here are the 30 wildest moments from Guns N' Roses' Use Your Illusion Tour.