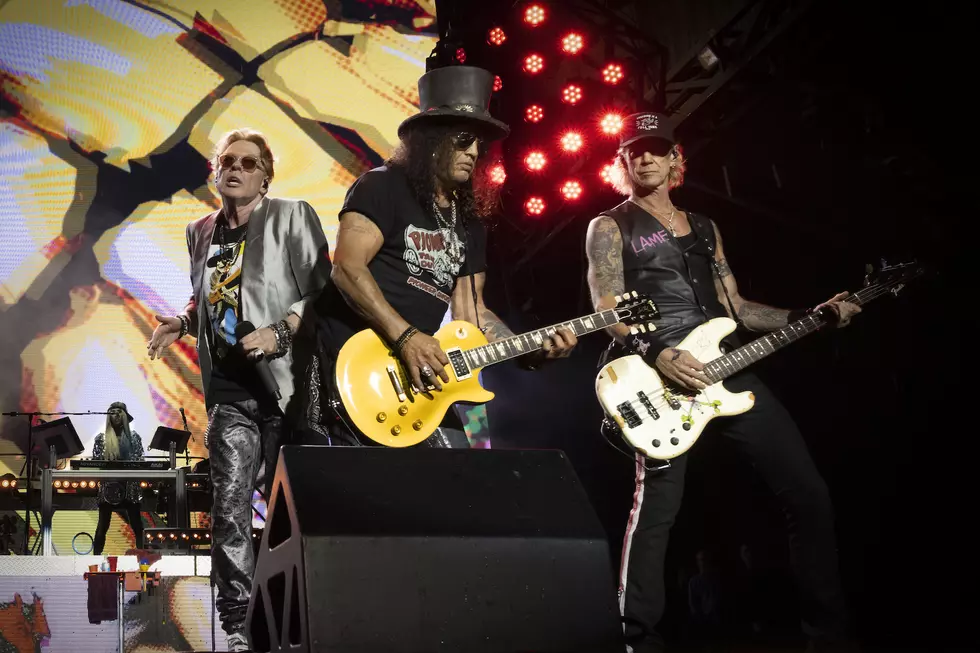 Guns N' Roses Announce 'The General' Release Date
Guns N' Roses
Guns N' Roses are not exactly known for their quick turnaround time with new music, but the band no sooner released a new single "Perhaps" than they announced the impending release of their next song, "The General." The track will appear as the B-side to the vinyl single "Perhaps," which ships on Oct. 26.
The preorder on their website is currently sold out. There's no word yet on when "The General" will hit streaming services or online retailers.
Another song dating back to the Chinese Democracy sessions, "The General" has been the subject of much discussion among Guns N' Roses fans for two decades. The band, which at that point featured Axl Rose and a revolving door of musicians, reportedly recruited composer and pianist Marco Beltrami to add orchestral arrangements to the song in 2002.
"I met with Axl and he played me these songs, asked me my ideas about them, and I told him what I thought they needed," Beltrami told IGN in 2003. They gave me four songs to orchestrate. ... A song called 'Seven,' which is the one ... I actually wrote a guitar part [on]. There was one called 'Thyme,' one called 'The General,' one called 'Leave Me Alone.'"
Former Skid Row singer Sebastian Bach also praised "The General" in a 2007 interview with Metal Edge. "It's by far the heaviest metal tune I think I've ever heard Axl do, this slow, grinding riff with these high, piercing vocals, screaming vocals," Bach raved. He also told Rolling Stone in 2008 that Rose described "The General" as "the sequel to [Use Your Illusion II's] 'Estranged,' that goes to the parable that Del James wrote of the trilogy." (James' short story Without You served as the inspiration for the bombastic "November Rain" video.)
"The General" will mark the fourth song released by the semi-reunited Guns N' Roses lineup featuring Rose, Slash and Duff McKagan. The band last issued new music in 2021, with the releases of "Absurd" and "Hard Skool."
Watch Guns N' Roses' 'Perhaps' Video
Guns N' Roses Lineup Changes: A Complete Guide (We Think)
Few bands have impacted rock 'n' roll the way they have, and even fewer have weathered as many changes.