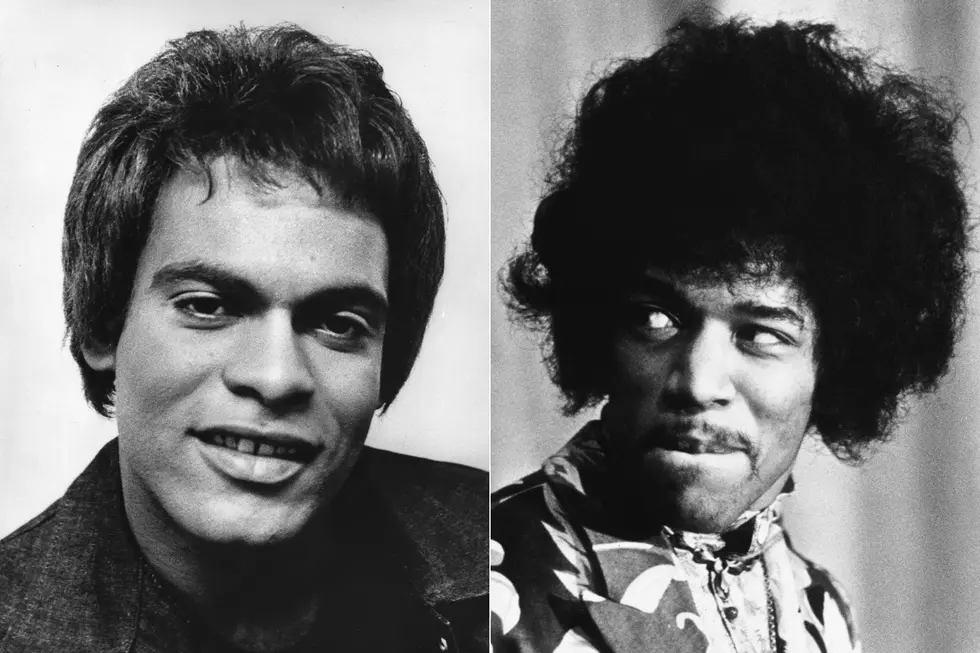 The Man Who Asked Jimi Hendrix if He'd Made a Deal With the Devil
Michael Ochs Archives / Express, Getty Images
Johnny Echols, co-founding guitarist of the Arthur Lee-fronted psych-rock band Love, recalled the time he asked Jimi Hendrix if he'd cut a deal with the devil.
Although it was a lighthearted point, Echols said he asked because he was astounded by Hendrix's artistic development over the course of three years in the mid-'60s. A rumor about Hendrix having sold his soul to Satan was circulating at the time, based on the story of blues pioneer Robert Johnson, who was said to have met the devil at a crossroads and done a similar deal.
"I first met Jimi in 1964 at the California Club, where I was in the house band," Echols told Mojo in a recent interview. "At that time, he was just Jimmy James, playing with the Isley Brothers, and he'd come down to audition with the O'Jays. A little later, Billy Preston, Little Richard and I went to a recording session, which was the first time I really talked to him. He was a quiet, introspective person, and I would've called him a so-so guitar player; a journeyman."
Echols recalled that Hendrix sprayed his clothes with Right Guard deodorant to save on cleaning bills. "You'd know he was coming from 20 feet away because he reeked of the stuff," he laughed. "Jimi really hit it off with Arthur, and Arthur got him to play on an R&B single he cut with Rosa Lee Brooks [in 1965] called 'My Diary.'"
The musicians' careers took different paths, but they intersected again when Love performed in San Francisco in 1967. "A friend told us about this incredible guitar player called Jimi Hendrix, and we obviously didn't put it together it was the same guy," Echols said. "A few nights later we went to the Whisky a Go Go to check him out, and Arthur goes, 'Man, that's the dude that played with us!'
"Before, he wore cardigans and skinny ties, with the processed hair," Echols continued. "Now he's in full hippie regalia, with the fringed jacket and the boots, and he's onstage using this Cry Baby wah-wah pedal, which I'd tried and couldn't figure out, and he was doing feedback, distortion – stuff guitarists just didn't do. Incredible!"
Lee and Echols went to the dressing room to catch up with Hendrix during a break in the show. "I said, 'Damn, what happened? Did you make a trip to the crossroads?' I was kind of playing with him. He smiled and said, 'No, man, I made a trip to the woodshed!' Meaning that he had just practiced and practiced."
Echols also said Hendrix and Lee had discussed forming a supergroup in 1970, "with Stevie Winwood as the vocalist, Buddy Miles on drums and some other players, but it never got any further because Jimi passed away."
Top 100 '60s Rock Albums
Here's a chronological look at the 100 best rock albums of the '60s.