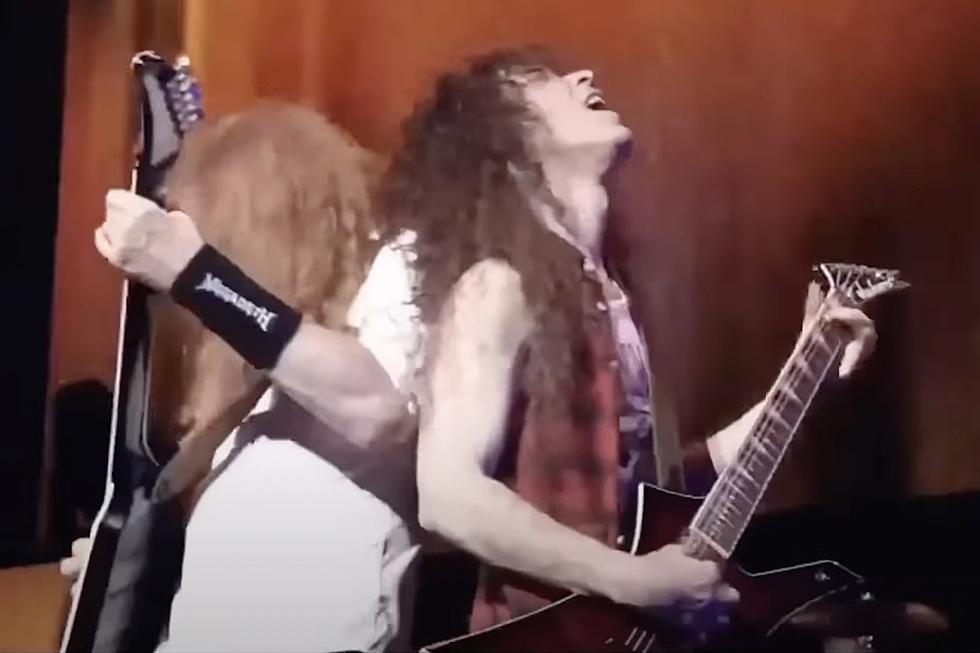 Watch Megadeth Reunite With Former Guitarist Marty Friedman
YouTube
Ex-Megadeth guitarist Marty Friedman joined his former bandmates onstage in Tokyo over the weekend, marking his first live performance with the thrashers in more than two decades.
You can watch a video of the performance and see the full set list below.
The reunion took place at the famed Nippon Budokan and was livestreamed to fans who purchased tickets. Friedman emerged late in the show and joined the band for a trio of songs: "Countdown to Extinction," "Tornado of Souls" and "Symphony of Destruction."
Friedman played with Megadeth from 1990-2000, and the first half of his tenure marked the band's most critically and commercially successful period. His Megadeth debut, 1990's Rust in Peace, is widely considered one of the greatest thrash metal albums of all time. Its two follow-ups, 1992's Countdown to Extinction and 1994's Youthanasia, both reached the Top 5 of the Billboard 200 and went platinum or better.
After two more albums — 1997's Cryptic Writings and 1999's critically panned Risk — Friedman exited the band at the dawn of the millennium, playing his final Megadeth show on Jan. 14, 2000. The guitarist moved to Japan in 2003 and has appeared on numerous Japanese television programs, including Rock Fujiyama, Eigo de Shabera Night and Tamori Club.
Megadeth has since cycled through several lead guitarists, including Al Pitrelli and Chris Broderick. Their current lead guitarist, Kiko Loureiro, joined in 2015 and played on the band's last two albums, 2016's Dystopia and 2022's The Sick, the Dying ... and the Dead! 
Before the Budokan concert, bandleader Dave Mustaine expressed his excitement over sharing the stage with his past and present guitarists. "Marty and I have remained friends over 23 years, since we last played together," he said. "However, I hear his music every night, and he still is among the top guitar players I've ever heard. This is an amazing treat for the fans, as well as myself. To be honest, I may drift off while listening to Kiko and Marty play together!"
Megadeth, Nippon Budokan, Tokyo, 2/27/23
"Hangar 18"
"Dread and the Fugitive Mind"
"The Threat Is Real"
"Angry Again"
"Soldier On!"
"Sweating Bullets"
"Trust"
"Conquer or Die!"
"Dystopia"
"A Tout Le Monde"
"Countdown to Extinction" (with Marty Friedman)
"Tornado of Souls" (with Marty Friedman)
"Symphony of Destruction" (with Marty Friedman)
"We'll Be Back"
"Peace Sells"
"Holy Wars... The Punishment Due"
Top 50 Classic Heavy Metal Albums
We take a look at some of the heaviest, loudest and most awesome records ever made.