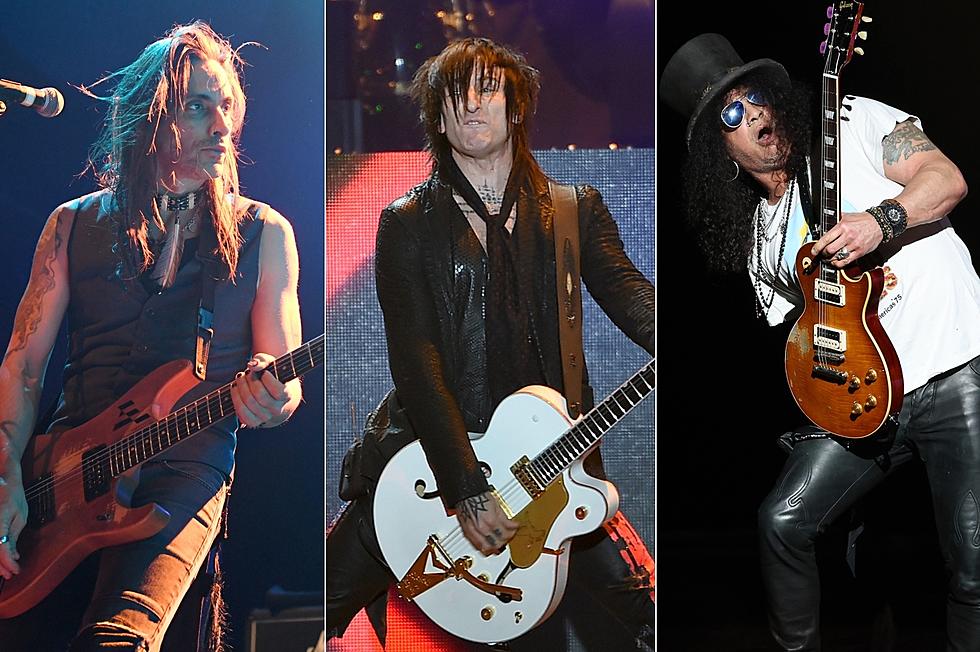 Nuno Bettencourt and Richard Fortus Bury Hatchet Over Slash Row
Ethan Miller / Kevin Winter / Jason Kempin, Getty Images
Extreme's Nuno Bettencourt and Guns N' Roses' Richard Fortus have declared a cease-fire after publicly feuding last week over Bettencourt's disparaging remarks about Fortus' bandmate Slash.
The drama began when Bettencourt mentioned the top-hatted guitarist while discussing his tenure as Rihanna's touring guitarist in a Planet Rock interview. "I'm sorry, most of the guitar players who I admire could not in their lifetime play that gig. I mean that in the most complimentary way possible," he said. "Slash is one of the greatest rock guitar players of all time, but I guarantee — and he'd be the first to tell you — that if he jumps up and he's got play a clean intro to 'Rude Boy' from Rihanna, it ain't happening."
Fortus jumped to Slash's defense, saying he had to "respectfully disagree" and insisting "there is very little Slash couldn't do on guitar (if he wanted to)."
Bettencourt, in turn, issued a lengthy response in which he said he had "never heard [Fortus] play one note in my 56 years of being alive" and asked, "I'm sure you're a decent player, but did you really need to repost a headline that made me look like I am bad-mouthing a fellow player, Slash?"
The public row drew several opinions, with the Darkness' Justin Hawkins even addressing the feud on his YouTube channel. On Thursday morning, Bettencourt posted a follow-up video apologizing for his comments and issuing a plea for peace.
"It's ridiculous. I'm not that guy. I don't want to be that guy," Bettencourt said. "Bottom line is this is on me. I need to keep my fucking mouth shut. I got asked a question about Rihanna and my answer was ridiculous, absolutely ridiculous. I'll take full responsibility for it, about playing it and how hard it was and how difficult it is for people to play different fields. I tried to make a point, it kind of backfired on me. I do a lot of press, and every once in a while, you say stupid shit, you get asked stupid questions. So now I'm gonna stick to Extreme, stick to what I know, stick to what I do on guitar and what I do for Extreme. That way nobody can fuck with me and be offended."
Bettencourt said he "went back and read what I actually answered [about playing with Rihanna], and it was pretty fucking stupid. I made it way too self-important for that gig. It was really dumb of me to even mention that stuff — especially Slash. I mean, I don't even know why Slash came out of my mouth during that, other than I was just using it as an example of us rock guitar players playing some different fields."
In conclusion, Bettencourt said, "Let's stop this bullshit, and I hope to have a beer with Richard sometime soon and just have a laugh about it because this is just stupid. It's just ridiculous. We're all great players, and there's no need for anybody to be fucking arguing about anything stupid like this."
It seems there are no hard feelings, as Fortus commented on Bettencourt's post, "Contacting you directly to make arrangements for that beer."
Both parties can now enjoy a little bit of downtime before Extreme and Guns N' Roses kick off their North American tours next week.
Guns N' Roses Lineup Changes: A Complete Guide (We Think)
Few bands have impacted rock 'n' roll the way they have, and even fewer have weathered as many changes.