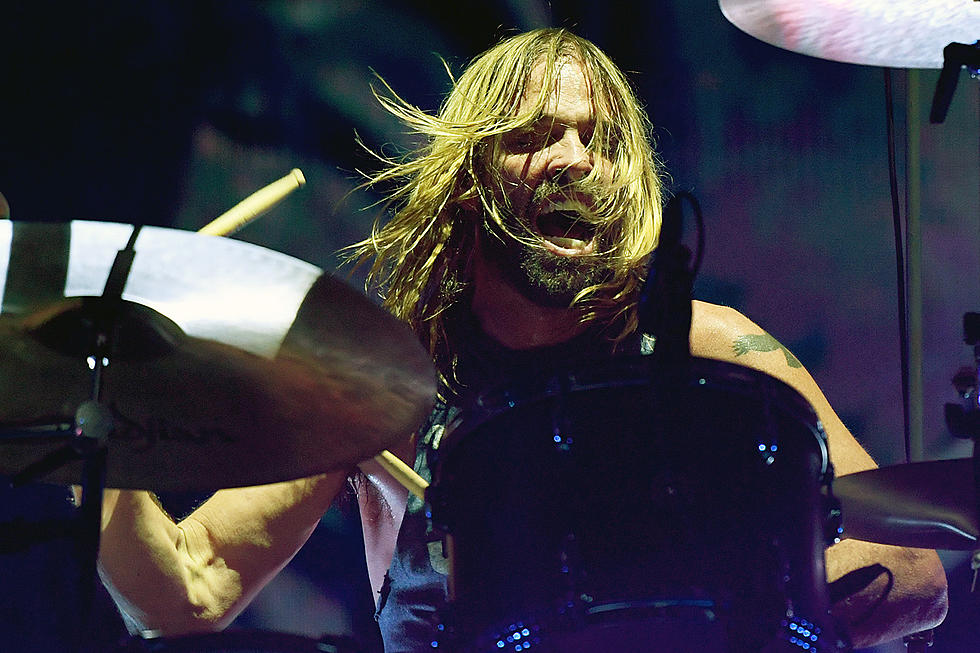 The Death of Taylor Hawkins: One Year Later
Ethan Miller, Getty Images
Foo Fighters drummer Taylor Hawkins was found dead on March 25, 2022, in his hotel room at the Four Seasons Hotel in Bogota, Colombia. A year after his tragic passing, the band and their fans remain in a state of flux.
Hawkins' tragic death sent shockwaves throughout the world. Tributes poured in from fellow musicians, some via social media and others in concert. It seemed that everyone had a story, a memory or an anecdote which connected them to the beloved drummer.
Foo Fighters initially canceled tour plans to focus on mourning, while questions and rumors surrounding Hawkins ran rampant. How could a person who seemed so healthy and full of life suddenly die? Thoughts immediately turned to drugs. Hawkins had, after all, suffered through bouts of addiction, including a near-fatal heroin overdose in 2001.
An initial toxicology report circulated shortly after his death that suggested an overdose was likely, but those findings were never confirmed. Meanwhile, a separate report claimed Hawkins' heart "weighed double that of men his age," which also could have contributed to his death.
Watch a News Report on the Death of Taylor Hawkins
The finger-pointing continued from there. Rolling Stone later suggested that Hawkins was exhausted by the constant demands of the Foo Fighters. Pearl Jam drummer and close friend Matt Cameron was quoted as saying: "He tried to keep up. He just did whatever it took to keep up, and in the end he couldn't keep up." Following the story's publication, Cameron and Red Hot Chili Peppers' Chad Smith walked back their comments.
"My quotes were taken out of context and shaped into a narrative I had never intended," Smith said. "Taylor was a dear friend, and a next-level artist. I miss him. I have only the deepest love and respect for Taylor, Dave [Grohl] and the Foo Fighters' families. I am truly sorry to have taken part in this interview, and I apologize that my participation may have caused harm to those for whom I have only the deepest respect and admiration."
As denial, anger and frustration over Hawkins' death shifted into acceptance, Foo Fighters announced a pair of star-studded tribute concerts.
"Millions mourned his untimely passing on March 25, with passionate and sincere tributes coming from fans as well as musicians Taylor idolized," the group said in an official statement. "The Taylor Hawkins Tribute Concerts will unite several of those artists, the Hawkins family and of course his Foo Fighters brothers in celebration of Taylor's memory and his legacy as a global rock icon — his bandmates and his inspirations playing the songs that he fell in love with, and the ones he brought to life."
Watch Foo Fighters Perform With Taylor Hawkins' Son Shane at the London Tribute Concert
The first concert took place on Sept. 3 at Wembley Stadium in London and featured an amazing list of performers, including Geddy Lee and Alex Lifeson of Rush, Brian May and Roger Taylor of Queen, AC/DC's Brian Johnson, the Pretenders, Stewart Copeland of the Police, Josh Homme of Queens of the Stone Age, Oasis frontman Liam Gallagher, James Gang, Wolfgang Van Halen and a surprise appearance by Paul McCartney. This concert also marked the first time Foo Fighters had taken the stage following Hawkins' death, and they delivered a heart-wrenching set.
A second tribute was held on Sept. 27 in Los Angeles. Many of the previous performers appeared again, along with newcomers including Def Leppard, Motley Crue, Joan Jett, Miley Cyrus, Heart's Nancy Wilson, Alanis Morissette, Pink and Black Sabbath's Geezer Butler.
Watch Foo Fighters With Chad Smith Performing 'Everlong' at the Los Angeles Tribute Show
As 2022 came to a close, Foo Fighters confirmed what most fans already assumed: They would continue without their longtime drummer. "Foo Fighters were formed 27 years ago to represent the healing power of music and a continuation of life," the band said in a news release. "And for the past 27 years our fans have built a worldwide community, a devoted support system that has helped us all get through the darkest of times together. A place to share our joy and our pain, our hopes and fears, and to join in a chorus of life together through music. Without Taylor, we never would have become the band that we were — and without Taylor, we know that we're going to be a different band going forward."
Since then, the band has been active, yet mum on exactly on how they plan to push ahead. Foo Fighters have concerts scheduled throughout 2023, including headlining dates at such major festivals as Outside Lands, Boston Calling and Louder Than Life. Who will be behind the kit for these gigs remains to be seen. Meanwhile, rumors concerning new music continue to swirl.
In the 12 months since Hawkins' death, bandmates, friends, family, colleagues and fans have all shown resiliency in the face of tragedy. Regardless of what happens moving forward, one thing remains certain: Hawkins' presence will always be felt in Foo Fighters, even though he's gone.
Taylor Hawkins Los Angeles Tribute Show Photos
Rock's biggest stars pay tribute to the fallen Foo Fighters drummer.
Heart's Ann Wilson Discusses the Rise of the Seattle Scene