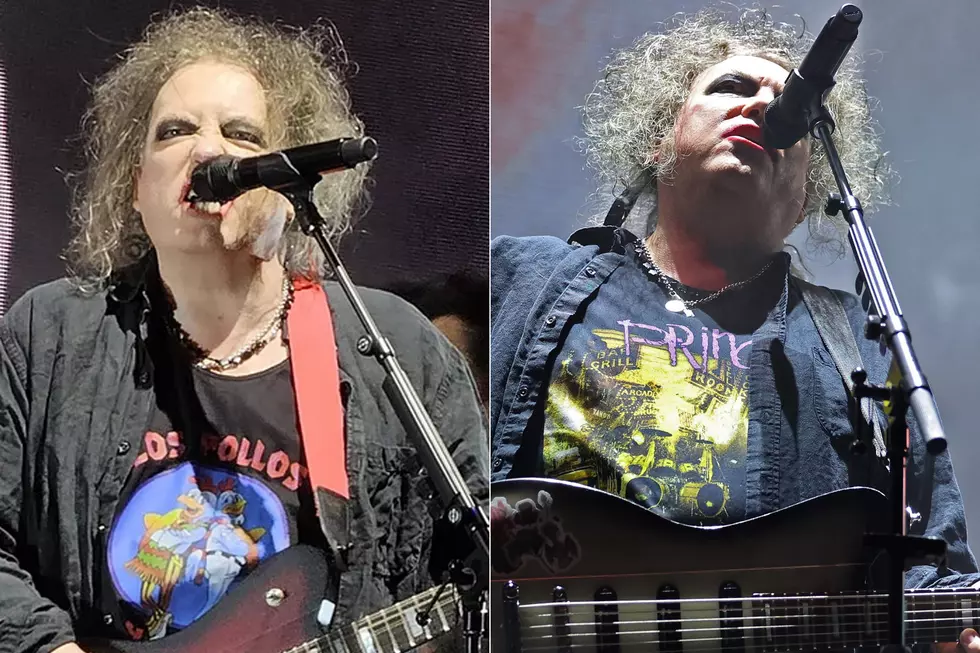 The Meaning Behind Cure Frontman Robert Smith's Concert T-Shirts
YouTube / Adam Bettcher, Getty Images
The Cure often keeps fans guessing about what they might do musically. Now the band's frontman Robert Smith is adding a new layer of intrigue as he wears a different T-shirt each night on the Cure's ongoing 2023 tour. There are Easter eggs to be found each time.
Sometimes, it's as simple as a local angle: Smith wore a Sign o' the Times tee to honor Prince when the Cure played in the Minneapolis area recently. Seattle inspired a Nirvana selection from the In Utero era, while their Denver gig featured a Shining design in a nod to the classic Jack Nicholson horror film's nearby roots.
Fans of Breaking Bad were delighted to see Smith don a Los Pollos Hermanos shirt at the Cure's concert in Albuquerque, N.M. Smith sported a Polymer Records tee as the tour reached the Cleveland area, a subtle Spinal Tap reference just in time for their performance in nearby Cuyahoga Falls. He's also paid tribute to some of his influences, from Thin Lizzy, the Sensational Alex Harvey Band and David Bowie to David Lynch's classic Eraserhead and even the great fusion group Mahavishnu Orchestra.
Even a shirt referencing the classic French short film A Trip to the Moon held personal resonance. "I've always been a stargazer," Smith once said of his longtime lunar attraction. Here are the stories behind the shirts that Smith has been wearing out on tour.
Robert Smith of the Cure's 2023 T-Shirts
The legendary vocalist has been paying tribute to local landmarks, his influences and more.