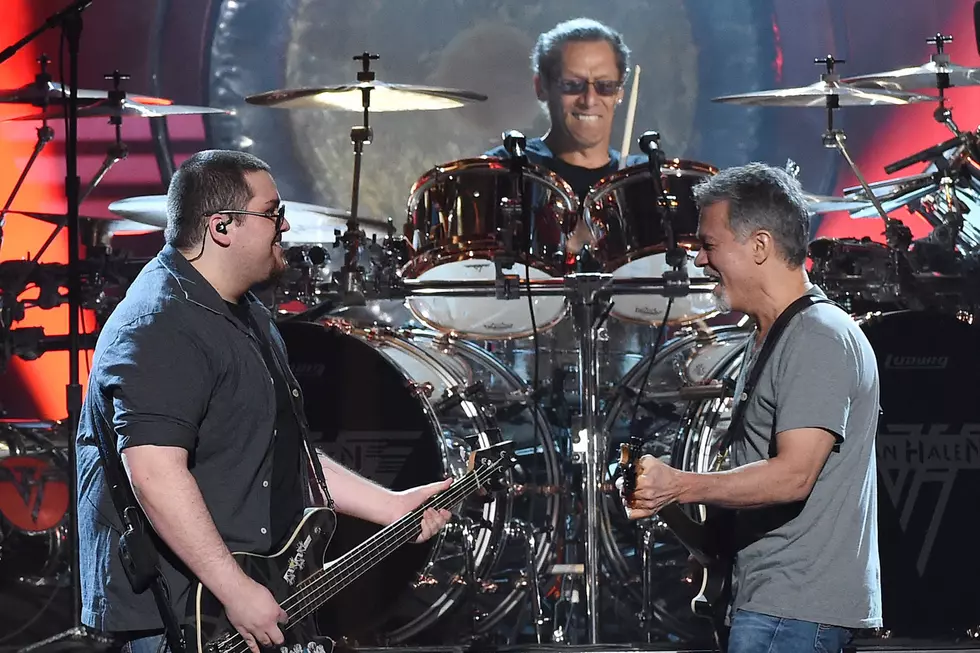 Wolfgang Van Halen Says His Favorite Van Halen Song to Play Live Wasn't a Big Hit
Ethan Miller, Getty Images
Van Halen had a wealth of hit songs that made them one of the most entertaining live bands to see for years, but according to Wolfgang Van Halen, during his time with the band he and his father Eddie actually preferred the opportunity to dig deeper into the band's catalog and rock out some deeper cuts. In fact, Wolfgang says his favorite song to play live with Van Halen wasn't even one of their bigger songs.
Speaking with the Talk Is Jericho podcast, as heard below, Wolfgang reflected on his time with Van Halen and revealed to Jericho, "We played so many of the classic all the time that really we were so excited by the B-sides. So playing things like 'Dirty Movies' and 'Drop Dead Legs' and 'How to Love Again,' but I think the most fun song to play was probably 'China Town.' Dad and I had a lot of fun playing that all the time. We didn't even care if people liked that song, we just put that in the setlist because it was so fun to play."
Van Halen, "China Town"
Jericho also hit up Wolfgang about guitar solos, asking the Mammoth WVH mastermind for his favorite solo of his own and one for his father. "I think right now, 'Take a Bow' is something I'm really proud of," said Wolfgang of his own soloing efforts. It's a different sort of solo for me and very long form compared to everything I've done before. I'm also excited about the solo on 'Right?,' I think that's a really fun, aggressive solo."
Mammoth WVH, "Take a Bow"
As for his father's solos, Wolfgang admitted, "I like all of it, so take this with a grain of salt." He then decided to go for something more underrated and less obvious, explaining, "A solo I think is really fun is the solo on 'Amsterdam', which is on Balance. I really like how that's just a wacky, fun solo and I think that's worth another look, if you haven't listened to that song in a while." Take a listen below.
Van Halen, "Amsterdam"
READ MORE: 15 Greatest Guitar Solos of All-Time
You can hear some of Wolfgang's soloing efforts, including the solo on "Right?," on the newly released Mammoth WVH Mammoth II album. It is currently available in streaming and physical formats here and you can catch Mammoth WVH out on tour with dates booked into 2024. Dates can be found on the Mammoth WVH website.
Mammoth WVH's Wolfgang Van Halen on the Talk Is Jericho Podcast
66 Best Rock Songs of the '90s
You won't want to miss a thing.