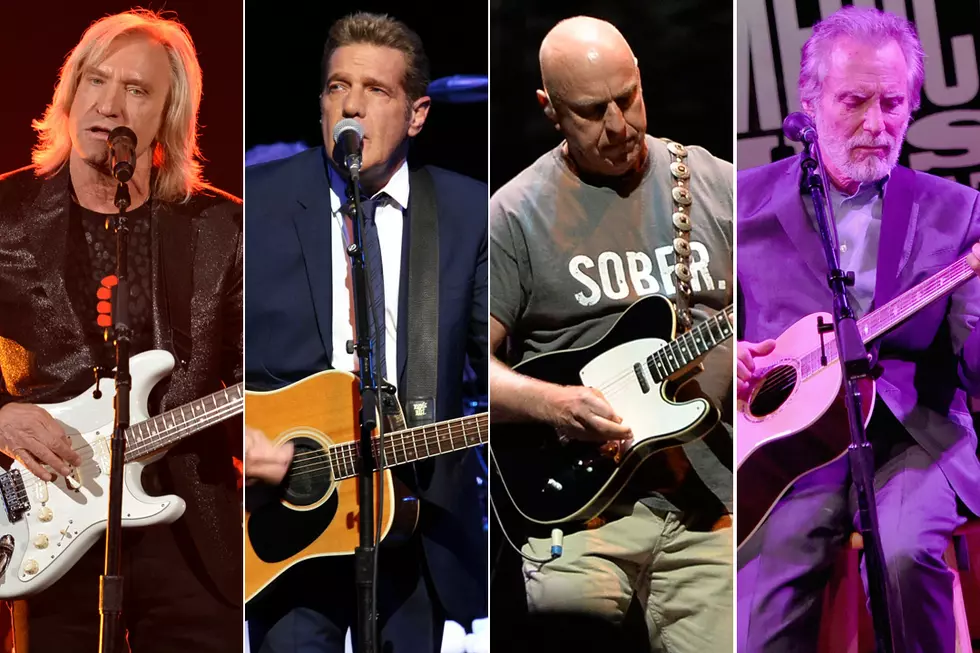 Joe Walsh, Bernie Leadon and J.D. Souther Write About Glenn Frey
Kevin Winter / Neilson Barnard / Rick Diamond (2), Getty Images
Nearly a week after the death of Glenn Frey, Joe Walsh has broken has silence. The Eagles guitarist wrote about Frey in an e-mail to music business pundit Bob Lefsetz. Original band member Bernie Leadon and Frey's old friend J.D. Souther also sent their thoughts to Lefsetz separately.
On Jan. 20, Lefsetz, who has written about his love of the Eagles numerous times over the years, published a lengthy blog post about Frey. Walsh, Leadon and Souther were among those who wrote back, and Lefsetz forwarded their responses to his many e-mail followers.
"First, thanks to everyone who has posted on your Glenn thread," Walsh wrote. "Very comforting in a very awkward and sad time. I haven't done any media, period. It's not that I can't find the words, it's that there are no words. I've tried and all I have is a blank page. That's how I feel. That's how we all feel, Maybe later, I'll have something, but not right now. So, thank you for your kind and intelligent overview, and thanks to everybody who also checked in. I keep coming back to one of Glenn's favorite ways to sum things up: 'Ladies and Gentlemen........Elvis has left the building.'"
Leadon, who left the band in 1975 after an argument that found him pouring a beer on Frey's head, wrote a longer letter, recalling Frey's song "Most of Us Are Sad" from the Eagles debut. But he also described his time on the History of the Eagles tour, particularly the last show on July 29 in Bossier City, La. "Glenn gave me a big hug, said 'This isn't the end,' and another big hug. We hit the stage, took our bows, went out the back to our vehicles, and off into our separate lives again. So I am very grateful today that this was my last interaction with Glenn, and that we did achieve what he said he was aiming for, to 'go out on a high note' [...] Glenn was such a trouper during the History tour, as I fully realize now with my better understanding of the physical challenges he was battling every day out there."
Souther, who co-wrote "Best of My Love," "Heartache Tonight" and "New Kid in Town" among other Eagles songs, didn't share any memories of Frey, but simply thanked Lefsetz. "There will be a lot said about Glenn in the coming days and I'll be saying some of it but this tribute will be hard to top. Thank you for getting the essence, power, and influence of my first songwriting partner and best friend in L.A. Perfect."
Eagles Albums Ranked From Worst to Best