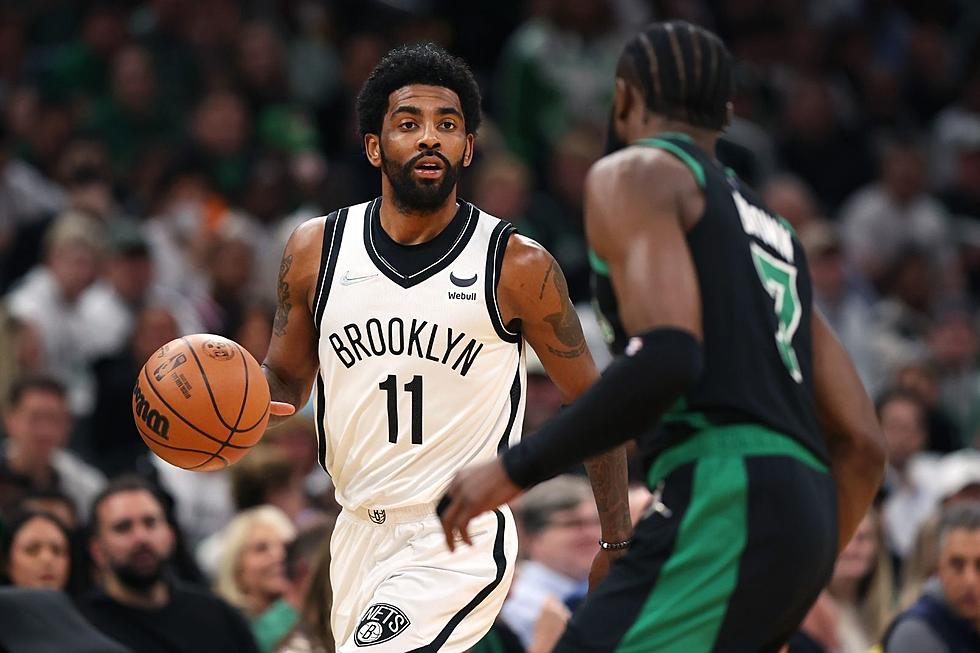 Kyrie Irving Showed His True Colors During Game 1 Against the Boston Celtics
Getty Images
NBA Playoffs are underway
The first round of the NBA Playoffs kicked off yesterday, with the Brooklyn Nets traveling to our neck of the woods to go head-to-head with the Boston Celtics at TD Garden yesterday afternoon. This also marked the first game that Kyrie Irving will have been playing in against the Celtics in Boston since he infamously (and disrespectfully) stomped on the Celtics center court logo last season.
Kyrie wanted Boston to just reflect on the highlights of his time with the Celtics
Kyrie Irving spent the 2017 and 2018 NBA seasons rocking the colors of the Celtics before being traded to the Nets following the 2018 season, where he grew increasingly frustrated with his teammates and the entire Boston fanbase. Through a few seasons of smack talk about the city, mentioning how the fanbase is racist, and also the above-shown stomp, Kyrie mentioned he wanted to "move forward" with "a new paradigm" leading into yesterday's Game 1 matchup between the C's and the Nets.
But as they say, actions speak louder than words. And Kyrie's actions on the court toward the Celtics fans all game long yesterday couldn't have been further from moving forward with a new paradigm. Because it was much of the same taunting and silent smack talk it's been since he left Boston back in 2018.
Kyrie Irving repeatedly flipped the bird to Celtics fans
In a sense, Kyrie is getting his wish in wanting to reflect "on some of the highlights I left at TD Garden and they can replay," because all that's been replayed since Jayson Tatum's buzzer beater (which he scored against Kyrie on) is all the nonstop taunting from Kyrie to the fans.
Sure, they were booing him for the entire game anytime he touched the ball. He was probably thrown the same gestures that he was throwing to fans. But talking smack during ball games (in a not threatening way -- just to clarify) is part of the game. So, to respond to boos from the crowd and other taunting with a middle finger to a bunch of families sitting sideline after dropping a 3-pointer -- is that really trying to move forward and create a new paradigm?
How about mocking them and insinuating they're being crybabies while you're waiting to pass inbounds? (Which, in the grand scheme of things, is super minor, but still inciting them.)
Better yet, how about just straight up flipping them the bird AGAIN behind your head while waiting on the sidelines to pass inbounds again?
Then there's always the ole response to "Kyrie, you suck" by mentioning for a fan to, well, let Kyrie tell you himself how he responded in this NSFW video.
Game 2 between the Celtics and Nets goes down Wednesday night from TD Garden in Boston with a 7p scheduled tipoff. Buckle in, Kyrie -- guarantee the place will be booing you even louder than yesterday. Especially since Tatum's winning bucket was scored on you with 0.4 seconds left in the game.
Speaking of Boston sports, here are 30 celebrities that are Red Sox fans
There are many celebrities that are a part of the Red Sox Nation! Some have season tickets while you may see some at only a couple of games every year.
These Celebrities Call New England Home
These celebrities all have ties to New England in some way, shape, or form!