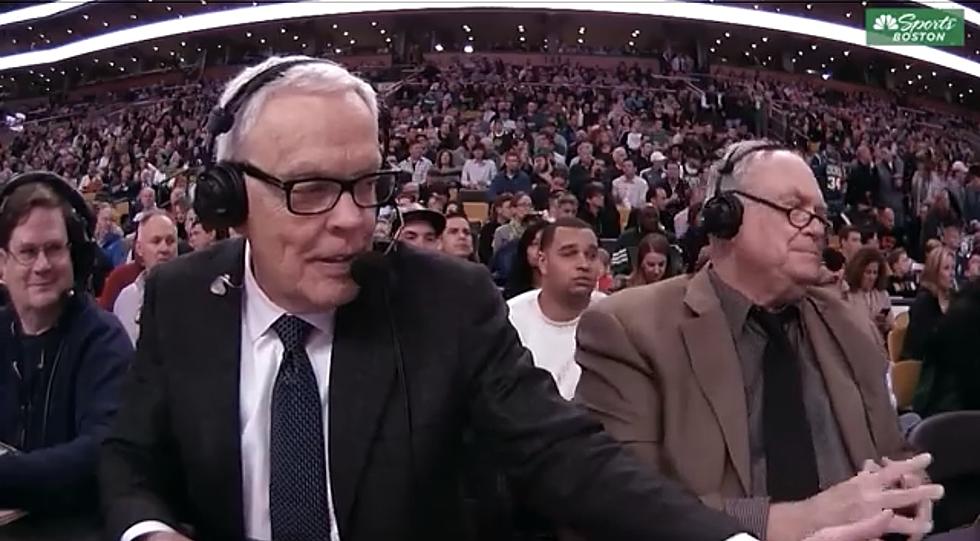 Legendary Boston Celtics Announcer Mike Gorman Announces Retirement
NBC Sports Boston via YouTube
After more than four decades, Boston Celtics broadcaster Mike Gorman is stepping away from the mic. The 2023-24 season will be his last as the team's play-by-play announcer.
Gorman, who was inducted into the Basketball Hall of Fame in 2021, made his announcement through NBC Sports Boston, saying:
"Being the play-by-play voice of the iconic Boston Celtics since 1981 has been a true honor and privilege. When I started on the broadcast team 43 years ago, I could not have dreamed what an amazing journey this would be. A world-class organization like the Boston Celtics and a television partnership which evolved over the years, ultimately allowing me the opportunity to be a part of NBC Sports Boston. Both organizations have been so much more than a job to me, they have been a family and allowed me to meet so many amazing people and forge lifelong friendships. There are so many people to thank for their support, encouragement and guidance over the years. Family, friends, industry contacts, colleagues, peers and many more. So thankful for all of you and a special thanks to the fans. Celtics Nation… you are the best and there is no other group of dedicated fans I would have chosen to take this ride with. I very much look forward to my final season with all of you -- and thank you again for allowing me to be a part of your lives."
Gorman, a Navy veteran stationed in Brunswick, Maine, got his start in broadcasting after showing up unannounced at WBZ in Boston and asking the late Gil Santos for a job. As Gorman tells it, Santos got him in touch with a colleague who, more than anything, needed a good player for his station's softball team.
In 1981, the Dorchester, Massachusetts, native joined Celtics icon Tom Heinsohn as the voice for Celtics home games, and by the late '90s, the pair also called road games. In 2023, Gorman kept working with a patch over his eye following a detached retina.
For millennials, it could be argued that Mike and Tommy were the Celtics, entertaining us during the team's struggles in the '90s and the sudden death of Reggie Lewis. And the years of trying to lose to get Tim Duncan. And Rick Pitino trying to win, but seeming like he was trying to lose.
For one more year, we'll get to hear the Hall of Fame broadcaster's patented: "Got it!"
Beloved Boston Red Sox Star David Ortiz Selling His Multi-Million Dollar Mansion
Tom Brady's Tampa Rental Priced at $60,000 Per Month
Listed by Allan Mezrah of THE TONI EVERETT COMPANY, see inside and around Tom Brady's Tampa apartment priced at $60,000 per month.