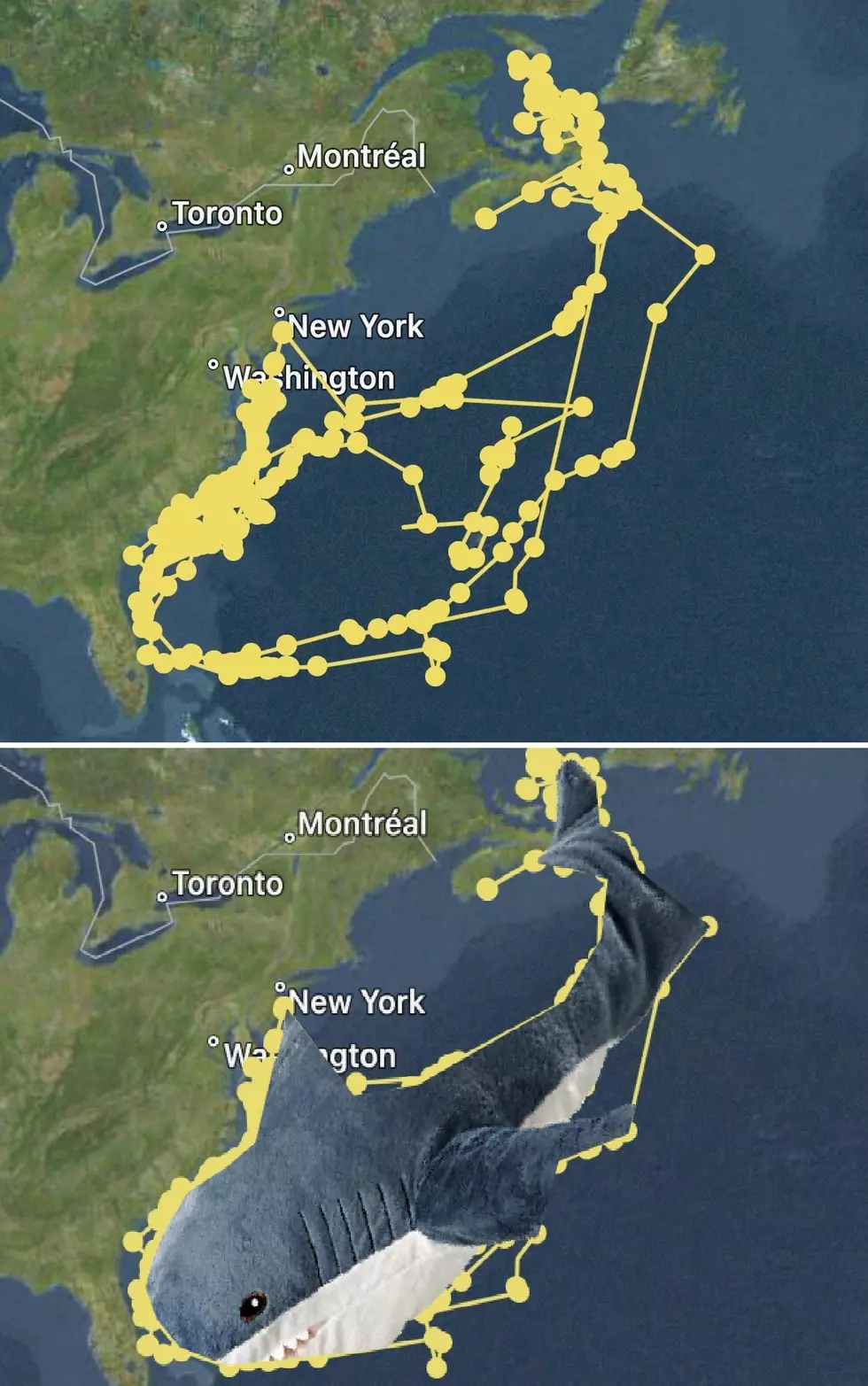 LOOK: Great White Shark With GPS Tracker 'Draws' Self-Portrait on the East Coast
David Attenborough Fans via Facebook
So this is pretty wild.
In 2020 a shark, at the time named Breton, was tagged off of Nova Scotia by OCEARCH.
"OCEARCH, a global non-profit organization, conducts research on the ocean's largest inhabitants in order to assist scientists in collecting previously unattainable data and, ultimately, to restore balance and abundance to our oceans," according to a Hasan Jasim article. "They use harmless tagging and sample collection methods to gather this information."
The main purpose of OCEARCH's mission was to "develop the most advanced understanding yet of white shark biology, physiology, health, behavior, and more." Well, the group got pretty lucky on their first day when they caught Breton.
Breton is now named Sharkasso...and very famous.
While tracking the tagged shark, the shark made his way down to Florida.  Although the trip down only lasted about a year, the trackings of the shark lasted over three.
Researchers used this geographical information to further their work, but we regular people are getting a whole lot more.
One woman, Chloe Marie, followed the trackings close enough to notice a pattern.
Breton's trail created a shark. Look at this thing. It's a self-portrait.
I'm not sure if there is a conspiracy theory out there about this yet, but this is bizarre. It seriously looks just like a great white shark.
Needless to say, the great white, originally named Breton, is now going by the name "Sharkasso" after the famous artists "Picasso. "
This image below really brings it home, and shows the great white self-portrait perfectly.
To keep up with Breton's journey, check out OCEARCH. To learn more about the nonprofit's work, check out the website.
LOOK: Stunning animal photos from around the world
From grazing Tibetan antelope to migrating monarch butterflies, these 50 photos of wildlife around the world capture the staggering grace of the animal kingdom. The forthcoming gallery runs sequentially from air to land to water, and focuses on birds, land mammals, aquatic life, and insects as they work in pairs or groups, or sometimes all on their own.
PICTURES: See Inside Jessie James Decker + Eric Decker's Lavish Nashville Mansion
Jessie James Decker and her husband, Eric Decker, are selling their stunning Nashville mansion, and pictures show a lavish property with every upscale amenity one could want.