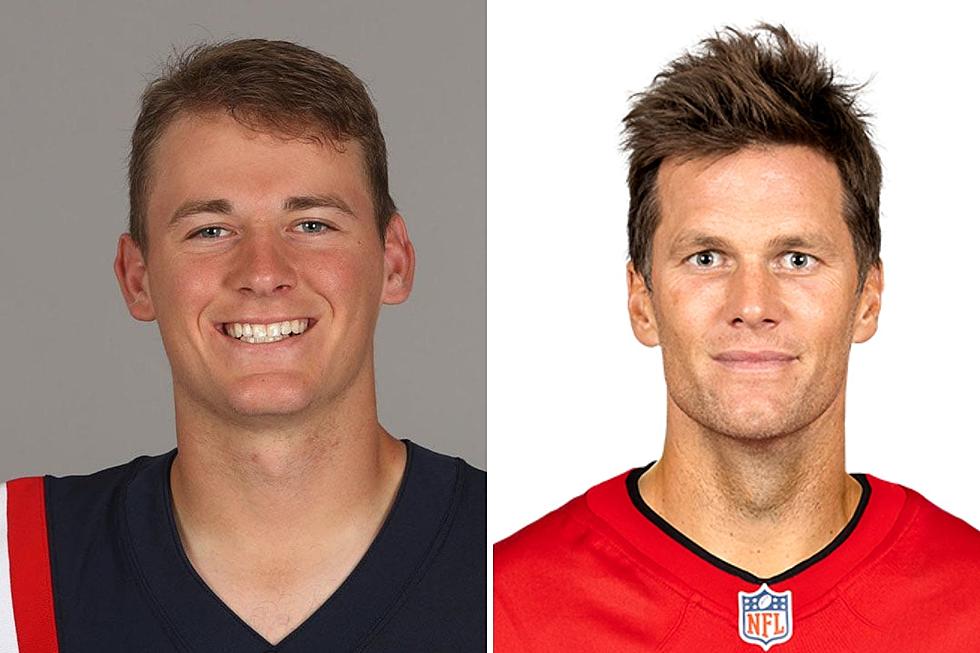 Mac Jones' Latest Move Follows in Tom Brady's Footsteps; Is Leaving New England Next?
New England Patriots / Tampa Bay Buccaneers
Mac Jones vs Tom Brady
Since day one -- actually, even before day one -- pretty much since we saw Mac Jones do his now-iconic walk down the hallway after his name as called at the 2021 NFL Draft earlier this year, the comparisons to Tom Brady have been constant. A sure-fire Hall of Fame Quarterback and a Rookie QB. The Mac Attack and the G.O.A.T.
The Pats Future and the Pats Traitor.
Should we be worried about the move Mac Jones just made?
Ask any Pats fans a few years back about how they felt when Tom Brady started branding "TB12," and they'd show you their invoice for hundreds and possibly thousands of dollars spent on all things TB12.
Diet books. Protein. Hats. T-shirts. Hoodies. If they made it, fans bought it.
Ask them now? They'd probably say it was the second they should have realized they Brady was going into business for himself and "going Hollywood" and "becoming full of himself" -- honestly, most Pats fans will do anything to insult Brady now.
Which makes this move Mac just pulled possibly a little concerning.
Mac Jones just filed for two trademarks: MJ10 and Mac 10 Enterprises.
And to think people were considering this a "rebuilding year" at the start of the season when the Pats struggled to have a .500 record.
On the one hand -- what a genius move out of such a young professional athlete. Sure, after a slow start and some time for the team chemistry to take effect, Mac Jones and the New England Patriots are sitting on top of the AFC East by a half-game and are riding a six-game winning streak. Mac is pretty much already the heartbeat of that. And to think people were considering this a "rebuilding year" at the start of the season when the Pats struggled to have a .500 record.
Who can blame Mac for starting to already think of life after football by building a brand, both in general with Mac 10 Enterprises and personally with MJ10. But rewind a handful or so years back when TB12 and TB12 Sports started becoming a thing -- what happened a few years later?
Tom Brady left the Patriots. He left US.
That doesn't at all mean that Mac is planning on doing the same thing 1, 2, 10, or 20 years down the line. If anything, "MJ10" seems like the type of player that would want to ride out his entire career with one team.
But, in all fairness, we assumed the same thing about "TB12." And look where he is now...
Honestly, how could we have trusted someone like 'TB12' who refuses to eat these 29 foods?
First 'TB12' left us, then he got dropped $6M on this yacht
When he's not on the football field or breaking the hearts of his New England fans, Tom Brady can be found heading to the Caribbean on the Wajer 77 with his family. Let's take a look inside.
LOOK: 50 images of winning moments from sports history
Sometimes images are the best way to honor the figures we've lost. When tragedy swiftly reminds us that sports are far from the most consequential thing in life, we can still look back on an athlete's winning moment that felt larger than life, remaining grateful for their sacrifice on the court and bringing joy to millions.
Read on to explore the full collection of 50 images Stacker compiled showcasing various iconic winning moments in sports history. Covering achievements from a multitude of sports, these images represent stunning personal achievements, team championships, and athletic perseverance.