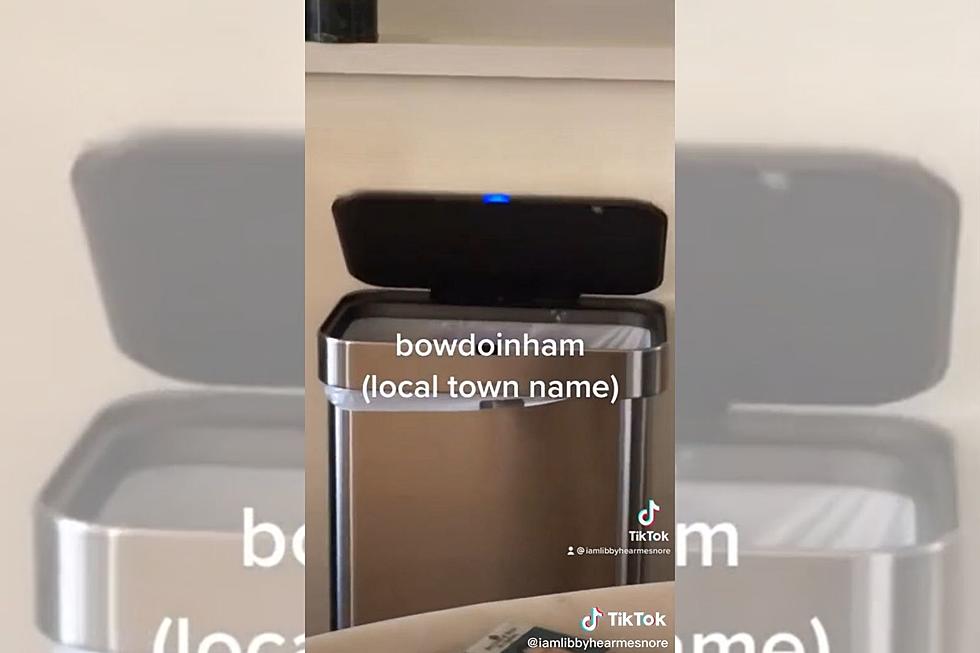 Why Does This Trashcan Open When You Yell, "Bowdoinham" at It?
iamlibbyhearmesnore via TikTok
Sometimes something as simple as opening a trashcan can be a super struggle. Maybe you have your hands full, or sticky fingers or that food pedal thing can be finicky.
Enter the voice command trashcan.
Mainer and TikToker Libby, or @iamlibbyhearmesnore, gained viral fame in March of 2020 just days after the world shut down.
Like the rest of us during that time, Libby was trying to stay entertained the best they could, and for the first video, it was the trashcan providing the entertainment.
This trashcan is programmed to open when you say, "Open Can". The thing is, it's not an exact science. Apparently, any three-syllable phrase will do. So, what other phrases could be used to get it to open? Turns out, phrases such as fallopian man and golden clam.
Months later Libby and friends filmed part two. This is where we learn that the Maine town of Bowdoinham works as well as frozen ham, Trojan Man, OnlyFans, and "I'm Dirty Dan" a line made famous in an episode of Spongebob Squarepants.
So, what words or phrases should they try next? Jim and Pam? Creepy van? Monopoly Man?
If you want to try it yourself here's a voice-activated trashcan on Amazon. It's not cheap though at nearly $350. For that much, I think I'll keep struggling with my cheap Walmart can.
Stream us live 24/7 365 by downloading our station app! With our app you'll get access to exclusive contests and great local stories. Click below to download today!
15 Dog-Friendly Campgrounds in Maine
What's better than camping in a beautiful state? Camping with your four-legged friends!
The Best Bakeries Near Portland and Cape Elizabeth, Maine According to Locals
These are the best places to get sweet treats around Portland and Cape Elizabeth straight from the mouths of Mainers!