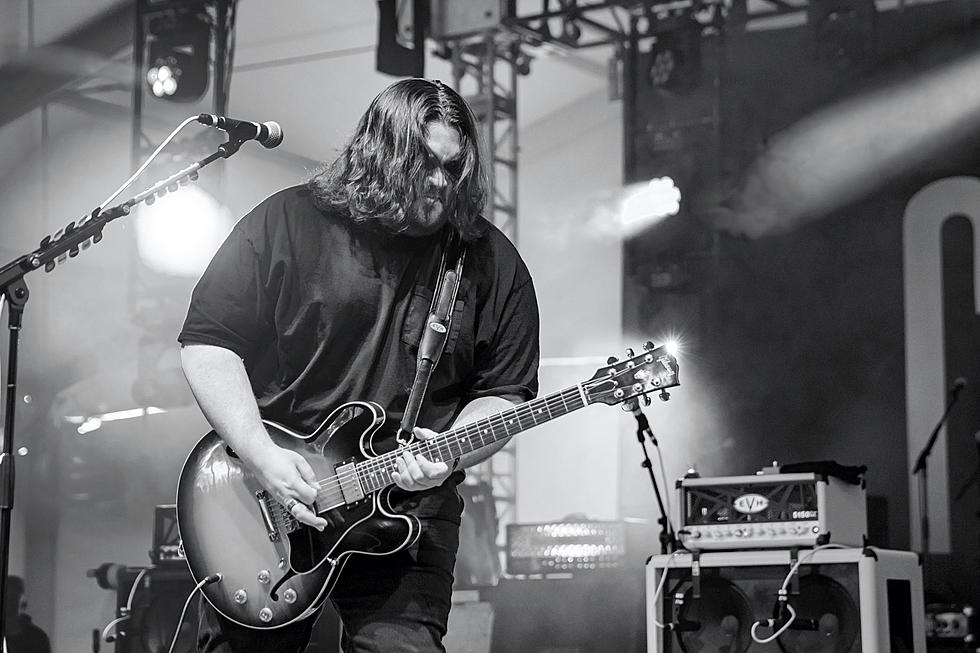 Mammoth WVH Cancel Dates After Band + Crew Test Positive for COVID-19
Scott Legato, Getty Images
Mammoth WVH, the alt-rock creation of Wolfgang Van Halen, canceled their sets on the last six dates of the U.S. Young Guns Tour this week due to positive COVID-19 cases in the band and crew after Van Valen's appearance at the 64th Annual Grammy Awards. Tourmates Dirty Honey will still play the shows.
Van Halen explained in a statement that he himself had not tested positive and that Mammoth WVH would attempt to make up the affected dates in the future. The group has additional spring concerts in the United States to begin later this month.
See the upcoming dates near the bottom of this post.
On Tuesday (April 5), Van Halen said, "After an incredible weekend in Las Vegas with my family for the Grammys, I flew back yesterday to meet up with my band and crew in North Carolina to continue the Young Guns Tour. This morning, as everyone took COVID tests to re-establish the bubble that has served us on the tour, we came to find that members of our band and crew who didn't travel with me were positive."
He continued, "I have tested negative via rapid and PCR tests for the last five days in preparation for the Grammys and still continue to do so. With only six shows left in the tour, it breaks my heart that we unfortunately won't be able to continue. Mammoth WVH will do our very best to make up the dates that we missed to the fans in those markets in the future."
However, "the party will still rage on," Dirty Honey added in a social media update. "Come out and rock with us! We will be playing a longer set!"
The affected dates are Raleigh, N.C. (April 5), Charlotte, N.C. (April 6), Nashville, Tenn. (April 8), Dothan, Ala. (April 9), Orlando, Fla. (April 10), and Atlanta, Ga. (April 12). The tour, which started in February, was initially delayed a month due to COVID concerns.
Van Halen, after replacing bassist Michael Anthony in 2006, performed alongside his father Eddie Van Halen in Van Halen until Eddie's death in 2020. Switching to vocals and guitar, Wolf released his debut with Mammoth WVH last year. And he's taking after his dad in another way by designing his own signature guitar — the Mammoth bandleader recently shared details about the instrument, the SA-126.
Dirty Honey Spring 2022 U.S. Tour Dates
April 5 – Raleigh, N.C. @ The Ritz *
April 6 – Charlotte, N.C. @ The Fillmore *
April 8 – Nashville, Tenn. @ Marathon Music *
April 9 – Dothan, Ala. @ The Plant *
April 10 – Orlando, Fla. @ Hard Rock *
April 12 – Atlanta, Ga. @ Tabernacle *
May 1 – Atlanta, Ga. @ Shaky Knees
May 21 – Daytona, Fla. @ Welcome to Rockville
* No Mammoth WVH
Mammoth WVH Spring 2022 U.S. Tour Dates
April 29 – Tucson, Ariz. @ Pima County Fair
May 10 – Billings, Mont. @ MetraPark Arena #
May 11 – Casper, Wy. @ Wyoming Center #
May 13 – Council Bluffs, Iowa @ Stir Cove #
May 14 – Wichita, Kan. @ The Wave #
May 15 – Springfield, Mo. @ Gilloz Theatre
May 17 – Chattanooga, Tenn. @ The Signal
May 18 – Charleston, S.C. @ Music Farm
May 19 – Daytona, Fla. @ Welcome to Rockville
May 21 – Maryland Heights, Mo. @ Hollywood Casino
# With Halestorm
Where 20 Rock + Metal Band Names Come From
Solving the mysteries behind the monikers.