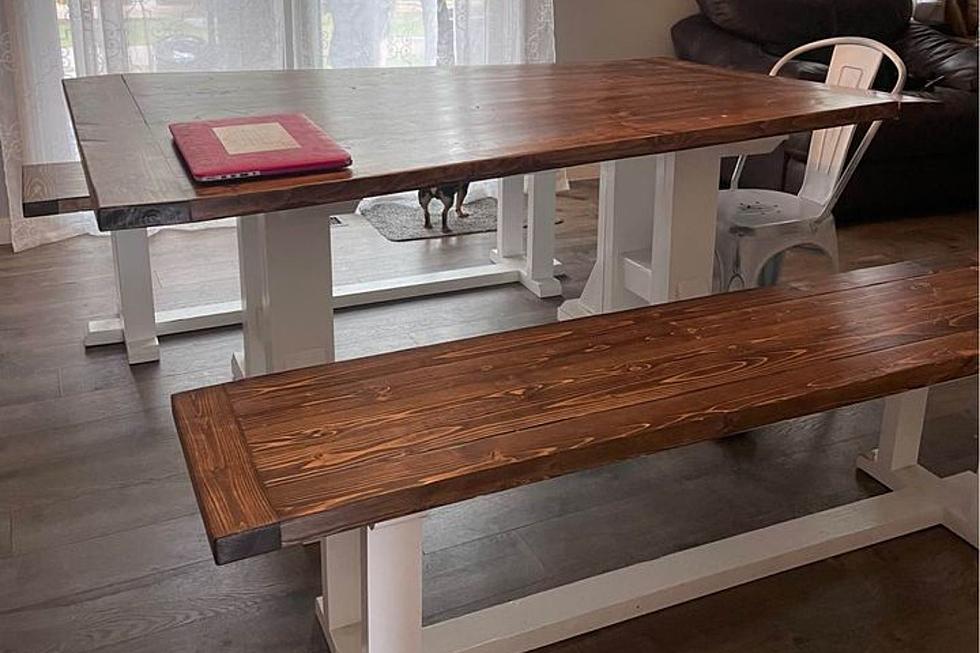 Massachusetts Woman Sells 'Worst Table Ever' on Facebook Marketplace
Jessica Krikorian-Hnis via Facebook Marketplace
One man's trash is another man's treasure, but this particular piece will need a specific type of owner to turn it into anything but trash. If you are in the market for a new table, you could be the proud owner of the worst table ever made, according to this Brewster, Massachusetts seller on Facebook Marketplace.
It sounds like this handmade wooden table has left a bitter taste in the previous owner's mouth as she attempted to give it away for free online.
"Bought from someone on FB who builds them 'custom'," wrote Jessica Krikorian-Hnis, listed owner of "Worst Table Ever." She explained that she bought the table to support local craftsmen, with a price tag of over $400. The craftsman was very polite, but not exactly a professional in his craft just yet.
"The guy was super nice," Krikorian-Hnis wrote, "Just can't build a table to save his life. Not level, at all…the top is completely warped which can be very exciting when your kids spill a drink (which way will it go?!)". She wrote that the only way to make this table level is with the help of books shoved under a leg.
At one point, her puppy became fond of chewing on one of the legs and she didn't see a reason to stop him. If anything, it added more character to an already interesting piece of furniture.
"Getting a new table delivered tomorrow so my gain can be your loss," Krikorian-Hnis said.
I guess in the right hands, this table could be useful. Maybe an experienced craftsman would know how to remedy the warps and levels. Otherwise, this terrible table could be all yours for the low, low price of zero dollars.
15 Iconic Retail Stores That Don't Exist Anymore (But We Totally Miss Shopping At)
How Many in America: From Guns to Ghost Towns
Can you take a guess as to how many public schools are in the U.S.? Do you have any clue as to how many billionaires might be residing there? Read on to find out—and learn a thing or two about each of these selection's cultural significance and legacy along the way.