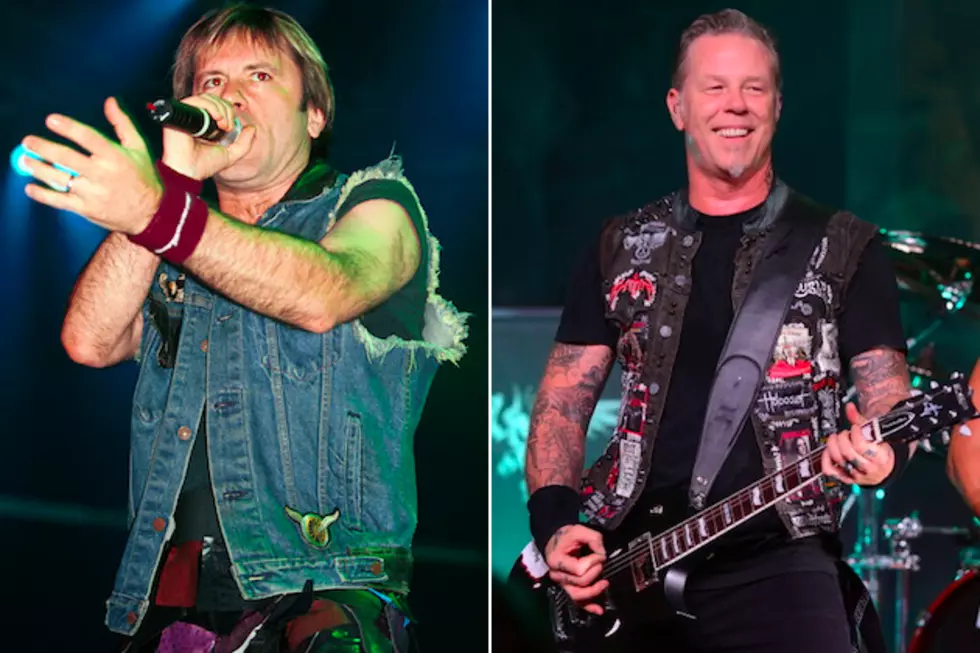 Metallica and Iron Maiden Team Up to Headline Sonisphere
George DeSota/Theo Wargo, Getty Images
Two of heavy metal's greatest champions, Metallica and Iron Maiden, have been officially confirmed as headliners for Sonisphere 2014 -- the European continent-touring mega-festival first launched to great success in 2009, but which latter suffered a last-minute cancellation of its UK leg in 2012, and took a year off in '13.
Now, it appears Sonisphere is ready to return at full strength in 2014, and the UK dates set for July 4 through 6 at Knebworth Park (the famous site of legendary concerts past by everyone from Queen to Led Zeppelin) will mark the first occasion in which Maiden and Metallica have appeared together at one festival.
In what is also presently expected to be both bands' only UK appearances in 2014, Metallica has already announced that their setlist will be determined by their own fans on a "by request" basis, as they purchase their tickets.
As drummer Lars Ulrich told the UK's Metal Hammer, "This just works on all fronts. Metallica and Knebworth, Metallica by Request, Metallica and Iron Maiden. We are soooo excited about the limitless possibilities of our friends picking what songs Metallica get to perform on this forthcoming evening from the nearly 140 songs we've recorded throughout our ride. Who knows what crazy challenges will be thrown our way? Maybe a song that has never been performed live before? Maybe a few deep cuts that haven't been aired in ages? Maybe a couple of your toe-tapping favorites? An obscure cover? Whatever happens, it will be unique, it will be special, and it's all up to you."
Continued a never-short-of-breath Lars: "Add the cherry on top…co-headlining with Iron Maiden, who are a big reason that Metallica exists in the first place. Although we haven't played together on the same day since 1988, this is the closest we've come for 25 years, and for all our fans who share the same love for Iron Maiden as we, the band members do, this will hopefully amount to what many rock fans would consider a dream bill."
Meanwhile, Iron Maiden will mark the occasion to officially conclude their current, massively successful world trek. Said bassist Steve Harris in a statement: "Firstly it's an honor to celebrate 40 years of rock at Knebworth, especially when you look at the list of great British bands who have appeared there over this period. Secondly, it's the last show of our Maiden England tour, so it's fantastic to be able to close this on home turf and in front of a lot of friends. You can be sure we will pull out all the stops!"
Added frontman Bruce Dickinson, "We all grew up in England well aware of the importance of the legendary concerts at Knebworth, and scarily it all seems quite recent! [So] it really is an honor and privilege to return to play there with the purpose of celebrating some of the finest moments in British rock history from inspirational bands like Pink Floyd, the Who, Zeppelin, the Stones and Genesis.
With a third headliner and many more bands still awaiting formal announcement, you can expect a steady stream of Sonisphere 2014 updates right here on UCR in coming months. Stay tuned.