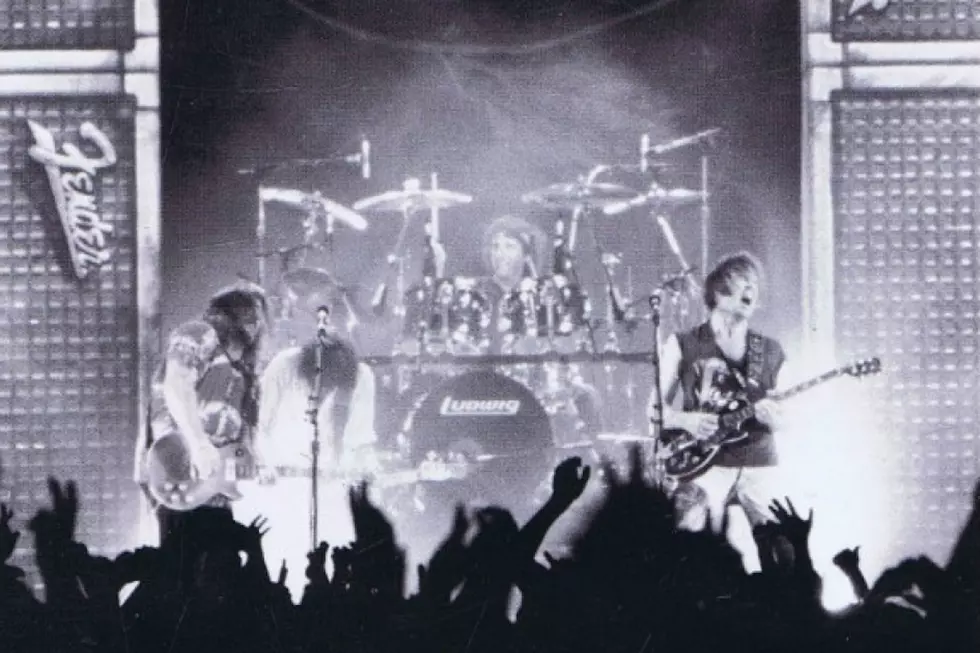 When Neil Young and Crazy Horse Got Noisy on 'Arc-Weld'
Reprise
In the late '80s, Neil Young re-embraced distortion. He cut "Rockin' in the Free World." He teamed up with Crazy Horse for 1990's Ragged Glory. And then he and his Crazy friends hit the road in the winter of 1991, for what Young termed the "Smell the Horse" tour, which was documented on the Arc-Weld album.
These were loud, noisy shows, a commitment that ran even to the support acts, Sonic Youth and Social Distortion, both of whom Neil had picked for that purpose. Extended, tangled performances were akin to the electric music captured on Live Rust more than a decade earlier.
But Young and Crazy Horse – bassist Billy Talbot, drummer Ralph Molina and guitarist/keyboardist Frank "Poncho" Sampedro – weren't trying to relive the past so much as they were inspired by the present. Apparently, the band watched CNN reports from the first Gulf War every night before taking the stage.
"It blew my head off during that tour," Young said about the war in Iraq in Johnny Rogen's Zero to Sixty: A Critical Biography. "When we were playing that stuff, it was intense. It was real. I could see people dying in my mind. I could see bombs falling, buildings collapsing on families."
The nasty images and violent news spurned the singer-guitarist to play some of his roughest material from the new record along with enshrined tunes about death and genocide such as "Powderfinger" and "Cortez the Killer." He and Crazy Horse also debuted a version of Bob Dylan's "Blowin' in the Wind," accompanied by the sound of a blaring air raid siren and gunfire.
After coming off the road, Young assembled recordings from the shows to document the four-month tour in the form of a double-live album. The concerts had been loud enough, but Young did further damage to his hearing while mixing the live record, which he would give the appropriately metallic title of Weld.
"I made Harvest Moon [after Weld] because I didn't want to hear any loud sounds," he told Mojo in 1995. "I still have a little bit of tinnitus but fortunately now I'm not as sensitive to loud sounds as I was for a year after the mixing of Weld."
Listen to Neil Young Perform 'Arc'
But Weld wasn't the only thing Young was putting together in the summer of 1991. In addition to the live album, he began playing with fragments of concert sounds, weaving together layers of guitar distortion, drums, crowd noise, lyric fragments and stage chatter into an abrasive collage.
The experimental record, to be titled Arc, had its roots in a 1987 film project called Muddy Track, for which Young recorded beginnings and endings of live performances and edited them together. He showed the piece to Sonic Youth's Thurston Moore, who encouraged the rock legend to attempt a similar treatment with the professional recordings from the current tour.
Young came away with a one-track, 35-minute album that featured snippets of him singing "Like a Hurricane" and "Love and Only Love" (which repeat, almost like a refrain), as well as squealing feedback and low-end rumbling that was a ringer for constant explosions. Many would compare it to Lou Reed's Metal Machine Music.
"It's new-age metal," Young said in April 1992. "That's what I would call it because you can listen to it really quiet. It's soothing… It's a generic rock 'n' roll sound; it has no identity. It's the tone, the metal tone. It's like being inside a giant milkshake blender. It's another dimension. Most bands' beat defines who they are. There is no beat on Arc."
In a limited release, Young packaged his conventional live album with Arc, which he called "more art and expression than anything I've done in a long time." Via Reprise, he released 25,000 copies of the three-disc set, Arc-Weld, on Oct. 22, 1991. He ended up putting out the records separately, as well. (A VHS concert video was released too, although it has gone out of print.) Fans and critics reacted positively to the intensity of the performances on Weld while regarding Arc as, at best, something of a curiosity.
Although Young would take a short hiatus from loud music following the release of Arc-Weld, he wouldn't stay away for long. As the "godfather of grunge," he'd soon team up with Pearl Jam and reconvene with Crazy Horse multiple times throughout the '90s.
 
 
Neil Young Albums Ranked