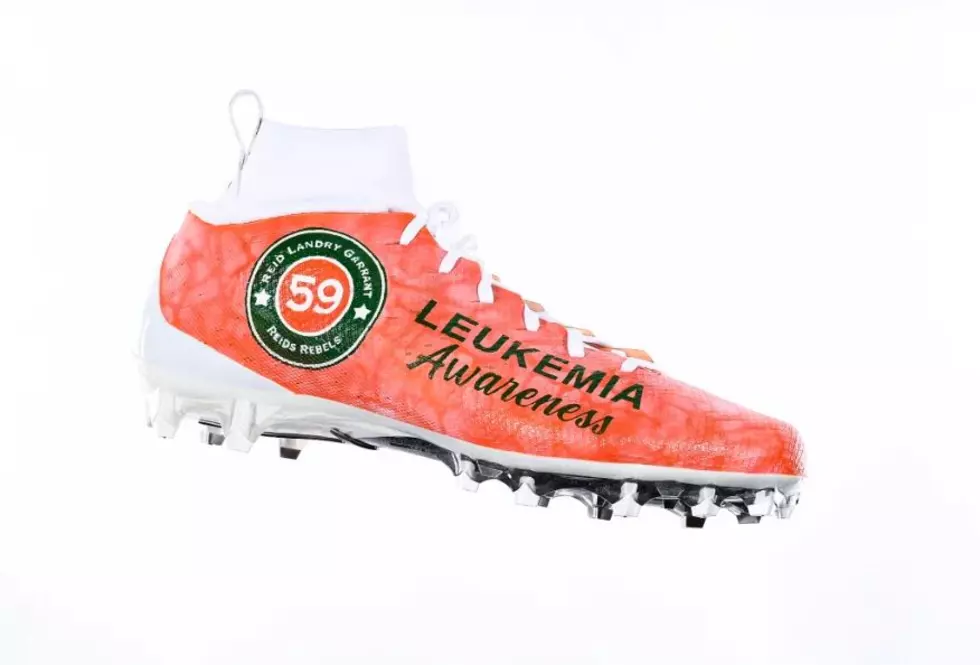 NFL Player's Cleats Give Massachusetts a Shoutout, Honor His Late Teammate
Pat Freiermuth's Cleats via Pittsburg Steelers Website
Pat Freiermuth was born and raised in Merrimac, Massachusetts. He attended Pentucket Regional High School for his first two years of high school before transferring to the Brooks School in North Andover, MA.
Why? Football.
Pat's athleticism, big build, and quick agility made him an attractive football player, landing him a tight end spot at Penn State. After his time there, Pat was drafted by the Pittsburg Steelers and has been wearing the black and gold for two seasons.
Although he has become a popular face in the entire football community across the country, Pat remembers his roots, hometown, and those who have impacted his life before NFL stardom.
"For the seventh year the NFL is allowing players to represent a charity that touches them deeply in a unique manner with the league's player cause initiative, My Cause My Cleats, according to the Pittsburg Steelers website..."The initiative was created for NFL players to showcase a charitable cause in order to bring attention to it, and the players take part in helping with the design of their cleats."
The top left photo is TE Pat Freiermuth's cleats.
One side of the cleats features Pat's hometown, Merrimac, MA, with the zip code 01860.
The town name and zip code show Patriots and Steelers fans that he never forgets where he came from. It also alludes to his high school days, where he played with a dear friend and amazing human, Reid Garrant.
Reid Garrant passed away tragically and suddenly in 2018 due to leukemia. He was the best kind of human to all, friend to me, and teammate to Pat.
Soon after losing her son, Reid's mom created "Reid's Rebels," an organization that "worked tirelessly to both honor the legacy of a fallen family member, as well as raise money to help support fellow families who are struggling with the deadly disease," according to a Newburyport Daily News article.
On the other side of Pat's cleats, he honored "Reid's Rebels" and Leukemia Awareness.
"The cleats are beautiful," said Paula Garrant, Reid's mother and the founder of Reid's Rebels, to the Newburyport Daily News. "I balled my eyes out when Pat texted me the photos and I first saw them. It truly is unbelievable that this is happening. We can't thank Pat enough."
In June of 2022, while Pat Freiermuth was at the third annual Night of Giving, Reid's Rebels' biggest fundraising night of the year, he signed autographs and auctioned off personalized gear that all went towards families in need, according to The Newburyport Daily News. That night is when the idea to bring "Reid's Rebel's" to "My Cause My Cleats" came to Pat.
"It means a lot," Freiermuth told Steelers.com. "Just being able to wear those cleats and put recognition to that foundation. Reid's mom has worked so hard to get her son's name out there. Being able to help in that process on a national stage like that is awesome."
The Steelers took home a win during their week 13 matchup. There is one more week of "My Cause, My Cleats." Next week, you can see the "Reid's Rebel's" cleats one more time when the Steelers take on the Baltimore Ravens.
After the players wear the cleats, they have the option to auction them off to raise money for their cause on NFL Auction, with 100% of the funds raised given to the charity, according to the Steelers website. Fans may bid on player cleats at NFL.com/Auction.
$7.8M Fairytale Property in Meredith, NH is a 'Resort-Like Retreat'
16 Solo Day Trip Ideas in New England