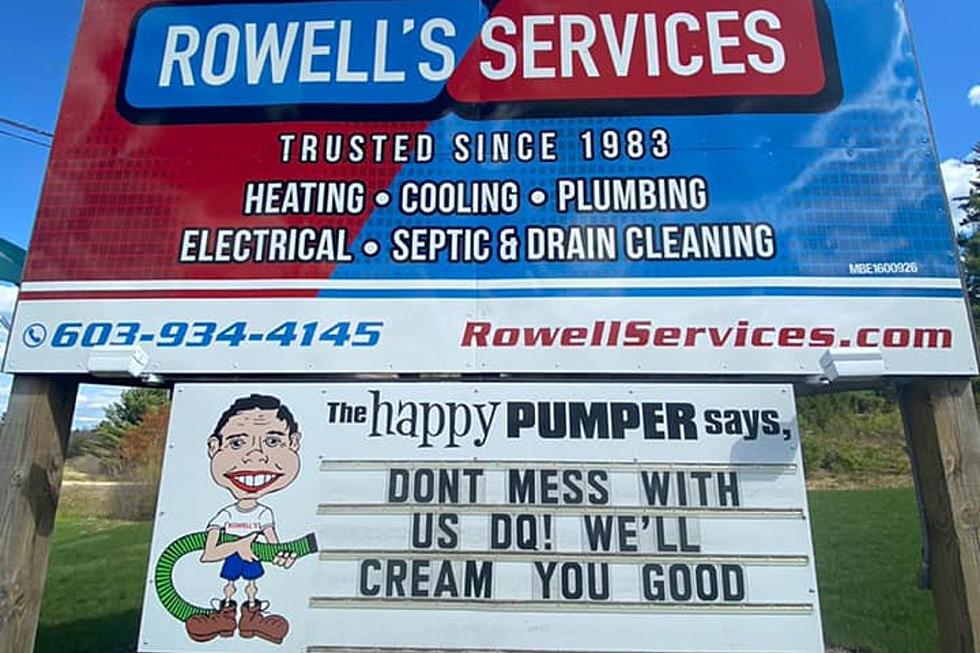 NH Businesses Channel Their Inner Mainers and Start a New Sign War?
Rowell's Services via Facebook
The timing seems interesting, since a few weeks back a sign war was started in Maine, so perhaps word trickled down to Tilton, New Hampshire, and some businesses thought it would be a good idea to run with. Then again, it could be an absolute coincidence.
Michael Lee State Farm vs Wendy's sign war
Let's recap: About 3 weeks ago, we told you about a sign war that kicked off in Waterville, Maine, with Michael Lee State Farm challenging Wendy's to a sign war. Wendy's accepted, mentioning on their sign that they're "always ready to square up."
Rowell's Services sign war
Whether or not the Michael Lee State Farm/Wendy's sign war had any inspiration, or perhaps it's just the fact that sign wars have been starting to catch on across the country (like this one happening in Virginia), Rowell's Services in Tilton decided to start one of epic proportions -- not with just one business, but the whole community.
They started out by calling out the Dairy Queen in Tilton, and after a little back and forth, started targeting other businesses in the area as well, changing their sign every few days. Following Dairy Queen, sign war challenges were sent out to GMI Asphalt, LLC, Lochmere Country Club, Tilton Diner, and Tanger Outlets.
What is a sign war?
If you haven't figured it out yet, sign wars are just a lighthearted, fun way to bring the community together with some laughs, but also serves as cross-promotion for multiple businesses. For example, think about all the exposure these Tilton businesses are getting all by Rowell's Services very first sign calling out Dairy Queen?
Imagine driving by Rowell's, trying to figure out which business would be the best to lay down your brand new driveway that you desperately need? Wouldn't you trust GMI Asphalt to do the job if they're being highlighted and jokingly called out by a fellow respected business in town?
It'll be great to see how long this sign war in Tilton goes on, and if it triggers more sign wars in Northern New England. Here's hoping other Maine, New Hampshire, and Vermont businesses get it on the fun -- it's entertaining for all!
CHECK IT OUT: See the 100 most popular brands in America
50 Famous Brands That No Longer Exist