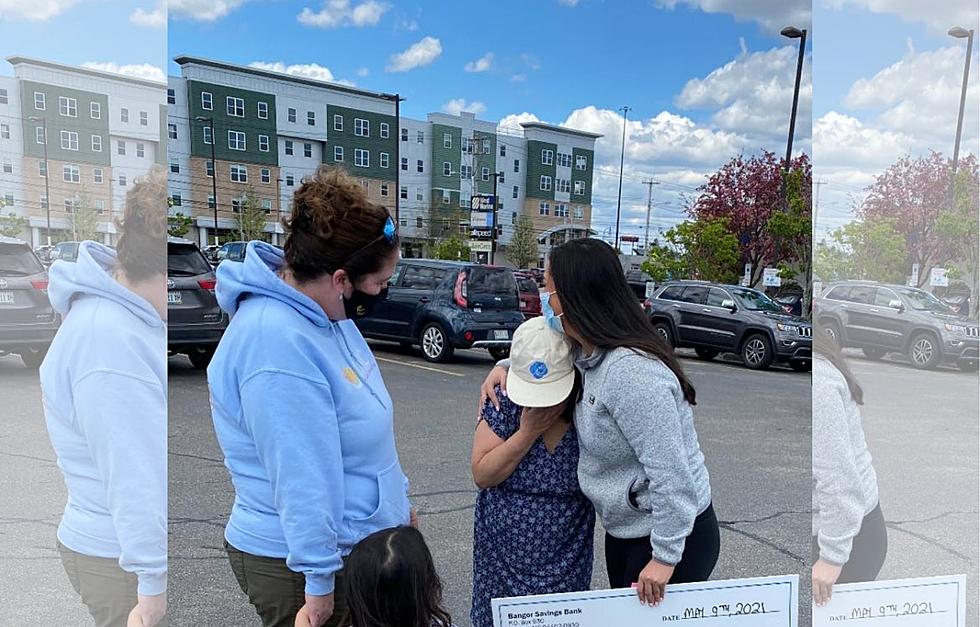 Old Port Flower Lady Kay Surprised With Huge Check From Her Fans
Gina Ballard via Facebook
Kay the "Old Port Flower Lady"
Kay is known and loved by Portlanders and Portland-goers for generations. Night after night Kay will pop in and out of the bars in the Old Port selling flowers. Due to the pandemic, Kay hasn't had this opportunity and has been focusing on her own health, taking care of her husband, and mother.
Binga's Windham
About a month ago Binga's in Windham changed their sign to "I hope the flower lady from the Old Port is doing well."
The sign went viral with folks sharing memories of Kay and the smiles she brought to everyone's faces along with well wishes.
One of Kay's friends let her know she was an Internet sensation and how much she was appreciated and Kay made a video thanking her fans.
GoFundMe
This prompted the creation of a GoFundMe account so Kay wouldn't have to stress about the bills while we're all waiting for the world to return to normal and show her some appreciation. The original goal of the GoFundMe was $500.
The Big Moment
Sunday was the big day presenting Kay with the money raised. The $500 goal was blown out of the water to the tune of $9,100 all thanks to individual contributions as well as $1,000 from Modern Woodmen Fraternal Financial
Kay was moved to tears and so grateful to be supported by a community she loves dearly.
According to her friend, Gina, Kay would love to have her own appreciation day for everyone who donated by handing out flowers in the near future with details to come.
We love you, Kay! And Portland we love the idea of a flower parade. Or maybe a flower bar crawl?
10 Classic Candies With Ties to New England
UP NEXT: See how much gasoline cost the year you started driving