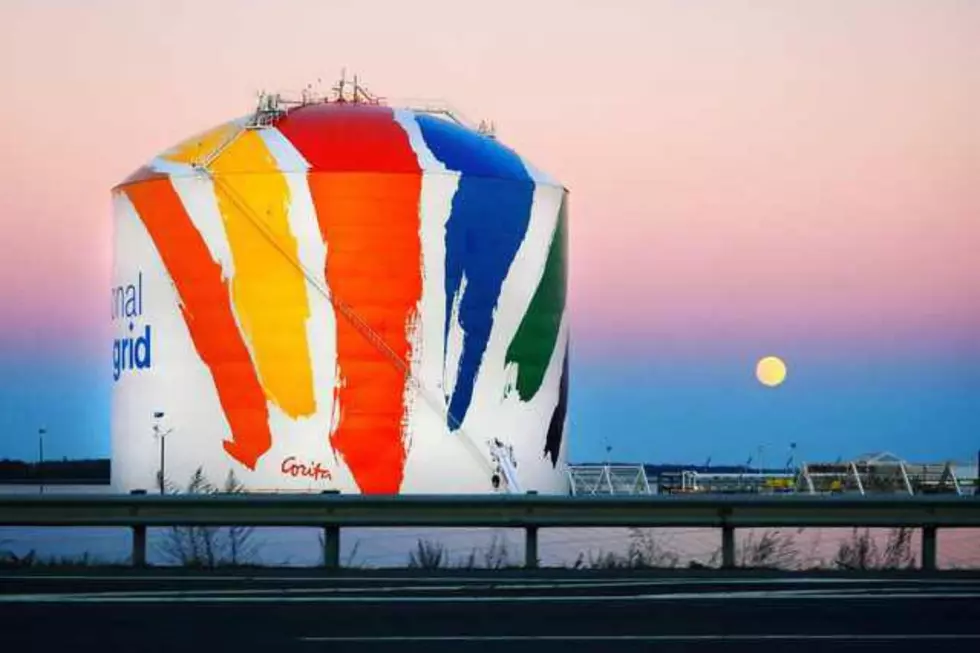 Two Minute Read: Story Behind the World's Largest Piece of Copyrighted Art in Boston
Rainbow Swash via Facebook
For me, this is one of those things that I can file under that old adage, "you learn something new every day."
You know when you're driving south of Boston on interstate 93 and you see that huge, white gas tank along the water with the rainbow design painted on it? Those gigantic, paintbrush-like strokes in orange, yellow, green, purple, and blue adorning the tank were commissioned, making that a piece of art lovingly called the Rainbow Swash. Being 140 feet tall, it's literally the largest piece of copyrighted art on this planet.
Talk about art in open spaces. That gas tank is a Boston landmark, and just like the Citgo sign at Fenway Park, is even part of the skyline.  It may not be in downtown Boston, instead along the south shore in Dorchester, but it's an iconic, well-known, and recognizable part of Boston and its history.
And the artist?  A nun, who was commissioned by the then-Boston Gas Company to beautify it.  The controversy?  Is it a statement against the Vietnam War, or just bright, popping, happy colors to make us smile?
According to a website dedicated to Sister Corita Kent, her innovative art and approach to design and education drew international acclaim in the 1960s, where her work reflected her concerns about poverty, racism, and war, with messages of peace, happiness, and social justice.
The Boxer Boston says the controversy didn't last long.
On the left side of the blue strip, there's a subtle profile of an eye and nose and seemingly long-pointed goatee beneath. Considering Kent's background and the politically tumultuous times, some people took on the belief that the profile was a portrait of Ho Chi Minh in protest against the Vietnam War. She denied the allegations and things were pretty much left there.
According to Trademark and Copyright Law, this was commissioned in 1971, where Sister Corita Kent painted the Rainbow Swash design on an eight-inch scale model and 20 painters reproduced the work on the tank.  In 1992, the original rainbow-painted tank was torn down, so the Rainbow Swash was recreated on the adjacent tank standing today.
Here's the quick version, but click here for some fascinating history on the artist, Sister Corita Kent.
Amazing Theme Park Rides Based on Movies That Were Never Built
12 Best BBQ Pit Stops in New Hampshire
In no particular order, here are the 12 best places to eat BBQ in New Hampshire