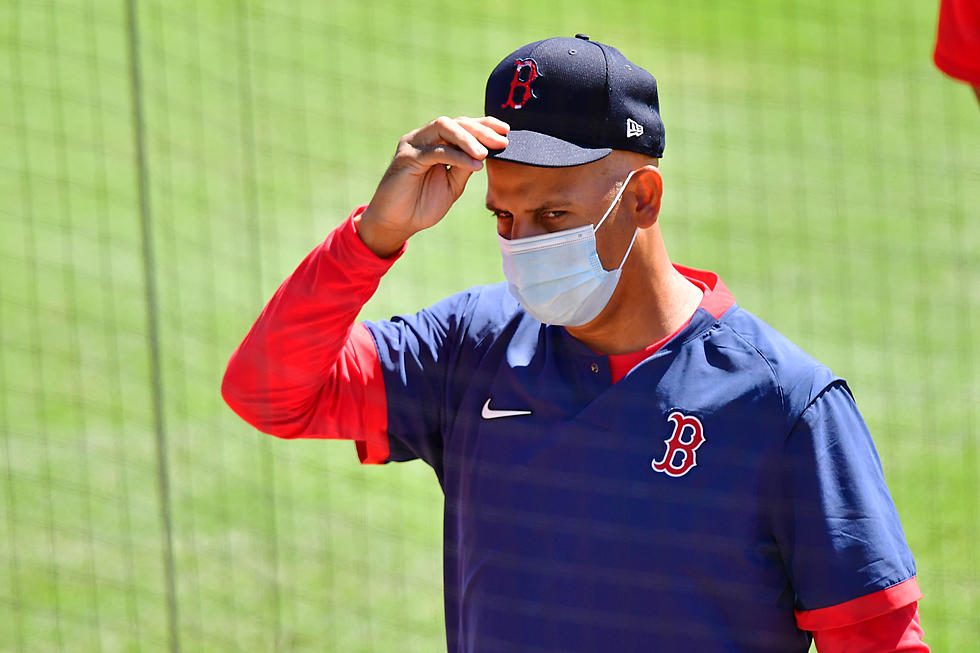 The Curious Case Of Boston Red Sox Manager Alex Cora's Cap Quickly Solved
Getty Images
It took our Boston Sports Insider Tom Caron less than 48 hours to deliver a solution to this ballcap mystery. Turns out, Red Sox manager Alex Cora's logo wasn't 'ragged' at all.
I asked. It's the Red Sox Spring Training Cap. The B is actually made from the 'hanging socks' logo.

 

The white you see is the white stripes, heel and toe of the logo.

 

There you go Nana!!!

 

- Tom Caron, On The Subject Of My Grandmother's Least Favorite Logo Design Idea
Sure enough, a quick punch into the google and there it is in red, white and blue.
As luck would have it, I was at my Nana's, watching the Red Sox with her when TC texted me the final result of his days long investigation into this pressing topic.
She was not impressed.
It's not everyday that a Red Sox fan with no social media accounts, can get 'New England's Favorite Sports Personality' to take time out of his busy schedule to ask the proper sources about a logo design.
But the thing is, I don't think she is ungrateful for the work he did to figure it out, I think she just thinks that logo was a bad idea in the first place.
It's just a question of personal taste.
If I had to do this all again, I'd have started by asking my nephews about the hat. Not only are they rabid Red Sox fans, they also are nearly obsessed with baseball caps.
They knew that this logo was 'The Spring Training Logo' even without the use of a search engine and specifically have asked to get that cap as an upcoming birthday present.
Thanks again to TC for taking the time to get to the bottom of this mystery, now that the Sox have lost 2 games in a row, I'm sure much more important questions will need answers right away!
LOOK: The most famous actress born the same year as you
Many of the actresses in this story not only made a name for themselves through their collection of iconic performances, but also through the selfless, philanthropic nature with which many of them approached their stardom. In an age of flipping the script on societal norms, many of these actresses are using their voices and platforms to be advocates for those who are otherwise unheard.
50+ Maine Towns With A Population Less Than 100 People