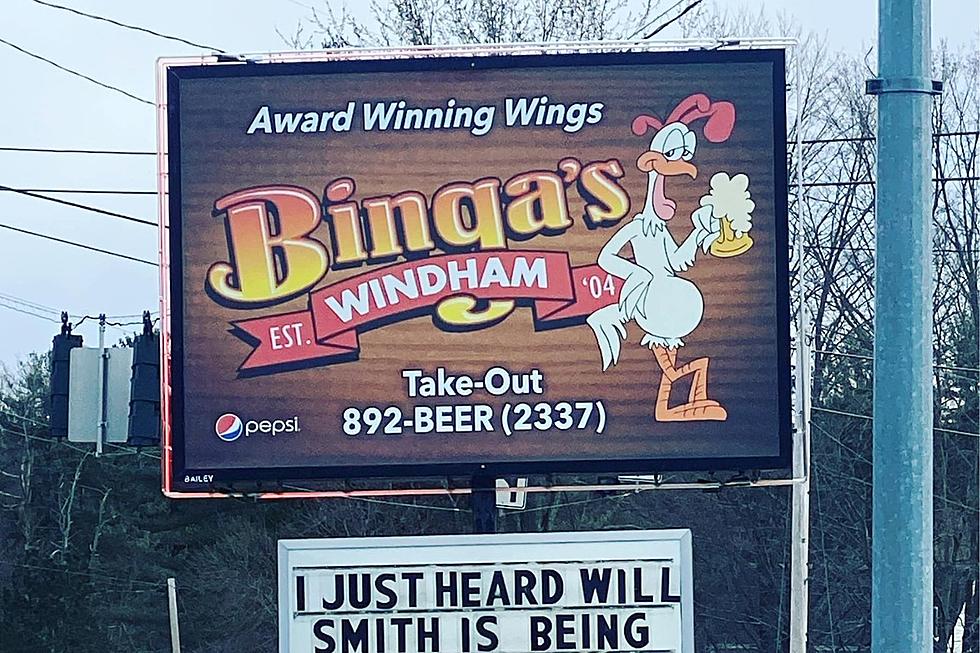 The Infamous Binga's Sign in Windham Hilariously Chimes in on The Slappening at The Oscars
Bingas Windham via Facebook
If you haven't heard by now you likely live under a rock, so, welcome to the light.
Sunday night at The Oscars Chris Rock made a joke about Jada Pinkett Smith and the fact that she has a shaved head. Will Smith, her husband, responded by walking on stage and slapping Chris Rock across the face and then yelling at him, "Keep my wife's name out of your ****ing mouth!"
https://www.youtube.com/watch?v=iJtws119OCk
For further context, Jada has alopecia which causes hair to fall out. Days before the Oscars she posted a TikTok saying, "I don't give two craps what people feel about this bald head of mine 'cause guess what? I love it."
There has since been a ton of debate on if Will Smith's actions were justified. Many fall either on the side that his actions were an example of healthy masculinity or on the side that his actions were an example of toxic masculinity.
Beyond the debates have been a steady stream of jokes and memes.
"Chris Rock woke up this morning with "fresh prints" on his face."

"He used an open hand because paper always beats rock."
Binga's in Windham always brings the funny with their roadside sign and they didn't miss an opportunity to discuss the biggest story in pop culture today with a nod to The Fresh Prince of Bel-Air.
https://www.facebook.com/bingaswindham/photos/a.1642136199134586/5667489283265904/
For those that don't remember, the theme/premise of The Fresh Prince of Bel-Air was,
In West Philadelphia born and raised

On the playground was where I spent most of my days

Chillin' out, maxin', relaxin', all cool

And all shootin' some b-ball outside of the school

When a couple of guys who were up to no good

Started making trouble in my neighborhood

I got in one little fight and my mom got scared

She said, "You're movin' with your auntie and uncle in Bel-Air"
Since the incident, Will Smith took to his social media pages to issue a formal apology. At the time of posting neither Jada Pinkett Smith nor Chris Rock have made any public comments.
https://www.facebook.com/WillSmith/posts/544176300403935
Family Friendly Day Trips From Portland, Maine Your Kids Will Love
Looking for something fun to do with the family but want to stretch your legs outside of Maine for the day or weekend? Here's a list of fun spots for you and your family to enjoy that could easily be done as a long day trip or a quick weekend away. Everything on this list is within x hours of Portland.
For reference, when putting in Portland, Maine on Google Maps, it places the street view guy at Portland Town Hall. Depart time is being set at 8:00 am on a Saturday in June to account for traffic.
Did your favorite make the list? Anywhere new you plan to check out?
45 of the Funniest Weed Strain Names in the Maine Market Right Now
There are no boundaries when it comes to giving a strain its title, so the names you stumble upon on dispensary menus can be quite humorous.