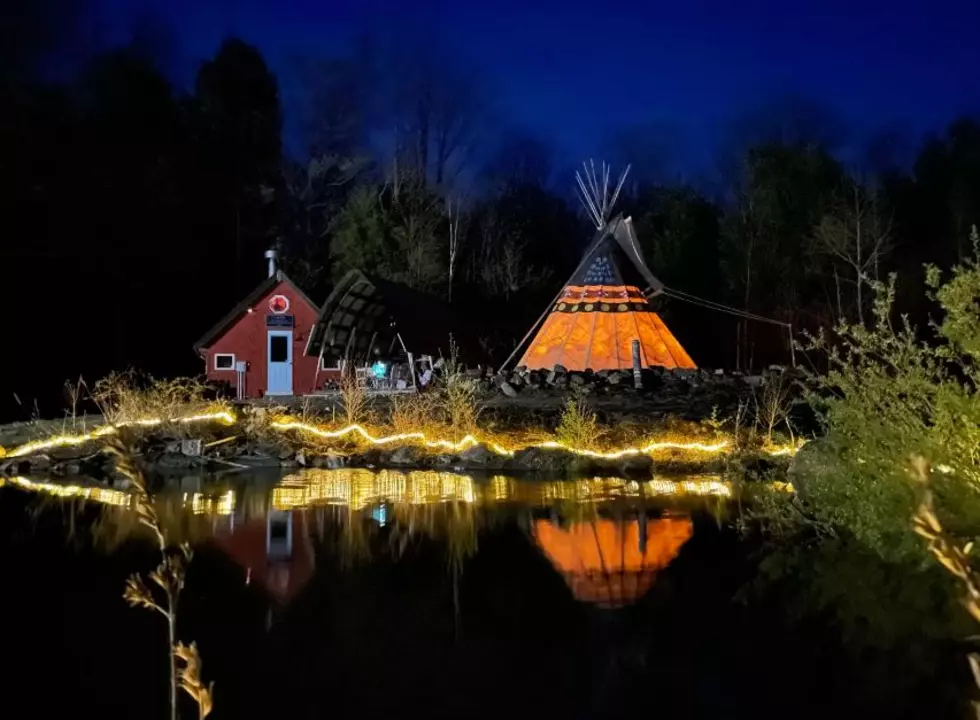 2023's Six Best Glamping Spots in New Hampshire, Maine, and Massachusetts
Getty Images
Like some, camping is one of my favorite summertime and fall hobbies.
With the White Mountains being so close, camping in New England is easily accessible and beautiful.
Like many, sometimes I do not want to sleep on roots, rocks, and damp grass. For some, glamping is the best option.
Below, I highlight six of the best "glamping" spots for the summer of 2022. All six are found on the Hipcamp website, which is an "Airbnb for camping." Basically, it's just like renting a house, unique glamping site, bus, etc.
Some of the top six are finalists in the state for top campsites, while others are new spots that I foresee becoming popular. At any rate, below are the six coolest camping and glamping spots of 2022.
#6. The 1962 School Bus-Turned-Glamper's Hangout (see below for pictures)
Hipcamp host Justin F has turned a 1962 school bus into a retro way to get outside in a secluded environment while taking away the hassle of finding a flat surface, setting up a tent, and other typical camping tasks.
The location is known as Toad Hill. It is right on the New Hampshire and Maine line, just outside of Jackson, New Hampshire, in Chatham.
It really is an ideal spot for those who want to access the fun towns of North Conway and Jackson, yet also want to be secluded and disconnect.
The property is entirely off-grid; however, comfortability is something you will certainly find. Cassidy, the bus' name, is insulated and has a wood stove. There's a fully-functioning four burner stove, kitchen sink, bed, and dining table.
#5. The Ravens Nest - Large, Year-Round Yurt (see below for pictures)
I will start with the accolades and recognition. The Raven's Nest, also referred to as "Secluded Comfort in the Woods," is a "Best of New Hampshire: 2022" Hipcamp finalist, according to the Hipcamp booking site.
"What a lovely special place the best was! Stopped here for one night on our drive back to Chicago," said Andrew M. who stayed in June of 2021. "The tent was full of amenities and we loved just how silent and remote it felt...Loved it, wish we had been able to stay longer. Thank you for making such a special spot!"
#4. A-Frame on a Boulder Near Mount Monadnock, New Hampshire (see below for pictures)
The campsite is "a micro shelter A frame (6x6) atop a rock platform with soft flooring, natural light and built in screens to enjoy the views & sounds of nature," according to the Hipcamp page. There's also a "Queen size air mattress set up (large enough for 2 adults that are 6' or under), bring your own blankets & pillows."
It's less than two miles to the nearest lake for swimming and fishing, near Mount Monadnock (the second most-climbed mountain in the WORLD), and is a family-friendly site with glowing reviews. Check out the Hope Hill Haven A-Frame below.
Perhaps I should mention that the campsite is only $65 a night. That is a steal when it comes to regular glamping sites.
#3. Cabin With a Sauna - Yes, a Sauna (see below for pictures)
Located only two hours from the Seacoast and under $140, this is any glamper's dream stay. The location is in Warwick, Massachusetts, and the property is recommended 100% of the time out of the 50 reviews.
This location is known as "Kula Bata Tiny Kabin Infrared Sauna" and is a hipcamp, as advertised on their website.
Not only does this cabin have a sauna, but the other amenities combine camping, a hotel stay, and a home all in one. Amenities include a dedicated yoga space, washer and dryer, farm sink, fire pit, wrapped and covered porch, and more.
Perhaps I should also mention it is pet-friendly. I need to book this place for myself ASAP.
#2. Rustic A-Frame With Private Dock, Garage Door, and Bug Net for Stargazing (see below for pictures)
The site has a private dock, outhouse, and a space to cook, play games, and hang out. Oh, and a garage door that opens up, overlooking the river. THAT is what makes this place so special.
The garage door flips up and even has a screened-in net to keep bugs out. You can watch a sunset or enjoy dinner by the creek with a partner.
Not many campsites can claim titles like "best of Massachusetts." This one right here has that honor. Well, they are a finalist (as the overall results are not in yet). That said, to be nominated is still an honor, and this place seems very deserving.
#1. A Tipi, Pizza Oven Patio, and Library all in New England's Best Glampsite (according to me) (see below for pictures)
Bordering the Massachusetts and New Hampshire line, this Hipcamp stay is outrageously cool for those looking to get away or hike in the Monadnock region.
The land is stacked with cool features such as a cozy tipi, private structure for pizza-making, library, lofted bed, and more.
Formally named "Forest Zz Library Tipu and Pizza Oven," this campsite was a finalist for the best Hipcamp in Massachusetts in 2021, and for good reason, too.
According to their Hipcamp page, this neat Hipcamp was featured on the Lifetime series Married At First Sight, Season 14, Episode 23.
Below are all six of the top glamp/campsites in New England. There is one more I want to give an honorable mention to: The Hobbit Home. To check out this spot that was Maine's finalist in 2022, check it out here.
Check out the rankings photos, starting with #6 and ending with #1:
#6 
Cassidy Vintage 1962 Bus
One of New Hampshire's most unique Hipcamp spots: A vintage 1962 School Bus. To make a reservation or see more check it out
here
.
#5 
Secluded Comfort in the Woods With Raven's Next Yurt
Glamping is the new camping. Forget sacrificing a good night sleep when you can rest your eyes in this beautiful yurt, in the eastern part of the White Mountain National Forest. Available through Hipcamp, check out more details
here
.
#4 
Take a Look at This A-Frame on a Boulder Near Mount Monadnock, New Hampshire
Hipcamp's newest location in New Hampshire is this awesome A-Frame found atop of a bounder near Mount Monadnock. Check it out!
#3
This NH Kula Bata Tiny Kabin Has an Infrared Sauna
Check out this cabin with a personal sauna. A perfect get away for two.
#2 
Rustic A Frame With Private Dock on River
Check out this private A Frame cabin that was a finalist for "best of 2022" Massachusetts Hipcamp.
#1 
Want a Unique Camping Stay? This New England Spot Features a Tipi, Pizza Oven Patio and Library
A unique camping stay with cool features, this Hipcamp spot borders New Hampshire and Massachusetts. For more info,
click here
.