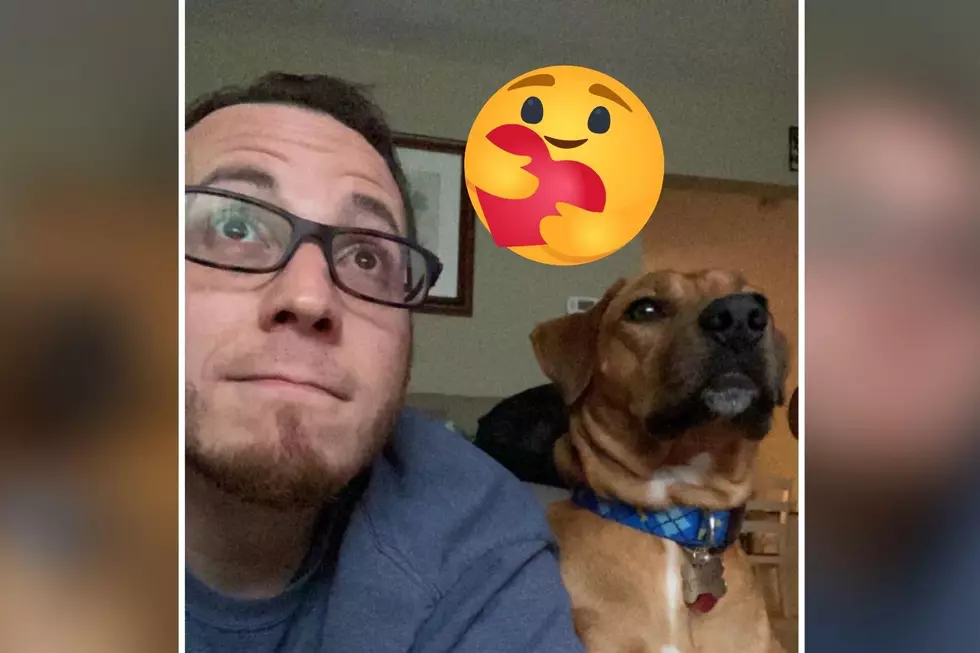 The Wild Story of a New Englander in Oklahoma Adopting an Aruba Dog Living in New England
Townsquare Media
I've always thought the saying "everything happens for a reason" was a bogus saying people said to shut someone else up about a topic they didn't really care about. But almost 3 years ago, I became a believer after a wild experience where I randomly adopted a dog (which isn't something do randomly, but the whole situation became random.) And in honor of National Rescue Dog Day today, here's the tale.
I've wanted a dog since I was a kid, and I always knew someday I would get one. But I always assumed it wouldn't be until I was settled down with someone and living with them since my schedule isn't the typical 9-5, so as badly as I wanted one, I always felt like it wasn't the right time. But one day I was talking to my friend Caitlin, who would randomly pass along pictures of dogs to me anyway, and she sent me an adoption listing for a dog named Remington. And good lord if that pup wasn't the cutest thing I've ever seen.
Remington was listed with an Aruba-based nonprofit called New Life for Paws and was listed as an Aruban Cunucu. It took a few for me to realize that basically, a Cunucu was the local Aruba-term for rescued street dog. I had seen tons of pictures of puppies before, but for some reason, there was something different about this one. So, on a whim, I filled out an application. A day later, I got a call back from a rep from New Life for Paws, who told me Remington's story.
Apparently, he had already had a family lined up to adopt him. But apparently at some point, the family tried leveraging the fact that they wanted to pick the exact breed of dog they would adopt. Since adoption nonprofits aren't breeders, that wasn't exactly a thing so at the 11th hour, the family pulled out -- and the fact that that poor pup had a family lined up and they just up and bailed on him? That got me. And I decided that was going to be my pup no matter what.
At the time, I lived out in Tulsa, Oklahoma. But up until I moved out there in July 2018, I was New England born and raised, floating around between Massachusetts and New Hampshire. The further down the line I got in the adoption process, I found out that Remington was being fostered not only not in Aruba but the United States, and not only just the States, but in New England. He was being fostered in Newton, Massachusetts -- about 45 minutes from where I grew up. Of all the places in the world.
The crappy thing about Tulsa is there are no direct flights there from Boston. That became a massive issue with trying to get him down to me -- so massive that at one point, after two weeks of trying to work something out but coming up empty-handed, the adoption rep tried to convince me to take another dog.
"Listen, you've been approved for a dog so that's the good thing. It seems like getting Remington to you isn't working out, so how about we line you up with another dog and we can make sure we can get him or her down to you before we kick that into gear?"
I'm not really a "speak sternly to someone" guy. I hate confrontation and I'm just too laid back to be stern. But if sternness could kill that day, I would've owed that poor woman an award-winning eulogy, because I (kindly) went up one side of her and down the other pointing out that I was approved for Remington, Remington is MY dog, and I'm not just randomly replacing MY dog for another one, so they're going to suck it up, buckle in, and work something out.
So they did. And early one Monday morning, I left my apartment in Tulsa to make the 4+ hour drive south to pick Remington up in Dallas at the airport from the caretaker who flew down with him. She handed him off, we walked right out to the parking lot, and made the 4+ hour drive back up to Tulsa, to which he promptly walked in the door, peed on the carpet, humped me, and then went into another room to poop on a different section of carpet.
Truthfully, I felt like I was in over my head for the first couple of days, and for a slight few moments thought maybe I made a mistake and bit off more than I could chew. But I couldn't be a second person to bail on him. So, I bought a ton of Resolve carpet cleaner, buckled in, and within no time Remy got the hang of potty training.
I've made a lot of decisions in my life. Some terrific, some not the smartest. But hands down -- and I'll die on this hill -- the best decision I've made in my entire life was to randomly send the application in to adopt Remy. That dog kept me afloat for my remaining time in Tulsa, and while I was laid off for nine months to kick off 2020, he's what got me through each day.
Someday he'll get a sibling, but for now, it's pretty cool to take on the world with him. If you've rescued a dog yourself, you know exactly what I'm talking about.
Dozens of Adorable Dogs Arrive in Maine From Bahamas, Need Homes Now
America's Most Adorable Dogs Live in Maine and New Hampshire
Northern New England celebrated National Dog Day by showing off their best canine friends and family members!