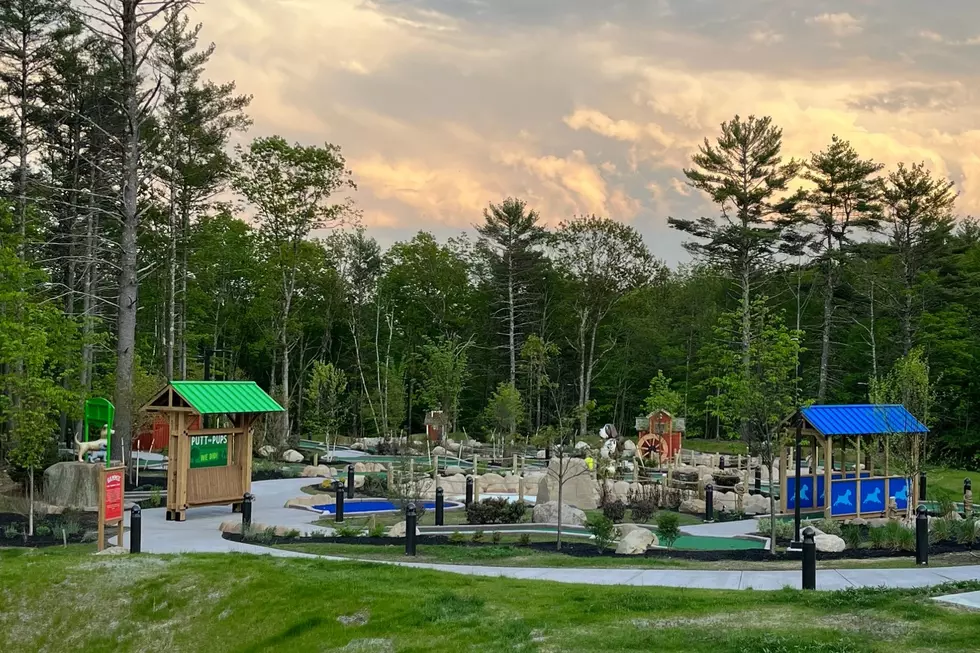 There's a New Dog-Themed Mini Golf Course in Acton, Maine
Facebook via Wicky Ralph's Ice Cream and Mini Golf
A few years ago, mini golf lovers got very excited when a new dinosaur-themed course was being built in Arundel, Maine. As it turns out, Raptor Falls has been a massive hit, delighting families who visit the area with a challenging but fun course featuring animatronic dinosaurs and plenty of adventure. Another themed course, Jungle Adventure in Old Orchard Beach, opened to rave reviews as well, offering visitors a chance to play an indoor course under black lights with some 3D elements to it. Since themed courses have become a hit in Maine, another has burst on the scene in Acton, and it's all about dogs.
Shared on Facebook by Wicky Ralph's Ice Cream and Mini Golf, the course is located on the campus of the Grammy Rose Dog Rescue and Sanctuary in Acton. The course itself is filled with some photo ops with dog characters and a few themed holes that will remind of your furry best friend. Because the course is located on the rescue and sanctuary, there are occasionally visits from some of the dogs that call Grammy Rose's home as well.
Wicky Ralph's also serves up some wicked good ice cream and milkshakes as well. The ice cream shop features a ton of different hard serve flavors, a few soft serve, and even features an old school chocolate malt shake, a throwback to the past that can be difficult to find these days.
All of the proceeds from the mini golf course and ice cream shop go directly to the Grammy Rose Dog Rescue and Sanctuary. It's a great way to give to a cause while also having some fun along the way. Wicky Ralph's is located at 1542 Route 109 in Acton.
---
Where to Play Miniature Golf in Maine
The golf season is upon us. The mini golf season that is. Here's a comprehensive list where you can go drop those hole-in-ones across Maine.
This Massive 16-Lane Bowling Alley Comes With This Maine Home for Sale
This ranch in Wilton, ME, comes with a lot more than just a place to sleep and live. It comes with a whole bowling alley!