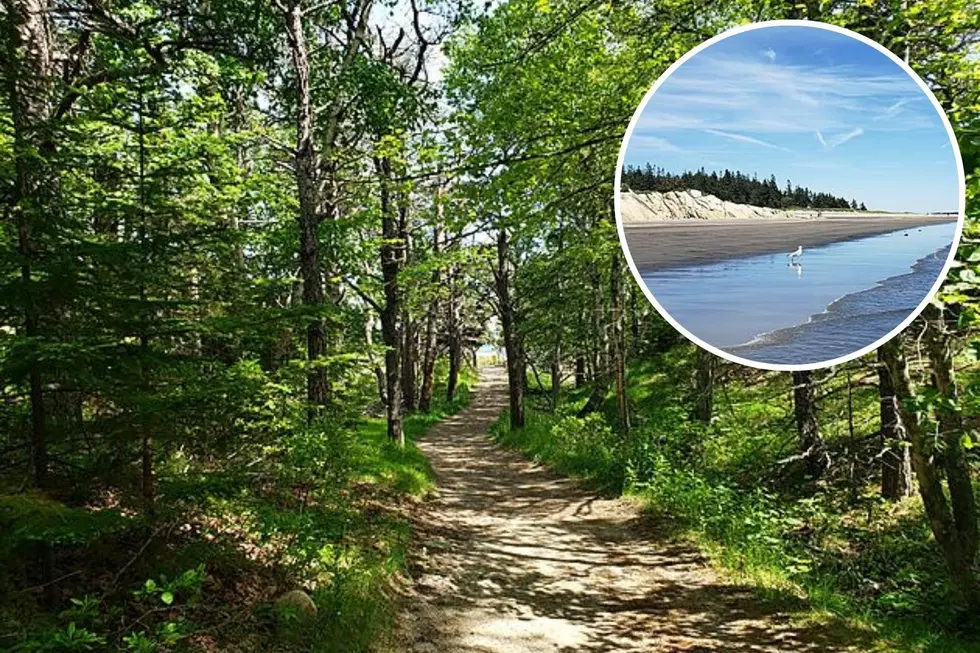 This Hike in Phippsburg, Maine Will Lead You to a Stunning Secret Beach
Brittany Rose
Where:
Morse Mountain Road in Phippsburg. While traveling on Route 219 go pass the turn-off to Popham Beach approximately 0.8 miles on your left!
---
What to bring:
This is a buggy one so definitely pack some insect repellant. Don't forget, the final destination is a beach so bring that sunscreen too! You won't necessarily need hiking boots for this but definitely wear sneakers. I saw some walking with flip-flops and I wouldn't recommend it. Water and snacks. This is a hike, stay hydrated and fueled! Keep in mind, however, that there are no restrooms available. If you want to swim, wear your bathing suit under your hiking clothes as there is no changing area at the beach.
---
What not to bring: Dogs, bikes, kites, frisbees, radios, beach umbrellas, or toy balls.
---
How much: It's free but donations are happily accepted at the trailhead.
---
Distance: According to AllTrails.com it's 3.8 miles total.
---
When: Get there early. According to Bates-Morse Mountain and Shortridge, the parking lot is often full by 10 am. (I went at 2 pm and there were very few spots open. It appeared maybe the first wave of people were leaving so I definitely timed it right.)
---
The Details: Maine may be short on summer days but it's certainly not short on beauty. In an effort to enjoy both, I randomly stumbled upon information about this "secret" beach in the Midcoast area. With nothing more than directions to the trailhead, I headed to Phippsburg.
Without Google Maps yelling at me to "turn left" I could have easily missed it. Morse Mountain Road was as nondescript as any road along 216.
Once there I realized that it probably isn't that secret. There was a parking lot that was quite full but the lot itself wasn't big enough to worry about any sort of crowd.
Again, all I really knew was where this place was. As I began my hike I realized that it wasn't some stroll through the woods, over roots and scattered pine needles. In fact, the trail was a road. A mix of asphalt, gravel, and dirt, making for an easy terrain to navigate. Turns out there are private homes down this road so take note that you may come across some cars, but the road has limited use so no worries about dodging traffic by any means.
In addition to the terrain being easy, the overall hike itself wasn't bad. Along the way, I met kids, a mom carrying a baby on her back, teens, adults, and even older folks. Now that's not to say I wasn't huffing and puffing up the few big hills, it is Morse MOUNTAIN after all.
It became clear that this hike was all about the payoff. Sure the hills wore me out, but the payoff of eventually going downhill was awesome. Walking through a cloud of mosquitos was annoying but then I found myself out in the open under the blue sky with the salty smell of the ocean wafting my way.
Eventually, after nearly two miles, I came to a break in the forest and I could see it. Beautiful sand in the distance. The ultimate payoff.
Y'all, it was like being transported into a whole new world. One minute I'm in the woods and the next I'm on a beautiful beach.
As anticipated, there weren't many people at the beach and there appeared to be even fewer people than there were simply because the beachfront was huge and folks were sprawled all across.
My feet were so happy to be rid of my hiking shoes and walking the shore. While I didn't go in the ocean much further than my ankles, the water was so warm. The sand was soft. No hard shells, sticks, or seaweed to contend with. It was paradise.
I parked myself on the sand to have a snack and watched a young man skimboard along the shore. I watched a seagull walk across the sand and fly away. I don't think I've ever been so relaxed after a hike.
Once I wrapped my mind around the fact that I still had to hike back to my car I started heading back. This time timing myself because I had no clue how long it took me to get the beach. Plus, I had stopped a handful of times to take pictures and reapply bug spray. Going non-stop from the entrance of the beach to the trailhead, without checking out the summit, the one-way hike took just under 33 minutes.
If you want a hike that pushes you just enough, if you want to enjoy wetlands, the forest, big beautiful boulders, and eventually a breathtaking beach, Morse Mountain and Seawall Beach might need to move to the top of your summer to-do list.
20 Easy Hikes for Mainers Who Don't Actually Like Hiking
Avid Hikers Rank 25 of Maine's Most Beautiful Hiking Trails
We all know Baxter State Park is picturesque, so this list looks outside of BSP.